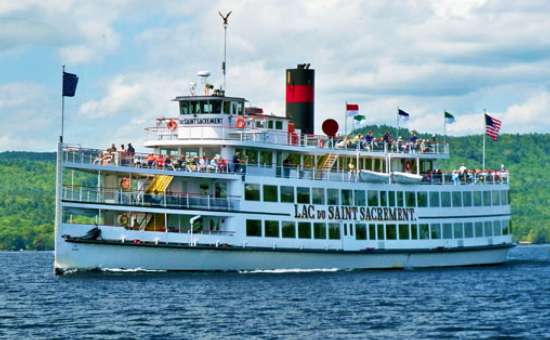 Lake George Steamboat Company
57 Beach Rd
Steel Pier
Lake George
,
NY
12845
(800) 553-BOAT
OR
(518) 668-5777
The Lake George Steamboat Company offers a variety of Cruises on their 3 large cruise ships, The Minne-Ha-Ha, an authentic Paddlewheeler, The Mohican and the Lake's largest cruise ship, The Lac du Saint Sacrement.
Choose from 3 large cruise ships: The Minne-Ha-Ha, The Mohican, and the Lac du Saint Sacrament, to tour scenic Lake George.
We are open Memorial Day in May right on through Columbus Day in October, offering 13 trips total during the course of one day, each as interesting and unique as the last.
Our 3 large tour ships offer everything from:
lunch, dinner, and brunch cruises on the Lac du Saint Sacrement (the largest tour ship on the inland waters of New York!)
one hour sightseeing trips on our authentic paddlewheel steamship the Minne Ha Ha (one of only 5 left in America!)
island and bay exploration trips and full length tours that go up and down the entire 32 mile stretch of the lake on our 105 year old Mohican (the oldest continually opperated and inspected boat in America!!)
You name it and we have a trip that covers it!!!
Looking for a place to have your next private party, prom, corporate lunch, or other special event? Then look no further then us! We can accommodate groups in size from 10 to 1000 people!!!
We also offer the most unique weddings around with one of the most unique and beautiful views offered in the Adirondack mountains and beyond.
For more information on our cruise schedules, weddings, groups, charters, and available sailing dates please call: (518) 668-5777 ext.4, or visit www.lakegeorgesteamboat.com.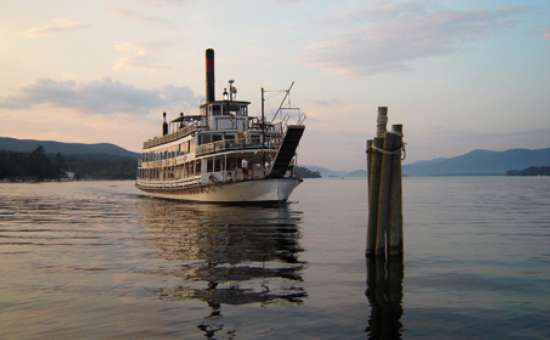 Click on the thumbnail images to see the larger version















Always get confirmation of the business location.
schmidx6
from Philadelphia, PA wrote on

Sunday, January 17, 2016 at 10:54 AM
This year we decided to watch the New Years Eve fireworks over Lake George. FANTASTIC display! The Lake George Steamboat Company certainly knows how to put on a fireworks display. The next day we returned again for the New Years Day Champagne Brunch Cruise. From the moment we boarded, the crew did everything possible to insure we were comfortable and satisfied with our seating arrangements. The food was excellent; the waiters/waitresses did everything they could to be certain we "wanted for nothing". The cruise was interesting and fun although topside it was cold and windy. Being January, that's to be expected. On the other hand, the interior of the ship was warm and cozy. All in all we had a GREAT TIME and would do it again.
Donna Francis
from Valatie, NY wrote on

Saturday, January 02, 2016 at 1:59 PM
We were aboard the New Years Eve cruise, a terribly long wait to get on the boat, so crowded that our tables were jammed together, a line so long to get the buffet food that we decided it wasn't worth it, very poor planning. The food should have been in a number of stations to accommodate more people. Our companion did wait in that long line only to be told "we are out of beef" just as her turn came up! Dance floor so crowded, too bad your company oversold the cruise, many people said it was much better organized years ago. One positive, drinks were great, waitresses worked so hard in overcrowded conditions...why did it take so long to board 450 people! Just wasn't fair to make us all wait so long for everything the whole night!
Lake George Steamboat Company
responded on Monday, January 04, 2016 at 2:24 PM
We are very sorry you experienced a wait for boarding and the buffet on our New Year's Eve Party Cruise. We did advertise this cruise as a Party Cruise with some food selections, as compared with our earlier in the evening Dinner Cruise. We had 360 passengers on this cruise, the same number as last year. The Saint Sacrement is licensed to carry 1,149 passengers, so she was not oversold. The boarding is slower for these winter cruises than during our usual season so as to allow passengers to hang up their coats and be properly seated. We will consider different boarding arrangements next year to eliminate this issue. Our company has a very good track record with respect to food service. This New Year's we had no reason to suspect we would have shortages, as we cooked substantially more prime rib this year compared to last year, we had no shortages. In addition to the prime rib station, we had butlered plates of hors d'oeuvres, a pasta station with sauces, vegetable crudités with a fruit and cheese station, and a desert station. We did not run out of the other food offered for this Party Cruise, just the prime rib (at 10:40 pm). The servers and bussers were busy refilling the stations all evening until 11:30 pm when the food was removed for the champagne toast. Our company has a well-deserved reputation of giving good value to our customers. We are sorry for your experience. We are delighted that you enjoyed the service and the drinks, and hope you also enjoyed the live entertainment, the fireworks, and the midnight champagne toast for the New Year.
Diane
from Pittsfield, MA wrote on

Monday, September 29, 2014 at 9:19 PM
Just there on Sunday..I have visited every year since I was a little girl..The Minnie Ha Ha if definitely the cruise for younger children..and the Lac Du St Sacrament is my favorite party boat..Can't wait to see you again soon