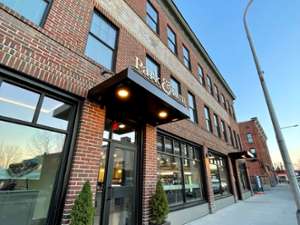 Glens Falls, NY
Park & Elm is a multi-concept eatery with a gourmet market, delicatessen and fine dining restaurant located in downtown Glens Fall...
[+More]
Hague, NY
Enjoy coffee, homemade muffins and croissants, fresh sandwiches and ice cream from Adirondack Creamery....
[+More]
Bolton Landing, NY
The family-owned Neuffer's Deli offers made-to-order sandwiches and subs, making it the perfect place to stop before a picnic or a...
[+More]
Diamond Point, NY
Famiglia's offers hot & cold subs, fresh meats, homemade salads, pastries, cold drinks, and much more. The deli is conveniently lo...
[+More]
Queensbury, NY
Established in 1939, this general store has been offering specialty foods and sandwiches to Lake George locals and visitors alike....
[+More]
Warrensburg, NY
Fresh cut meats, homemade sauces and pickles, specialty candies and lunch from the deli are all available at Jacobs & Toney, just ...
[+More]
Bolton Landing, NY
Located right on the water, Waters' Edge Lakeside Deli Cafe offers mouthwatering breakfasts and lunches. Customers can visit the d...
[+More]
Lake George, NY
Bella's Delicatessen in Lake George packs a punch. Try their signature sandwiches featuring Boar's Head meats and cheeses, plus ho...
[+More]