Lake George Trolley Information & Schedules
Don't worry about parking: Ride the Lake George trolley instead! Information listed here is accurate for the 2019 regular season (May 25 - September 2) as provided by Greater Glens Falls Transit (GGFT).
GGFT operates trolley service to and from the Lake George area during the summer. In Lake George, all trolley routes pick-up and transfer passengers on Beach Road near the Steamboat dock, and routes run about every 20 to 30 minutes.
The base fare is $1 per ride, and 50 cents for persons 60 years or older, those with a Medicare card, and transfers between connecting trolleys. For points past Hearthstone Campground, there is a $1 zone charge. Exact change is required.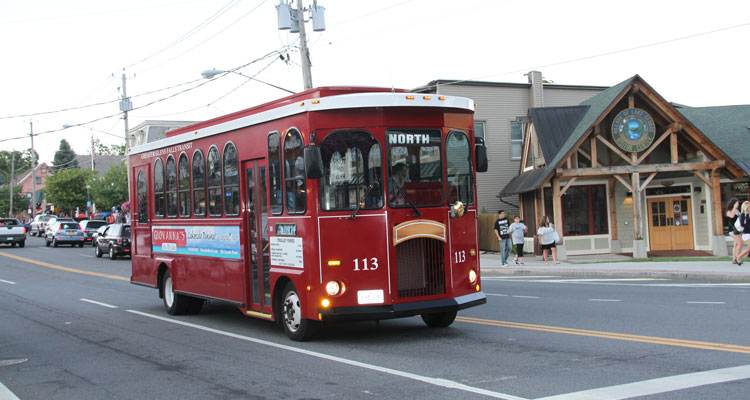 Early Season: May 25th Through June 22nd
The North and South RV Trolley Routes will operate on Saturdays only from 10am through 10:15pm. The Glens Falls to Lake George Trolley Routes will operate on Saturdays from 8:30am through 10:15pm.
Additional service is offered on Memorial Day Weekend, when the Village Trolley and Glens Falls/Lake George routes run until 10:15pm on both Saturday and Sunday, May 25th and 26th. There will be no service on Monday, May 27th.
Additional service is also offered for Americade, June 4th through the 8th. The Village Trolley Routes operate 10am through 6;15pm Tuesday through Friday, and then until 10:15pm on Saturday.
The Lake George/Glens Falls weekday bus service operates six trips per day between Glens Falls and Lake George.
See the 2019 Early Season North Trolley Schedule »
View the 2019 Early Season South Trolley Schedule »
Regular Season: June 29th Through September 2nd (Labor Day)
The regular season trolley schedules begin operation seven days per week.
For more information, visit GFTransit.org or call 518.792.1085.
Fare Information
Base Fare: $1.00 (all points between Glens Falls & Lake George)
Persons aged 60+ yrs & those with disabilities: 50 cents
Transfers between trolleys (connecting one-way trips only): 50 cents
Exact change is required
Additional Details
Heavy traffic at certain times may delay these schedules. If this occurs, your patience is appreciated.
All GGFT trolleys and buses are wheelchair accessible.
The buses have bike racks but the trolleys do not.
Schedules and transit information can be made available in an accessible form upon request to GGFT. This includes availability of information to persons with limited English proficiency.
For more information, visit GFTransit.org or call 518.792.1085.
View Lake George Trolley Stops in a larger map