Your Guide to Summer Fun in Lake George: Top Events, Fireworks, Beaches & More!
Spend the perfect summer at the Queen of American Lakes - Lake George NY. A summer vacation to this beautiful region in the Southern Adirondacks is an annual excursion for many, with successive generations of families continuing the tradition. Here you will find everything you need to enjoy a great summer vacation on the lake, from top events, summer concerts, and fireworks to beach, boating, and camping guides.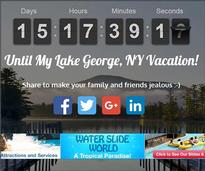 Counting down the days to your vacation in Lake George? Create your own
vacation countdown timer
to share with friends and family!