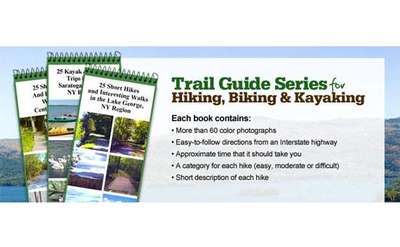 Common Man Books - Hiking, Biking & Kayaking Guides
Explore the great outdoors! Use our easy to follow trail guides for hiking, biking and kayaking in the Lake George and Saratoga Regions. The series is known as the "Common Man" series because the average man or woman can actually do these trails.
Lake George Pontoon Boat Adventures
Diamond Point, NY
Come enjoy a truly personalized adventure on the water. Tubing, cliff jumping, swimming, hiking or whatever you like. The choices are yours!
Lake George Island Boat Tours
The mansions are amazing. The history incredible. The tubing is a blast. Cliff jumping will take your breath away and the Lake and Islands are beautiful. Take a tour with the best. Bring your own refreshments, sit back, relax, enjoy your day !!
North Creek Rafting
North Creek, NY
Rafting company offering daytrips, overnight trips, and inflatable kayaks. They operate various trips on the Hudson River, Moose River, Cedar River, Boreas River, and Indian River.