Ready for Sand, Sun & Fun? Browse Lake George Beaches
You don't have to hit the coast to find a relaxing day on the beach! Lake George beaches not only offer clean, pristine waters and picturesque views of the lake - you're also surrounded by the beauty of the Adirondack mountains. See below for a list of beaches located right on the lake.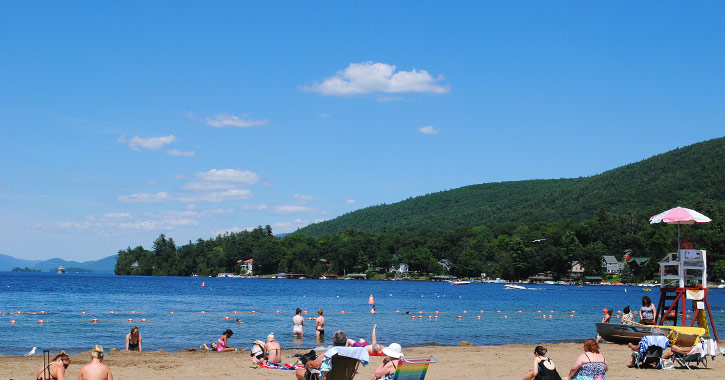 Lake George Village
Million Dollar State Beach
Beach Road, Lake George NY 12845
Parking: $10 per car; $5 per motorcycle; $50 per bus
518.668.3352
Shepard Park Beach
Canada Street, Lake George, NY 12845
Free
518.668.5771
Usher Park
Route 9L, Lake George, NY 12845
Free
518.668.0034
Lake George Dog Beach
Beach Road, Lake George, NY 12845
FREE
518.623.1212
Bolton Landing
Rogers Memorial Park Beach
Route 9N (Main Street/Lake Shore Drive), Bolton Landing, NY 12814
Parking: $5
518.644.3831
Veteran's Park
Route 9N (Main Street/Lake Shore Drive), Bolton Landing, NY 12814
Parking: $5
518.644.3831
Learn more about Bolton Landing »
Hague
Hague Town Beach
9060 Lake Shore Drive, Hague, NY
FREE
518.543.6161
Huletts Landing
Washington County Beach
6303 Sunset Bay Road, Huletts Landing, NY 12841
FREE
518.746.2451

Please note: Inflatable devices such as rafts are prohibited at all Lake George Beaches.
Video Transcript:
[music] It is Lake George, so it's just a matter of time before you head to the beach. But, which one? Down the road past the steamboat, just out of the way of the hustle in the village, you'll find the very popular Million Dollar Beach.
This beach is state run, very clean, and family-friendly, with trained lifeguards on duty. Admission to the beach is free, but there is a small fee for parking in the lot across the street. Million Dollar Beach has great changing rooms, lockers, and the most sand of all the Lake George beaches. Teenagers will love Million Dollar Beach, which is always packed with people, plenty of room for activities, and has a sandy volleyball court.
Million Dollar Beach is the perfect beach for spending the day at the lake. Bring the cooler and lunch, find your spot on the beach, and take in the fantastic views. In the heart of the village, behind the fountain and the outdoor stage, you will find Shepard's Park Beach, located on Canada Street in Lake George.
Shepard's Park has restrooms and is centrally located near all the village restaurants and shopping. It's easy walking distance from any of the village parking locations. Shepard's Park Beach has a pier to the south side, that is great for fabulous views and photos . Because of its location, Shepard's Park Beach is also the back drop for a lot of the activities that take place throughout the summer and fall, concerts, festivals, and the fabulous Thursday fireworks show.
Just past Million Dollar Beach on Route 9L is the little known, Usher's Park Beach. This very safe, free beach is quieter and much smaller than Shepard's Park and Million Dollar Beach. It is located down a steep hill, directly from the parking lot.
This park is the choice for parents with small children, who are concerned with safety. It's small enough that you can know where your kids are at all times. There is one lifeguard on duty, and the area where you swim is extremely shallow. On the top of the hill, there is a fantastic playground for children of all ages, and a very large picnic area for families.
The beaches on Lake George, another part of your LakeGeorge.com experience.