Summer Fireworks Schedule
Who doesn't love a great fireworks display? Lake George has fireworks at dusk most Thursdays during the summer months of July and August. Head to Lake George Village at about 9:30pm each week to watch the sparks fly! There are also several other events throughout the summer that will feature fireworks displays.
2017 Weekly Summer Fireworks on Thursdays:*
*Note: Thursday evening fireworks displays are weather dependent. The Mayor will make the decision by 4 PM if fireworks are to be cancelled.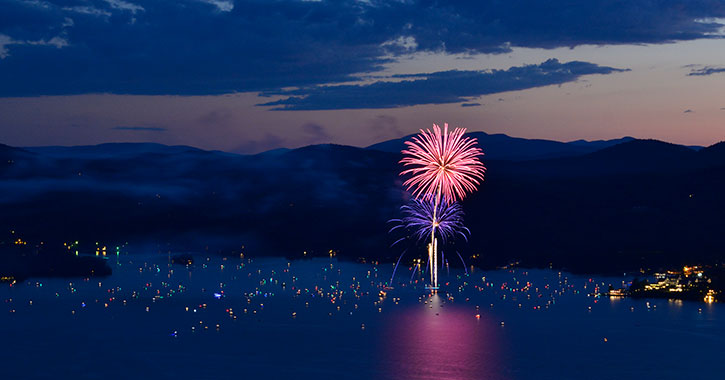 Photo: Jon Volks
Looking for Shepard Park's 4th of July fireworks? Get the details here »
Other Lake George Fireworks Displays:
Sunday, July 2 at 9:30pm
Saturday, September 2 at 9:30pm
Saturday, September 23 at 8:30pm
Where To Watch The Fireworks:
The best place to watch the fireworks is along the waterfront in Lake George Village between Shepard Park Beach and Million Dollar Beach.
Book a stay at a lodging property that has views of the fireworks »
More Fireworks In The Region:
No upcoming events
Looking for 4th of July fireworks throughout the region? Check out all the Independence Day firework celebrations!
WATCH: Fireworks Video
Wondering what to expect during the summer fireworks over Lake George?
Click here to watch a video of the Lake George Fireworks!
Bolton Landing (just 5 miles north) also puts on some fireworks displays in the summer.
Discover more FREE summer events in Shepard Park »
View a full schedule of current events in Lake George »