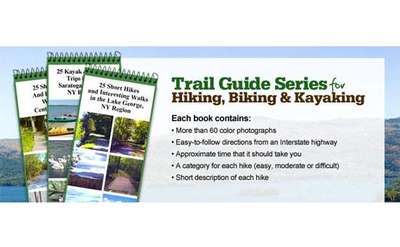 Common Man Books - Hiking, Biking & Kayaking Guides
Explore the great outdoors! Use our easy to follow trail guides for hiking, biking and kayaking in the Lake George and Saratoga Regions. The series is known as the "Common Man" series because the average man or woman can actually do these trails.
Lake George Recreation Center
Lake George, NY
The Lake George Recreation Center is a popular choice for outdoor recreational activities for all seasons, including mountain biking, hiking, a dog park, cross country skiing, and snow tubing.
Garnet Hill Lodge
North River, NY
Visitors at Garnet Hill Lodge can enjoy a wide range of seasonal activities from summer through winter. Their property features hiking and mountain biking trails that become groomed cross-country ski trails in winter.
West Mountain
Queensbury, NY
West Mountain in Queensbury, NY, is a year-round recreation destination offering skiing, snowboarding, and tubing during winter and aerial treetop adventures, mountain biking, and more outdoor fun from late spring into fall.