An Autumn Weekend Getaway in Lake George: 48 Hours of Fall-Filled Fun!
Sponsored by: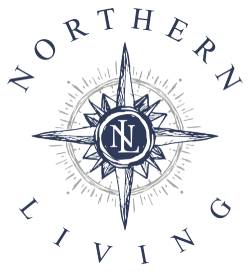 Experience Luxury Lodging on the Lake
Northern Living is a vacation home property management company with the most luxurious vacation rentals in the Lake George area. They offer lakefront properties with direct lake access, game rooms, and more! Book your unforgettable vacation now! Learn More »
Captivating colors in the trees. Summer crowds gone away. A scenic drive. A whimsical walk. A meal by the lake. Have we mentioned the stunning foliage? Don't let this memorable season blow away with the autumn wind! We have everything you need for the ultimate fall weekend getaway in Lake George.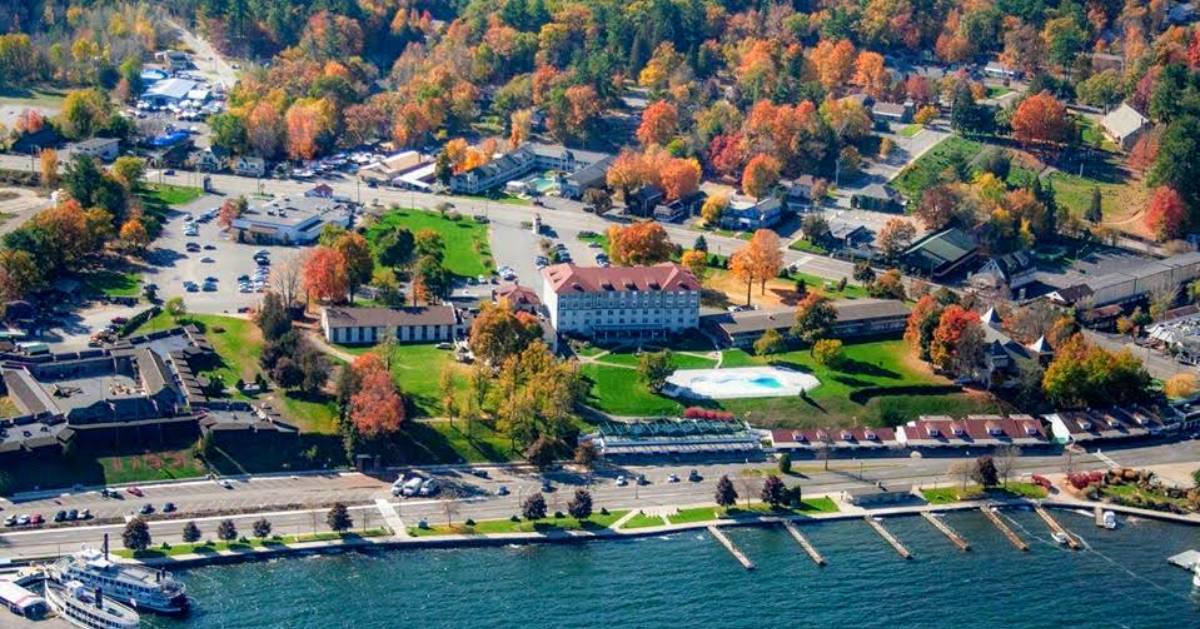 Come experience Lake George in the fall! Photo: Fort William Henry.
Fit in all the fall fun in just 48 hours as we take you from Friday evening to Sunday afternoon in this fall weekend itinerary. Pick and choose what speaks to you, scroll to the bottom to check out fall lodging specials, and enjoy the season!
Friday Evening: Burgers From Lookout Cafe & Picnic in the Park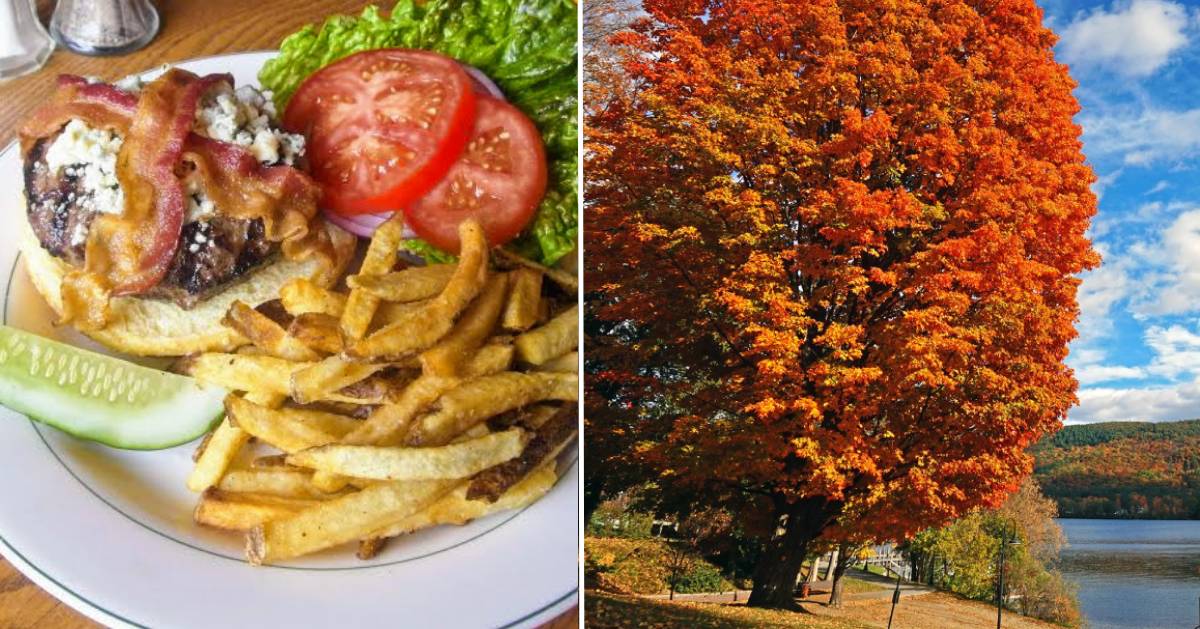 That burger. That view. A perfect Friday evening.
After you check into your hotel, vacation rental, or lodging option of choice, start your weekend off with a succulent burger from Lookout Cafe coupled with an expansive view of the foliage. The Lookout Cafe at Fort William Henry is typically open until 9pm, you can dine on-site with lakeside views, or, they're also offering takeout. Grab your 1755 Burger, a Build-Your-Own Burger, or one of their other great options to go and snag a bench in Shepard Park, a six-minute walk from the Cafe.
See the menu for Lookout Cafe and order ahead »
(Menus for White Lion and Sticky Buns are also included at the above link - make sure to click "Lookout Cafe.")
Saturday Morning: Get in a Round of Golf at Top of the World or Hike Up Prospect Mountain (Both Also Have Drive-Up Options!)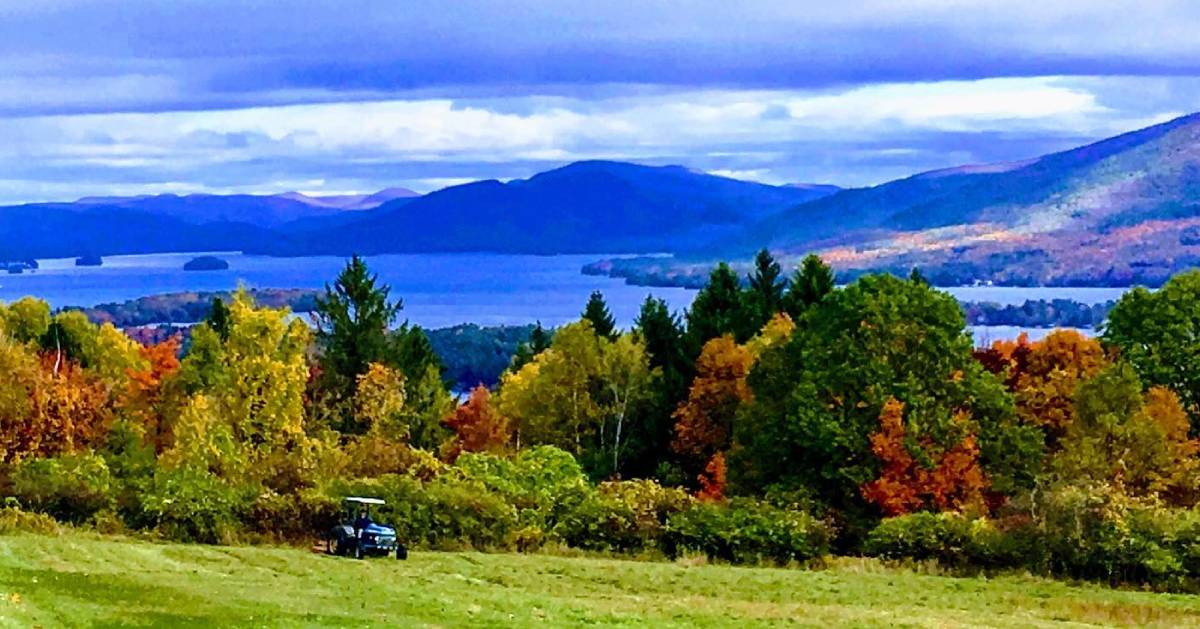 Come see why they call it the "Top of the World!"
If you're a golfer there's no better way to start the morning off than getting a game in at Top of the World Golf, one of the main attractions in the Lake George region for fall foliage. This 18-hole course on the side of French Mountain maintains a "player-friendly experience" for all golfing levels, so don't feel the need to be an expert to play here. They open at 6am daily.
And if you're not into the sport? No worries, you can simply drive up to enjoy the sights. Make your way up Lockhart Mountain Road from Bay Road in Lake George and you'll follow a winding route through the forest to Top of the World Road. There's a sign for the golf course both at the entrance of Lockhart Mountain Road and at Top of the World Road.
Once you go past the gate, turn around at the end of that road before you get to the parking area, and you'll have a chance to pull to the side of the road to grab some pictures before heading back down the mountain.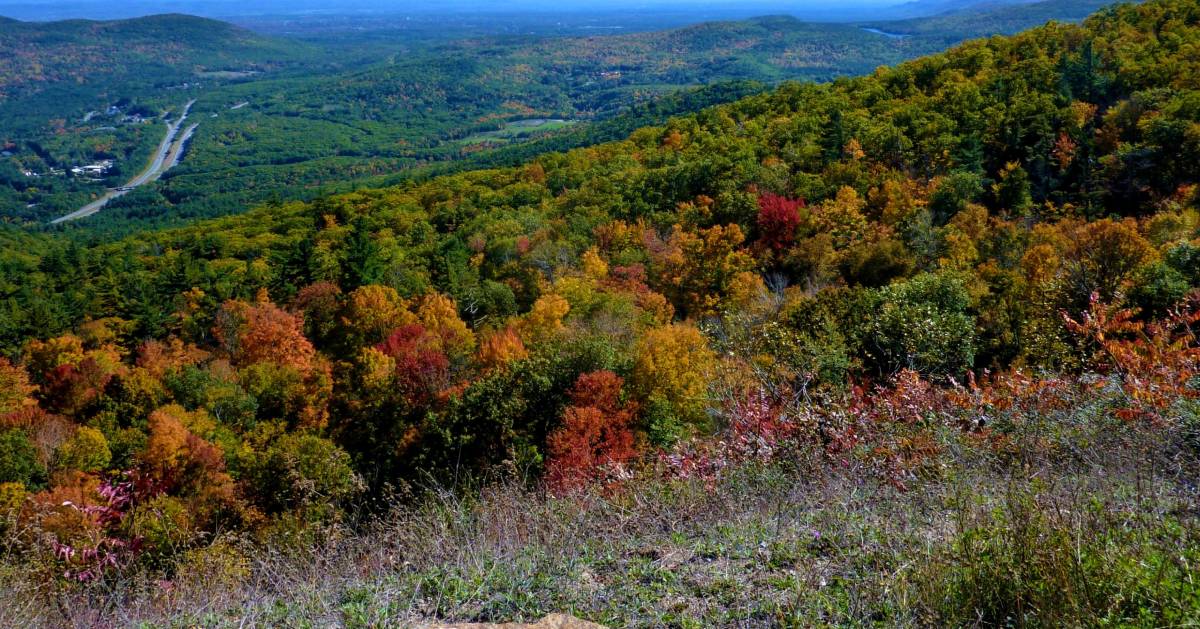 The hike up Prospect Mountain is about a 3-mile roundtrip and is steep in some spots. Photo credit: justinanewton, licensed by CC BY-ND 2.0.
Another option for an early morning activity is to hike (or drive!) up Prospect Mountain. This mountain is known as a top leaf peeping spot and you can find the trailhead on Smith Street in Lake George Village. If you'd prefer to drive you can head up Veterans Memorial Highway, normally $10 per car, but is free right now! Veterans Memorial Highway is open through Veterans Day.
Bonus tip: If you're interested in a fall foliage hike but aren't experienced or would prefer to go with a guide, you should check out Hike With Jackson. This experienced "Low Impact Outdoor Guide" takes the lead on ensuring you have the best experience you can have on the mountain, going way beyond keeping you safe and on the trail.
Look at the golf rates and book a tee time »
Learn more about Hike With Jackson »
Saturday Early Afternoon: A Walk Through Bolton Landing & A Waterfront Lunch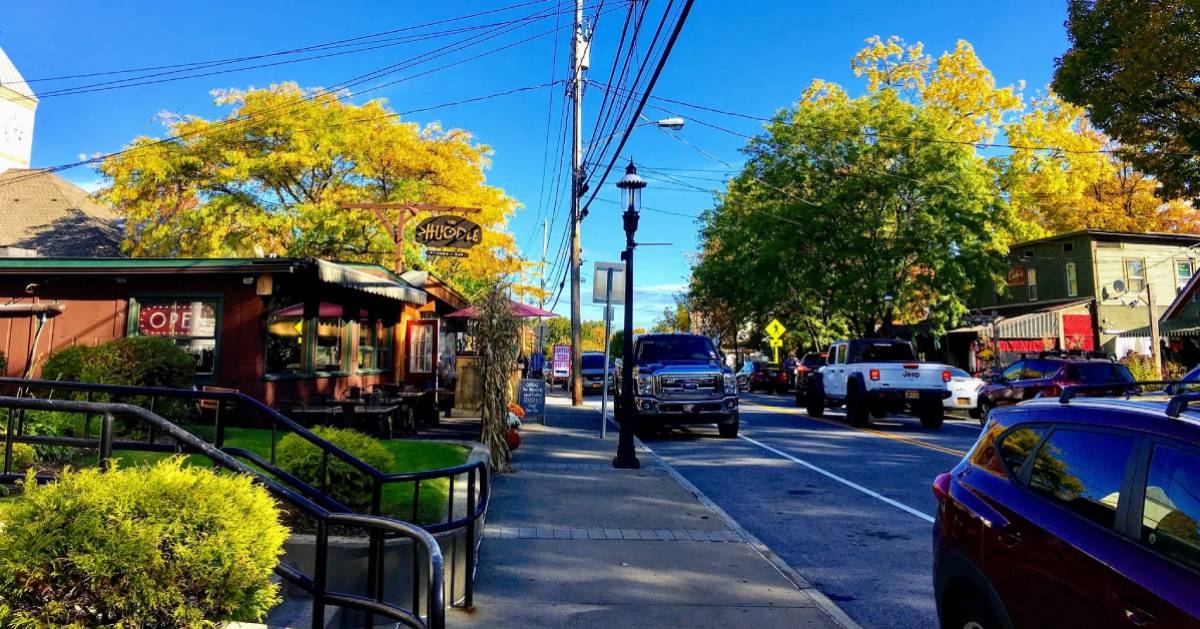 You'll enjoy the drive up to Bolton Landing too! Photo credit: Hope Relly-Cobb.
Head up Route 9N from Lake George Village through Diamond Point and to Bolton Landing for a relaxing 20-minute drive, part of which offers lakeside views. Before you reach the primary downtown area Algonquin Restaurant is an excellent place to stop for lunch, and they're right on Route 9N.
They've frequently won Best Dining in Bolton Landing in the Lake George Best Of; they have delicious seafood, sandwiches, and salads; and they offer three outdoor decks for dining. They do not take reservations and are typically open daily at 11:30am through the end of October.
After you leave the Algonquin keep going north on Route 9N and when you see the Bolton Visitors Center and Bolton Landing Marina on your right you'll know you've reached the main strip of town. Find a parking spot - there is free on-street parking for two hours and two public parking lots, also free, just no overnight parking - and take a stroll among the shops, restaurants, and foliage.
Browse the Algonquin Restaurant's lunch menu »
Bonus lodging suggestion: If you haven't nailed down where you're staying and have fallen in love with Bolton Landing, check out Bayview Lakeside Suites, located within walking distance of the Algonquin. Their spacious lakefront suites are open year-round.
Saturday Late Afternoon: Get High in the Trees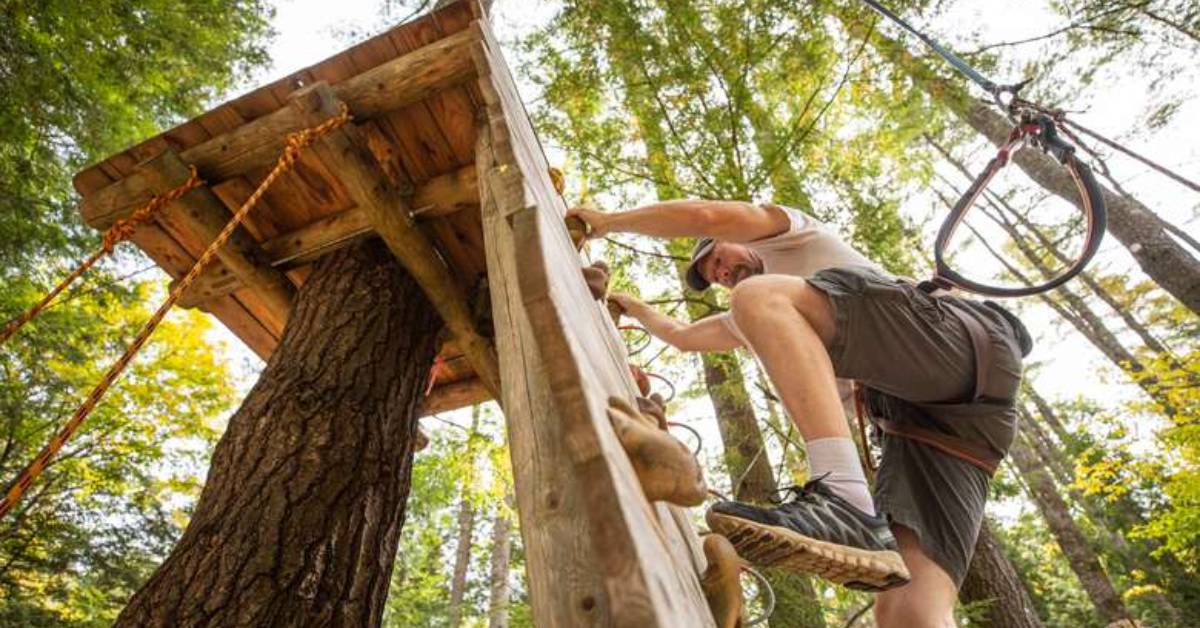 An energizing climb awaits!
If you're itching for a fun and physically engaging Bolton Landing excursion, then check out Adirondack Extreme, a treetop adventure course that is usually open through early November. They're about 10 minutes from downtown Bolton Landing. Same day reservations are available on most days and you can also purchase online ahead of time.
See treetop hours and prices »
Saturday Evening: Dinner at a Village Restaurant & Ghost Tour at a Historic Attraction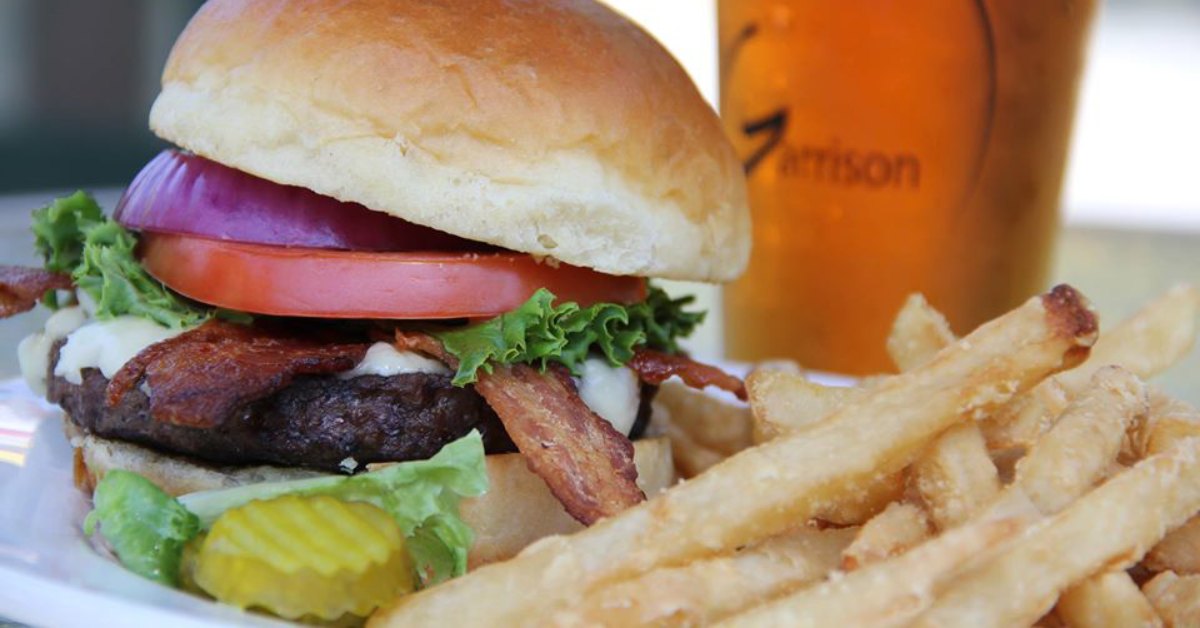 You'll appreciate sinking your teeth into a hearty burger or sandwich after a day of Lake George adventures.
Following an afternoon in Bolton Landing, make your way back towards Lake George Village for a delicious dinner at The Garrison Restaurant and Bar. Their kitchen is open 7 days a week until 9pm. Their menu offers a variety of pub favorites, like burgers, sandwiches, and wings. They also have a great selection of craft beers and have daily food and happy hour specials.
After dinner, save room in your appetite for some spirits - ghosts, that is! For those who love a little Halloween vibe with their fall getaway Fort William Henry offers Haunted History Tours. Reservations are recommended. The area surrounding this historic site has been the scene of multiple battles which undoubtedly leads to a good ghost story or two. And fall is the ideal time to enjoy spooky fun!
Get tickets for the Ghost Tour »
Sunday Morning: Lac Du Saint Sacrement Sunday Champagne Brunch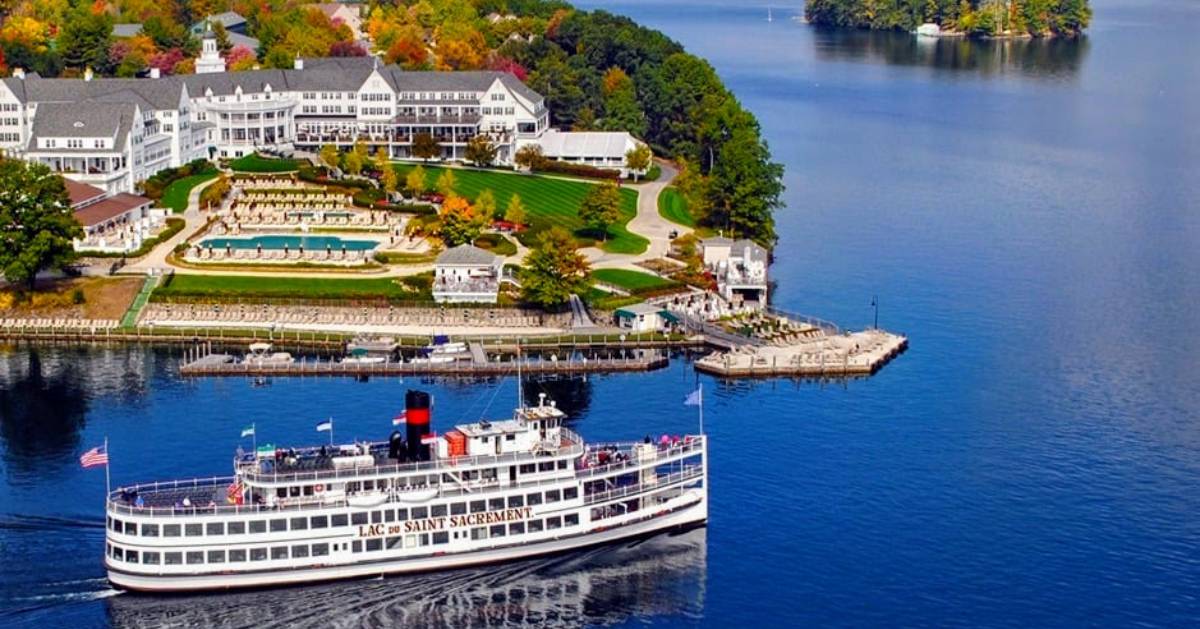 End your weekend on that spectacular boat - think of the photos you'll have to remember the trip by. Photo credit: Larry Waimon.
Wrap up the getaway with a two-hour cruise on Lake George! Although this is yet another great way to see the foliage a cruise across the lake is a must-do activity for any trip to Lake George. The Lake George Steamboat Company typically offers a Canadian Thanksgiving Dinner Cruise in early October on one of the lake's most iconic ships.
Pick and choose from the above suggested activities for your fall getaway and if you don't get to something? No problem - just put it on the list to check out next time you visit.