The Villas on Lake George is a Family Resort and Marina. The resort is directly on Lake George within 4 miles of popular restuarants, attractions & Lake George Village. Enjoy Jetski & Boat Rentals & many free amenities. www.onlakegeorge.com
The Villas on Lake George is family owned and operated. Formerly named Thunderbird Resort and Marina. You will enjoy the short walk to the beach, easy boat and jetski rentals and safe child play area.
We have many room styles to suit party size and budget. Choose from Lake house, Townhouses, Family Suites and Resort rooms. Our lakeside vacation rentals can sleep from 1 - 12 guests.
If you are looking for a peaceful vacation on Lake George that is minutes to Lake George Village entertainment, attractions and shopping come play with us!
The Villas on Lake George is also a romantic location for a wedding!
Visit www.onlakegeorge.com for reservation and pricing information.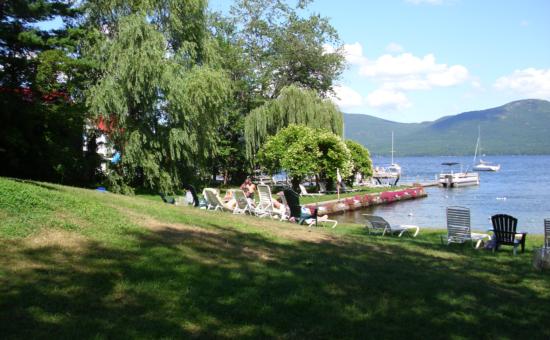 Click on the thumbnail images to see the larger version












Always get confirmation of the business location.





Amy
from Saratoga Springs, NY wrote on

Monday, May 06, 2013 at 2:40 PM
We stayed here last summer while we rented our Saratoga home during track season. We loved the property and are hoping to stay here this summer again! My kids loved the beach and kayaks, we even rented a boat and had a great time. I would highly recommend staying here!!!





Sunita Sharma
from Lake George, NJ wrote on

Sunday, July 22, 2012 at 11:10 PM
We had a wonderful stay at The Villas on lake George.
The staff was very kind and hospitable. They tried to accommodate every request we made. The boat rental right on the premises was an added bonus so we don't have to look anywhere else for booking, parking etc.
The beach area on the lake with beautiful Lake land mountain view was unbelievable. We will absolutely go again.





dondi
from newburgh, NY wrote on

Monday, July 19, 2010 at 1:41 AM
Like the answer yes like to feel welcome, like family atmospheres beautiful surroundings filled with things to do right on the property, the best of both worlds that is within the thunderbird resort a world that seems to be its own serene but full of life and fun as well as just across the road and either side all up and down the beautiful Lake George shore as much as anyone could possibly want for. That said back to the answer YES that is and has been my Family?s experiences from our first experience over 3 decades (35 years) from our first encounter which was inquiring for lodging without Reservations when just about everywhere had turned us away no vacancies this wonderful Family run Establishment made extra efforts to accommodate us and we had and continue to have year after year wonderful vacation stays and always a feeling that they could not possibly try harder to please us and make our stay memorable and on top of that through the years of good time as well as recessions harder times have always been consistently fair in the area of costs for our stays as well as extras boat rentals jet skis ,and more. With all said above one might say there is bigger, more, better for one reason or another, and other places countries etc. and that may be so, even the Bill Gates, Donald Trumps , and tycoons on and on of the world will always be able to find the next greater place but as for us and my recommendations if a just plain great time with all the splendor of Lake /George and the atmosphere this wonderful place offers all I can say is try it you will see I am right , I hope who ever reads my comment give the Thunderbird Resort a call and give them a try , and I believe you too will say you?ve tried the rest and now have seen the best, and at the very least will have a wonderful stay with good honest hardworking lake resort and will no doubt as I do return there again and again, if you desire call and give them your number ill even call you back as soon as time allows me if you want a reference or have a question regarding my experiences in this comment I will also add that I choose Lake George and travel from Orange county (845) area to get there, Don and Family
No events listed for this business.
Is this your business? If so, login to add your events!