Year-Round Fun in Lake George, NY
Lake George has fun activities and events to offer at all times of the year! From winter skiing and fall foliage to spring rafting and summer fireworks, there's never a shortage of things to enjoy in the region.
Scroll through the months below to find out what's going on in Lake George at any particular time of year, then decide what you'd like to experience for yourself!
January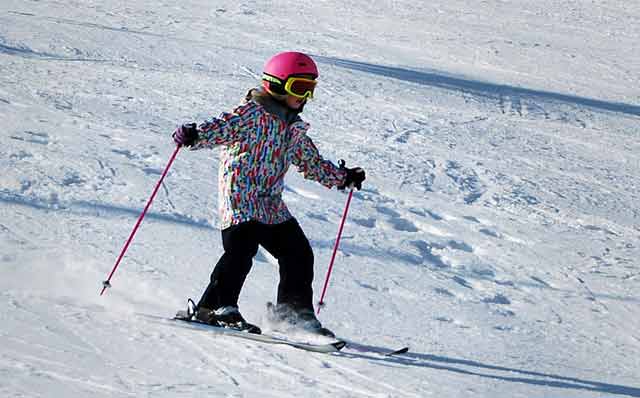 Downhill skiing at West Mountain
Every New Years Day, over a thousand "polar bears" rush into the freezing cold water of Lake George for the Polar Plunge! This tradition has been around for years, attracting daring divers in get-ups from bikinis to long-johns! When the lake freezes, it becomes a wonderful backdrop for winter adventures, like snowmobiling and ice skating.
FEATURES OF THE MONTH:
Ice Fishing
Cross-Country skiing
Downhill Skiing
February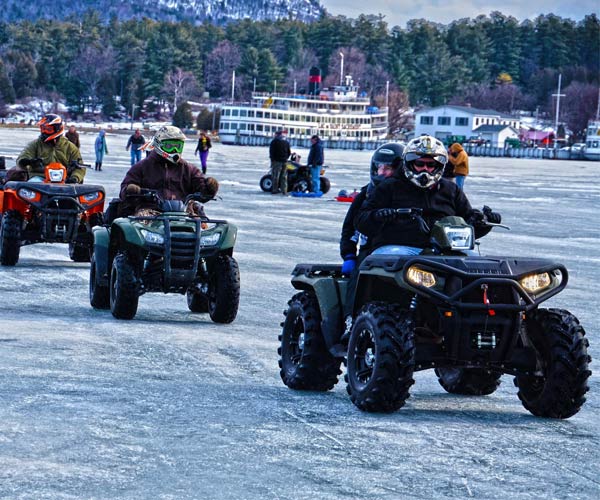 Lake George Winter Carnival, photo provided
The Lake George Winter Carnival gives visitors and locals something to look forward to at the end of each week, all month long. From snowmobile races to dog sled rides, and all kinds of unique winter-themed fun, the carnival offers a fun alternative to staying cooped up inside!
FEATURES OF THE MONTH:
Winter Carnival

March


St. Patrick's Day Parade, photo provided



Tis' the season for beer, good-luck, and the perfect reuben! Sham "Rock" the Block - a two-day festival in Lake George - aims to bring out the Irish in everyone! Amidst the sea of green in Duffy's front lot, there is so much to do. Test your strength with the keg toss, do a jig to the live Irish music, or bring the kids for a pony ride or romp in the bounce house!

FEATURES OF THE MONTH:

April


Waterfalls Along Pilot Knob Hiking Trail



Spring has sprung and the last signs of winter are finally melting away. Lake George's seasonal businesses begin opening up and adding to the thriving culinary, nightlife, and shopping scenes!

FEATURES OF THE MONTH:

May


Parasailing on Lake George



Summer in Lake George officially kicks off in May with both Memorial Day Weekend and Canada's Victoria Day Weekend drawing crowds of visitors to the region. Boats take to the water for scenic cruises, on-water picnics, and other aquatic fun!

FEATURES OF THE MONTH:

June / July / August


Summer on Lake George, photo by Luke Dow Photography



During the heart of the summer, the festivities are never ending! With fun for families by day and for teens and adults by night, this vacation spot will help you get a lot checked off your summer bucket list. This summer, you can bask in the sunlight, enjoy a concert, sit around the campfire, and witness spectacular fireworks over the lake--all in one day!

FEATURES OF THE SUMMER:

September


Adirondack Balloon Festival



As the crisp air and slight chill of the fall take over the Adirondacks, the fun shifts from the water to the land. September in the Lake George Region brings Car Show weekend, Jazz Fest, and the Adirondack Balloon Festival, plus the popular Upstate New York pasttime, apple picking.

FEATURES OF THE MONTH:

October


Fall Foliage Cruise, photo by Eric Thacke



The fall foliage is at its prime this time of year, making Lake George heaven away from home for all the leaf-peepers. One highlight of this month is Oktoberfest in Lake George Village, promising to bring out the beer drinker in us all. Indulge this October and have yourself a bratwurst and a lager! The end of the month brings some spooky fun with Fright Fest at Six Flags Great Escape.

FEATURES OF THE MONTH:

November


Fall Hiking in Lake George



November is the month to enjoy the cool autumn air in Lake George before the snow falls. Take a long weekend with the family and pick from a ton of indoor and outdoor adventures and attractions.

FEATURES OF THE MONTH:

December


Winter in Lake George, photo by Luke Dow Photography



The Village is now a winter wonderland, covered in a beautiful blanket of snow. If you're a lover of outdoor adventure, you'll appreciate the abundant opportunities for skiing, snowshoeing, snowmobiling, and ice skating that the region offers.

FEATURES OF THE MONTH: