Ski, Snowboard & Make the Most of Snowy Winters in the Lake George Area
Lake George, NY is located near a variety of wonderful ski areas, and thanks to the region's often abundant snowfall averages, many of them are able to offer skiing and snowboarding from late November through mid-April. Here's a quick rundown of some top places where you can hit the slopes this winter.
Discover a Winter Wonderland at Nearby Ski Areas
If you don't want to travel too far from Lake George for your ski trip, then check out one of these three ski areas located within 40 minutes of the village.
Gore Mountain (North Creek, NY)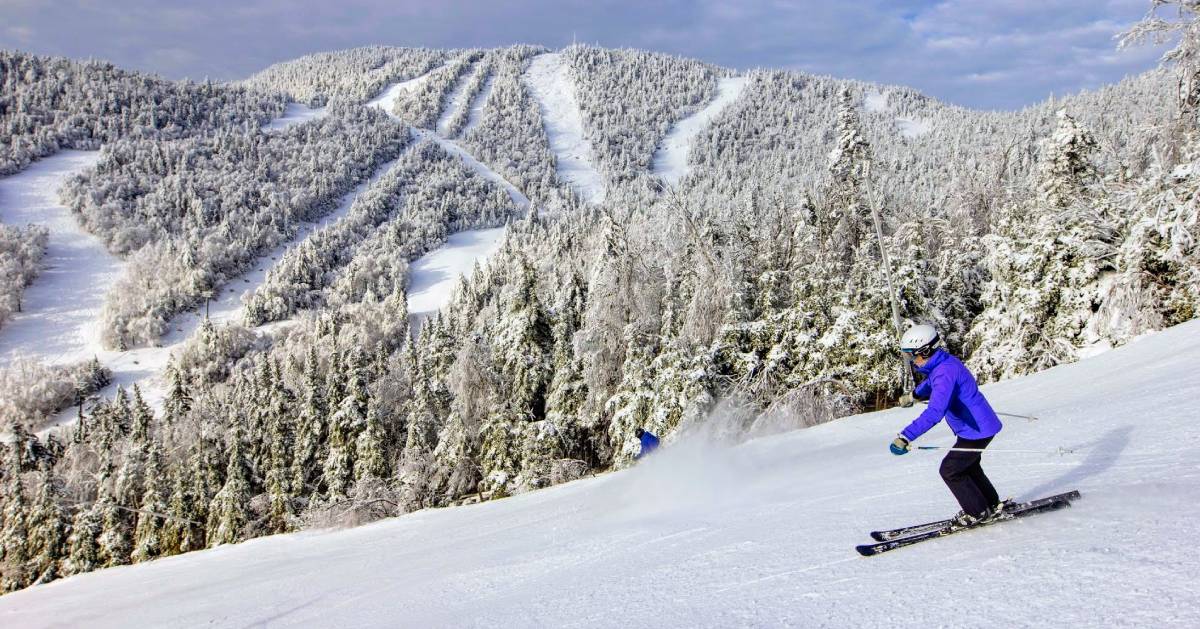 Located a 35-minute drive north of Lake George, Gore Mountain in North Creek offers 110 alpine trails spread across four peaks with difficulty levels ranging from beginner to expert. This ski resort is renowned for featuring both the largest trail and lift network and the most skiable acreage in New York State. Rentals and lessons are available, and there are several on-site dining options to choose from.
To visit Gore Mountain, travel from Lake George north on Route 9 for about 9 miles through Warrensburg until you reach the intersection with Route 28 (on your left), which will take you to North Creek.
West Mountain (Queensbury, NY)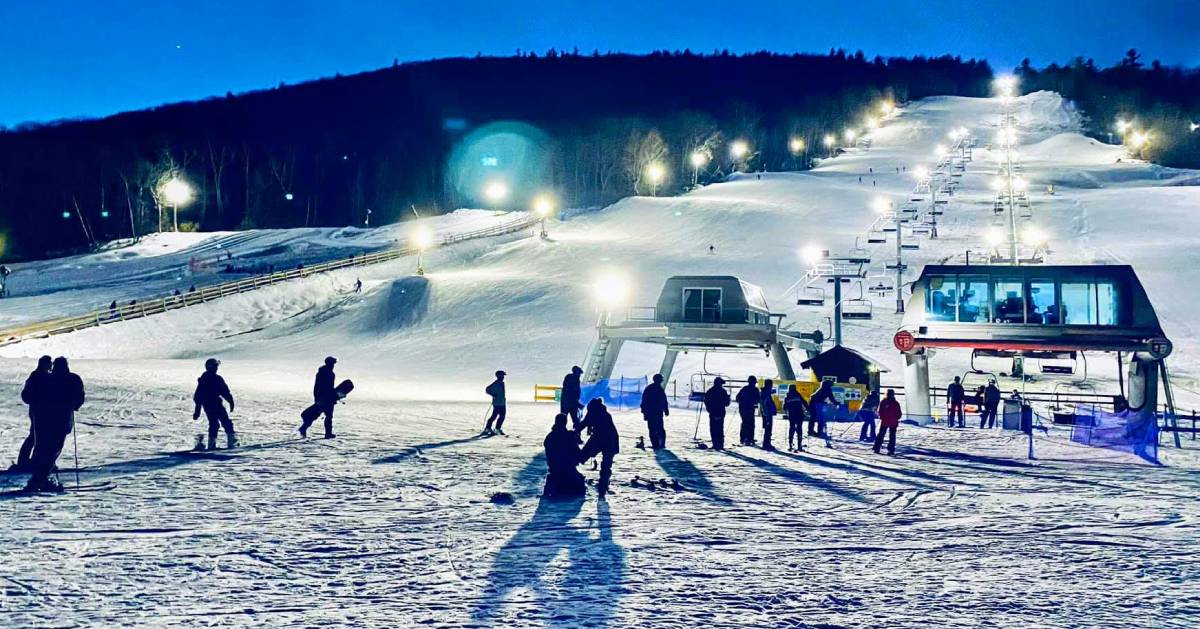 West Mountain in Queensbury is a medium-sized, family-friendly ski area located just off Exit 18 on I-87, about 16 minutes from Lake George. While this mountain is great for beginners, there are plenty of well-groomed trails for skiers and snowboarders of all skill levels to enjoy.
With 100% mounted snowmaking and 100% lighted trails, you can always look forward to a fantastic experience at West whether it's day or night. There are a total of 31 trails spread across 126 skiable acres, as well as a large snow tubing park that kids will love.
Dynamite Hill Recreation Area (Chestertown, NY)
Want to practice skiing or snowboarding on some easy trails that are free to access? If so, then the Dynamite Hill Recreation Area in Chestertown is highly recommended. This community ski area has a rope tow, a small hill, and a warming lodge. You can stop by for daytime or evening skiing, or bring your sled and snow tube for a thrilling trip down the hill.
Dynamite Hill Recreation Area is 22 minutes from Lake George, and the entrance to the site is on Route 8, just a few miles west of Exit 25 off I-87.
Hickory Ski Center (Warrensburg, NY)
After being closed since the 2015/2016 winter season, Hickory Ski Center in Warrensburg made an epic comeback in the winter of 2021/2022, becoming one of the few ski centers in the country to offer skinning, or the act of skiing up the hill. They also offer cross-country skiing and snowshoeing in the Three Sisters Range right next to Hickory.
Hickory Ski Center is between 15 and 20 minutes form Lake George. From the Village you head north on Route 9, veer left to stay on Route 9 instead of going on Route 9N towards Bolton Landing, and then hang a left at the Judd Bridge to go over the Schroon River. From there it's a right on River Street which you follow along the river until hanging a left on Hickory Hill Road.
Planning an Adirondack Ski-cation? Book a Cozy Room at Friends Lake Inn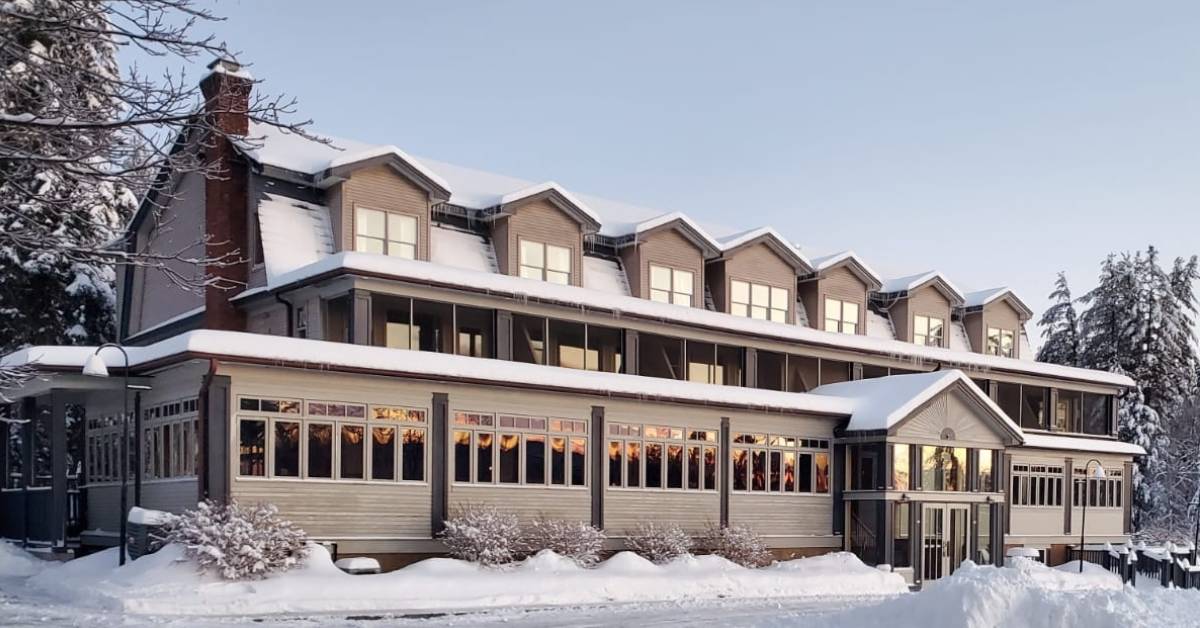 After an exciting day on the slopes, nothing compares to returning to a cozy guest room where you can warm up by the fireplace or soak in a jacuzzi tub. For your next ski-cation to the Lake George region, consider staying at Friends Lake Inn in Chestertown, a charming Adirondack hotel that's located near Dynamite Hill and about halfway between Gore Mountain and Lake George.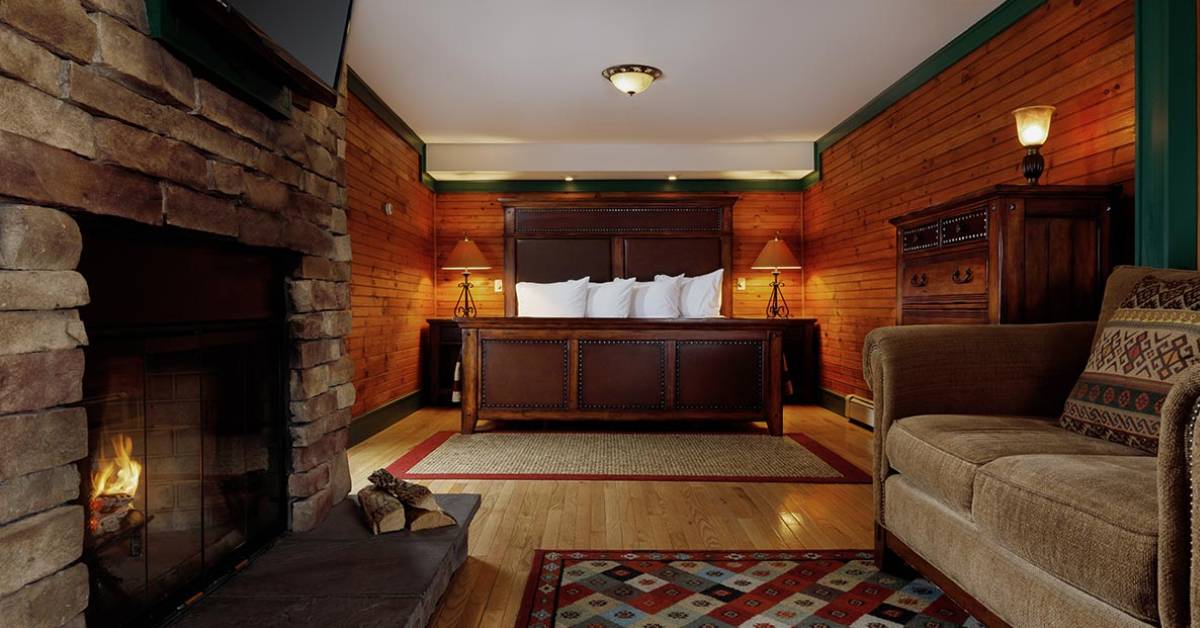 One of the main reasons people choose Friends Lake Inn for their winter getaway is because the hotel offers the perfect combination of upscale rooms, exquisite on-site dining, and access to recreational activities. There are 18 room options with luxury amenities such as a wood-burning fireplace, a jacuzzi tub, and a steam shower, and all of the rooms are uniquely decorated.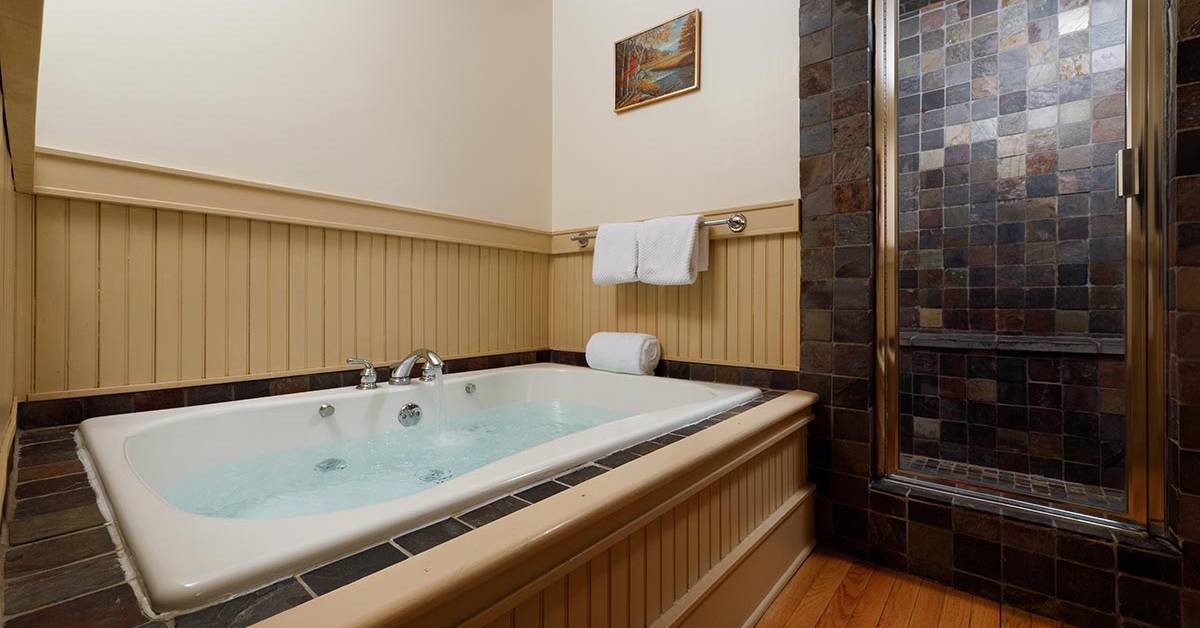 During your stay, you can enjoy both casual and intimate dining options, as well as explore the property's cross-country ski and snowshoe trails (located out back). Equipment rentals are available for overnight guests. Find out more and book your room today.
Take a Day Trip to These Three Top-Rated Ski Resorts
Are you in the mood for a road trip during your winter getaway? There are a few top-rated ski resorts that are located under two hours from Lake George and well worth the drive.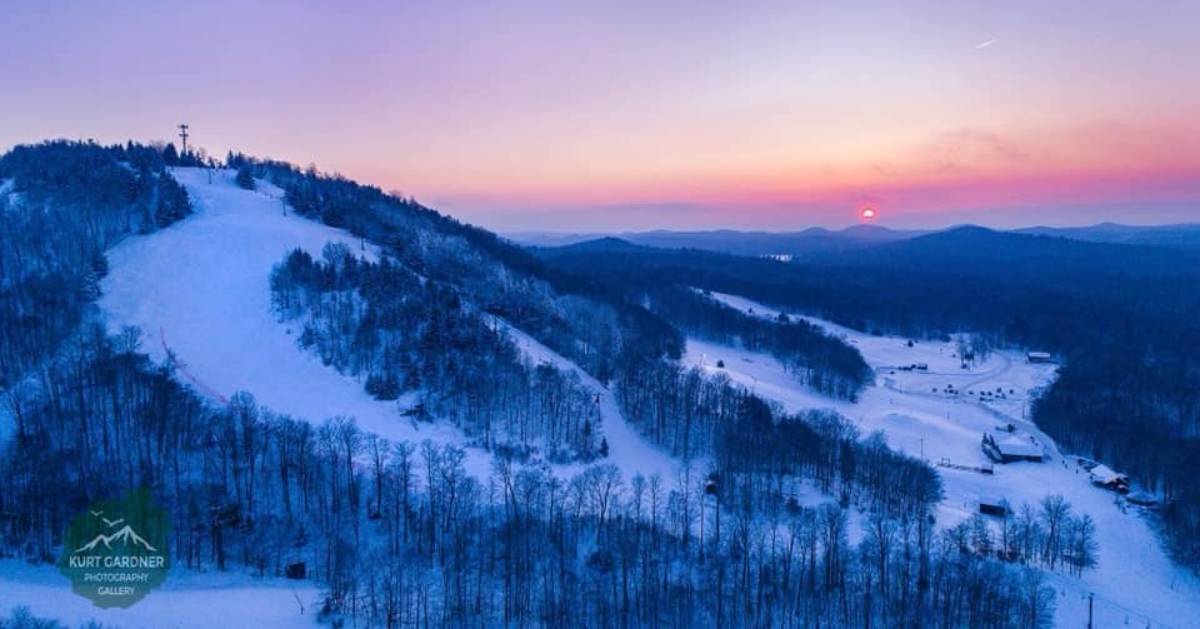 Pack your bags and hit the road to the McCauley Mountain Ski Area in Old Forge, which is just under two hours from Lake George. This western Adirondack ski resort offers "big mountain skiing in a small package" - all the fun of bigger mountains but with none of the lines.
McCauley Mountain has an altitude of 2,200 feet and features a 633-foot vertical drop, 21 ski trails between 3,000 and 5,000 feet, and bump rides and gales for experienced skiers. Beginners are welcome too! Like the other major ski resorts on this list, McCauley Mountain is kid-friendly.
Bromley Mountain Ski Resort (Peru, VT)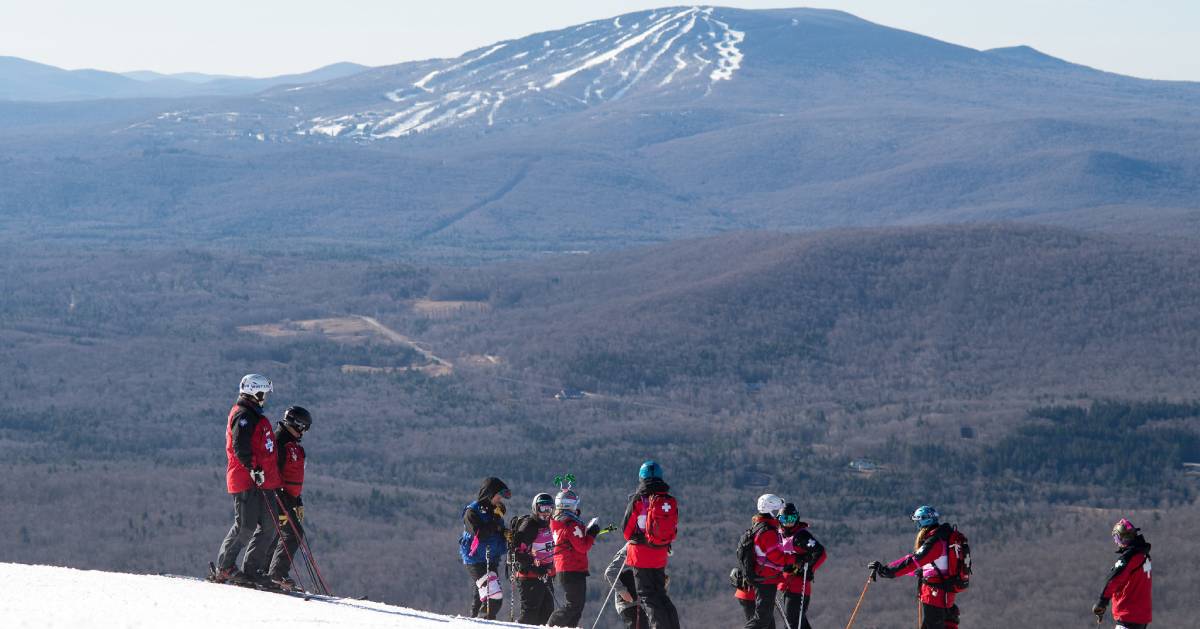 Ready for a day trip to Vermont? Visit Bromley Mountain in Peru, VT, which is an excellent choice for beginner, intermediate, and expert skiers. Bromley is New England's only south-facing ski resort, which means longer days, softer snow, and warmer temperatures.
The ski resort is home to over 45 trails spread across varied terrain, and food is available at five different on-site locations, including The Waffle Shack, the Long Trail Base Camp, and the Wild Boar Tavern (perfect for apres-ski).
You can reach Bromley Mountain by taking Route 149 from Lake George through Granville and into Vermont. Follow Route 30 south through Manchester, VT. At the junction of Routes 30 and 11, keep straight to stay on Route 11, and Bromley will be ahead on the left. The drive should take about 1 hour and 25 minutes.
Killington Resort (Killington, VT)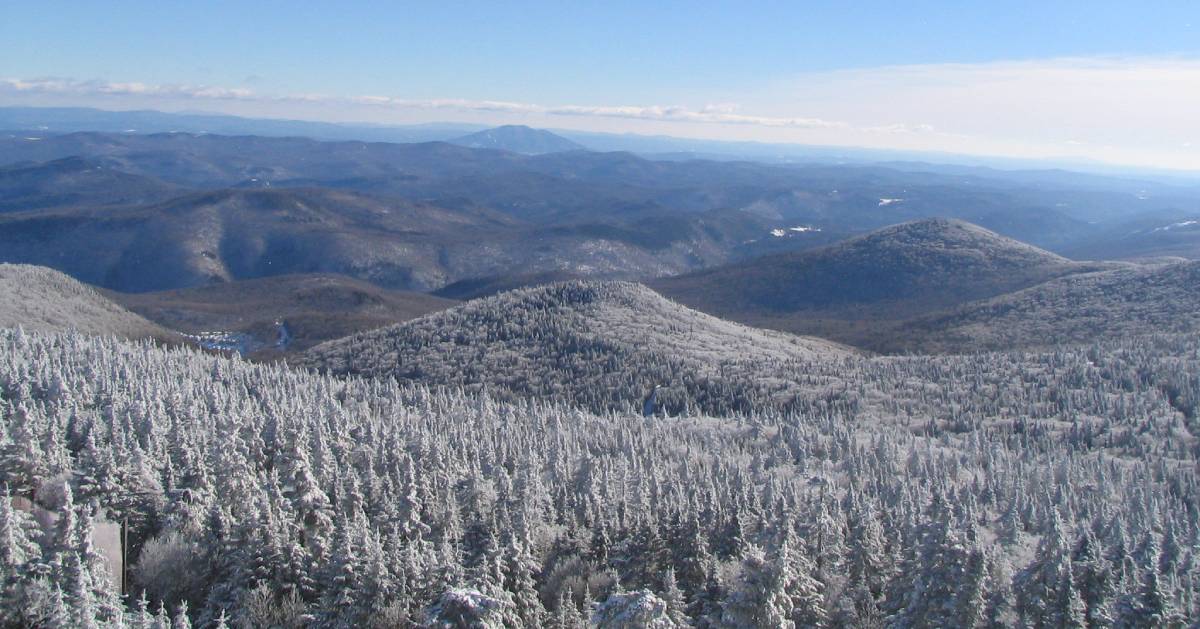 We can't talk about skiing in Vermont without also mentioning Killington Resort. Located 1 hour and 30 minutes from Lake George, Killington is the biggest ski area in the Eastern U.S., and it features the largest vertical drop in New England (3,050 feet!).
Visitors will discover a wide range of trails across seven distinct mountain areas. Each year, Killington receives an average of 250 inches of snow, in addition to the resort's snowmaking capabilities.
Killington Resort is reached by taking Route 149 from Lake George to Route 4, which you will follow into Rutland and then Killington.