Lake George Fall Leaf Peeping Guide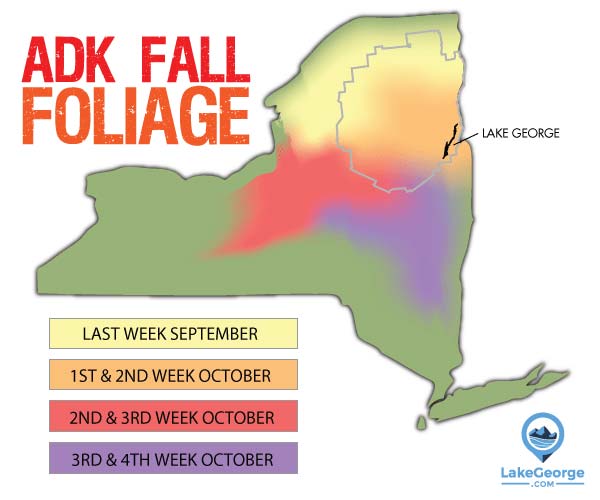 Did you know Lake George features some of the best views of autumn in the Adirondacks? The leaves begin to turn in the Adirondack Park in late September, and before you know it, the surrounding mountains are full of color.
There are spectacular views throughout Lake George, so get out there on a crisp fall day and explore all that the area has to offer. Don't forget your camera!
When to Go Leaf Peeping
For the most glorious sights, the best time to go leaf peeping in Lake George is during the first half of October when the fall colors reach their peak.
Typically, peak foliage in Lake George begins during the first week of October. However, since peak foliage times change year-to-year, you can expect to see brightly colored leaves through the second week of October. Adirondack Photographer, Carl Heilman II, has also seen years when the color lasts into the third week of October.
Higher elevations, like the Adirondack High Peaks, will reach peak foliage sooner. Peak foliage occurs in the heart of the Adirondacks earlier than lower elevations, such as Lake George and communities south of the area.
Within the Lake George Region there are
hidden gems
leaf peepers should check out during peak foliage.
If you need some help planning your leaf peeping adventure, read these
top tips about fall
in Lake George!
TIP: Fall is a great time to come to Lake George, and many hotels, motels, and resorts offer fall getaway packages. Surround yourself with the beauty of the area and stay at a discount!