The New Year's Day Lake George Polar Plunge - Take a New Year's Day Swim!
Be a Part of This Epic Lake George Tradition
Editor's Note: The 2021 New Year's Day Lake George Polar Plunge was cancelled. 2022 Polar Plunge details have not been announced yet. However, you can read on for what to expect during a typical New Year's Day!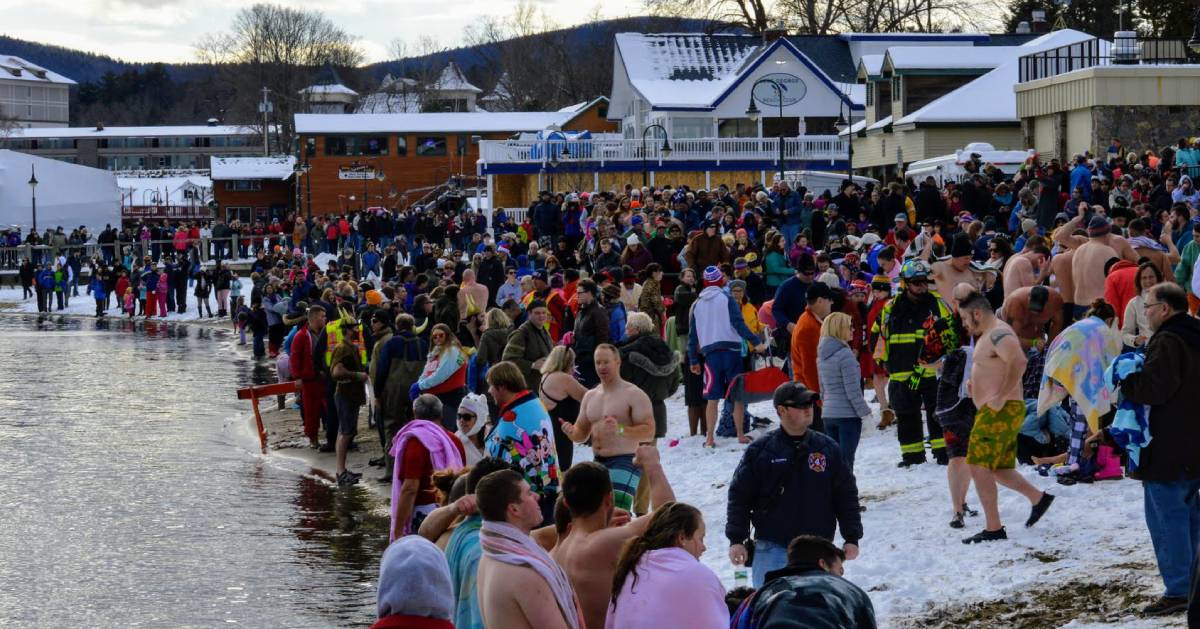 Every year, hundreds of people gather on the frosty shores of Lake George for a daring New Year's Day swim known as the Polar Plunge. That tradition continues this New Year's Day at Shepard Park Beach where about 1,000 or more participants are expected to take part in the Lake George Polar Plunge.
The annual Lake George Polar Plunge has been a popular tradition for years, occuring on the "First Day" in Lake George.
Over a thousand people crowd Shepard Park Beach in their swimming trunks and bikinis for the event, shivering and dancing around to stay warm before the countdown to the big plunge. Then, all at once, they rush into the bone-chilling waters for a New Year's polar bear swim!
Shepard Park Beach is located on Canada Street in Lake George Village.
View the 2020 Plunge Registration Details & Schedule
The Polar Plunge always takes place on January 1st.
2020 Registration
Registration for the annual New Year's Day tradition starts in Shepard Park at 10:30am at Duffy's Tavern.
2020 Schedule
The plunge takes place at 1pm.
For more information, contact Duffy's Tavern at 518.668.5323.
Check Out Tips & Reminders
Lake George will be very cold this time of year, so it's best to be prepared for the Polar Plunge:
Pack a towel and water shoes
Wear your swimsuit under your clothes
Bring easy to get into warm clothes (and shoes!) for after the Plunge
For your own safety, never dive into the water
Bring a plastic bag for wet clothes, and somewhere to store your dry clothes
Bring along a disposable, waterproof camera
Have fun!
Read Up on What to Expect
Wondering what it's like? Winter in Lake George is no mild climate, so the waters are frigid and just barely above freezing temperature. In some years, there has even been a thin film of ice to swim through. It is cold!
Most take the plunge and hurry back to the shore for dry land and fluffy towels, but there are others who seem to be true polar bears at heart! Surprisingly, many will actually stay in the freezing cold water and swim around a while. Whether it's merely a show for their friends or the water simply doesn't feel as cold to them, these daring swimmers take polar plunging to a whole new level!
If you still have doubts about how chilly it can be, we've posted a Lake George Polar Plunge video below. You can watch the participants' reactions and listen to their excited shrieks and screams as the icy winter water stings their skin.
« Back to Annual Holiday Events