Everything to Know for Ice Fishing Season on Lake George
Sponsored by: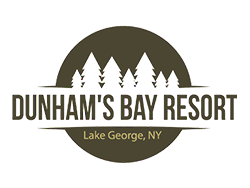 Stay At Lake George's Best Kept Secret
Just a five-minute drive from Lake George Village on the lake's southeastern shore, Dunham's Bay Resort is perfect for family vacations and couples retreats. Enjoy the indoor heated swimming pool, on-site restaurant, and serene setting. Learn More »
When Lake George freezes, you'll typically see many people out on the ice, and from a distance, it will look like they're just standing around. Well, they're not - they're ice fishing! Big lakes hold big fish, and sometimes the best way to catch them is through the ice. Here are some tips and information for your next fishing trip out on the ice.
Note: Ice shanties must be off the ice by March 15.

Jump To:
What to Fish for: Lake Trout, Landlocked Salmon, & Yellow Perch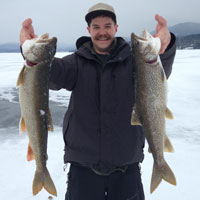 On Lake George, fishermen generally target lake trout, landlocked salmon, and yellow perch through the ice.
Lake Trout
Lake trout are often found in the deepest portions of the lake, near the bottom. People generally have more success in at least 70 feet of water, and many lake trout have been caught at depths of well over 100 feet. Suckers often make the best bait for lake trout because they are large (bigger bait = bigger fish, sometimes). They also dive to the bottom of the lake, making it quicker and easier to get your line down 100+ feet if necessary.
Many fishermen also have luck jigging for lake trout, using white worms, jigging raps, and the traditional Swedish Pimple (tipped with a minnow).
Lake trout need to be at least 23 inches long to keep on Lake George, and the daily limit is 2 fish per licensed fisherman.
Landlocked Salmon
Landlocked salmon are often found right under the ice. A common setup for salmon is to run tip-ups 5-10 feet under the ice with large shiners or hunts for bait. Landlocked salmon run like crazy and will spit your bait out before you even get over to your tip-up, so you'll want to react fast.
Some fishermen rig their tip-ups with rubber bands over the line on the reel, so when the salmon runs 20 feet of line out, the reel stops spinning, setting the hook on the fish before the fisherman has a chance to get to the flag. Others make sure to cover the hole up with snow or a round piece of plastic so that the sunlight doesn't show through the ice (since the bait is set so close to the surface).
Landlocked salmon need to be at least 18 inches long to keep on Lake George, and the daily limit is 2 fish per licensed fisherman.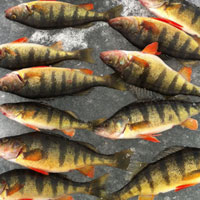 Yellow Perch
Yellow perch are another favorite among ice fishermen, and they offer some of the best eating. Perch are often found near islands, banks, ledges, or other structures below the surface. Most fishermen fish for yellow perch in depths of 10-50 feet and use jigging rods.
Common lures include small jigging raps and Swedish Pimples (tipped with grubs, or pieces of fish that you have already caught). If you're going to run tip-ups as well, set those down near the bottom and use cup bait, fat heads, rosies, or icicles for bait (or set a few for salmon or lake trout while you jig for perch).
There is no size limit on yellow perch, however, if they are less than 10 inches or so, they become pretty difficult to get a good fillet out of. The daily limit on Lake George is 50 perch per licensed fisherman.
Smelt
In addition, smelt can be caught from May 16 - March 31, and the daily limit is 25 per licensed fisherman. However, the use and possession of smelt is prohibited from April 1 - May 15.
Where to Fish From Lake George to Ticonderoga:
There are several spots on Lake George that feature easy access, ample parking, and good fishing:
Million Dollar Beach - This is a popular spot to park for fishing access. An ATV or snowmobile helps quite a bit and will give you access to a ton of fishable water. The parking lot is huge, and access to the lake is easy. There is a stream that runs into the lake here that smelt and landlocked salmon tend to hang around in.
Hearthstone Campground - The town plows the roads into Hearthstone Campground, and people typically park on the beach and walk straight out onto the lake. Many people fish just off shore for yellow perch here, and then wander out onto the lake a little farther for lake trout. NOTE: If the roads are slick or have not been plowed yet, it is advisable to park at the top of the hill and walk down to the lake.
Diamond Point - There is limited parking here, but this spot makes for a nice fishing area. Lake trout, landlocked salmon, and perch can be found out here. Getting on the lake can be a little tricky with the ice eaters and bubblers that people use to keep the ice away from their docks, so use caution and bring some dry clothes with you.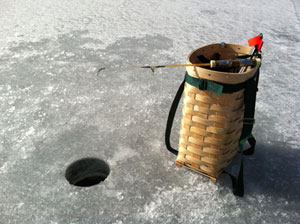 Pilot Knob / Fort Ann Beach - Parking can be tricky here in the winter because after the plow comes by, there are usually about 10 parking spots. Fishermen usually park up the road and walk back down. Later in the season when there is good ice, fishermen generally park on the beach. If you don't have four-wheel drive, do not drive out onto the beach! A short walk from the parking lot will have you out over 120 feet of water, making this a good spot to fish for lake trout.
Assembly Point / Harris Bay - Access can be tricky here, but there is some parking on 9L near the local marina. Harris Bay is a popular spot to fish for perch as the depth remains somewhat shallow until you get out onto the main lake. Lots of fishermen walk (or ride) straight out to the shore of Long Island and fish for perch.
Hague / Ticonderoga - Access isn't too difficult up at the northern end of the lake, and you'll typically see less traffic out there. Rogers Rock Campground offers parking and easy access, as well as the Hague Town Beach. Lake George gets quite deep in the northern basin, upwards of 150 feet, making it a great place to fish for lake trout.
Where to Buy Bait:
Fish307 - 6 NY-149, Lake George, NY 12845
Beach Road Bait & Tackle - 2239 U.S. 9, Lake George, NY 12845
Crossroads - 40 Dixon Road, Chestertown, NY 12817
NOTE: All bait must be certified, and fishermen must possess a signed bait slip (no older than 10 days).