Lake George Ice Safety Tips & Information
Ice safety information is important knowledge to have in Lake George, especially during the late fall freeze and the spring thaw. Whether you're walking out on the lake for some ice fishing, pulling up in a snowmobile, or trying your hand at ice skating, you should know the basics. Take a look at the infographics below to better visualize safe and unsafe ice.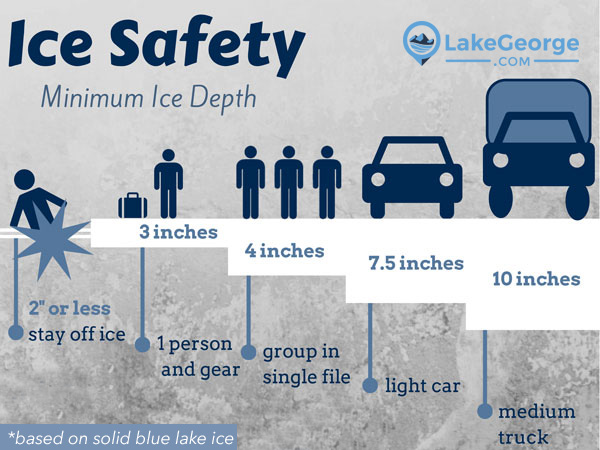 Vehicles on Ice
If the ice is thick enough for vehicle parking, move your car or pickup every 2 hours to prevent sinking.
Make a hole near your car to monitor the ice. If water begins to overflow from the hole, your car has begun to sink the ice and you should move it immediately.
Park all vehicles at least 50 feet apart.
Repeated parking in a fishing "hotspot" will cause the ice to weaken. Avoid parking where it seems another vehicle has parked or driven.
When possible, avoid driving or parking on ice altogether.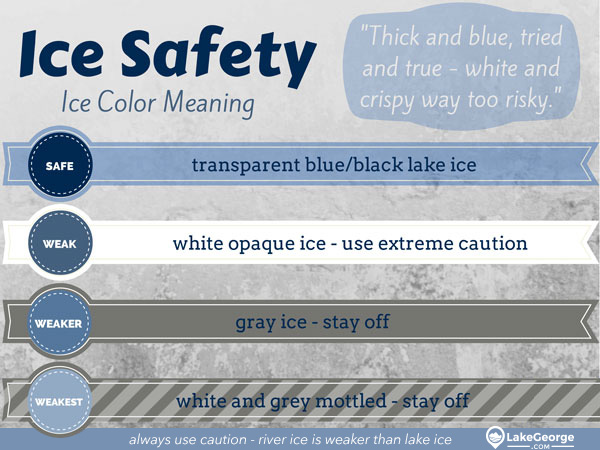 Ice thickness is never uniform on any body of water, making it hard to judge the safety of the area. Running water, including the areas of lakes where streams, spillways, and dams are present, are often tricky areas. If you keep in mind that ice will never be completely safe, you'll be prepared for suddenly dangerous situations.
Heading out onto the ice? These additional ice safety tips could save your life »
Share these infographics with your friends on Facebook or Pinterest to help spread awareness about ice safety in Lake George.