Lake George Ice Safety Tips & Information
Ice safety information is important knowledge to have in Lake George, especially during the late fall freeze and the spring thaw. Whether you're walking out on the lake for some ice fishing, pulling up in a snowmobile, or trying your hand at ice skating, you should know the basics. Take a look at the infographics below to better visualize safe and unsafe ice.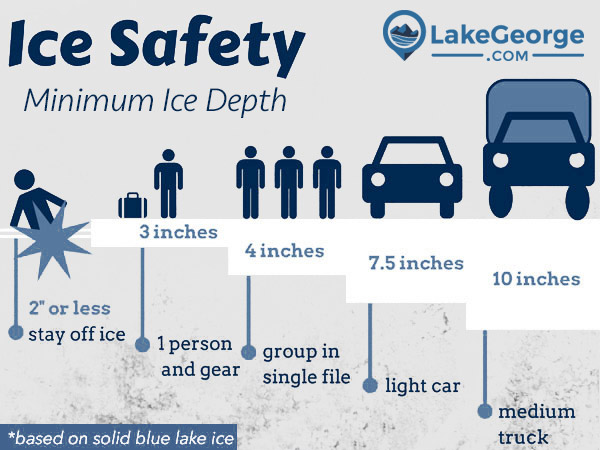 Ice Safety Related To Thickness, As Shown In Infographic Above
A general rule of thumb is the thicker the ice, the more safe it is and the better it can hold heavier weights. The following points provide a general guide to ice safety, based on solid blue lake ice. If the ice is:
2 inches thick or less, stay off the ice as it is extremely risky
3 inches thick, it can safely hold a single person and gear (make sure you're not too close to other people and their gear, though)
4 inches thick, it can hold a group of people traveling in a single-file line
7.5 inches thick, it can hold a light car
10 inches thick, it can hold a medium-sized truck
Safety Tips For Vehicles On Ice
If the ice is thick enough for vehicle parking, move your car or pickup every 2 hours to prevent sinking.
Make a hole near your car to monitor the ice. If water begins to overflow from the hole, your car has begun to sink the ice and you should move it immediately.
Park all vehicles at least 50 feet apart.
Repeated parking in a fishing "hotspot" will cause the ice to weaken. Avoid parking where it seems another vehicle has parked or driven.
When possible, avoid driving or parking on ice altogether.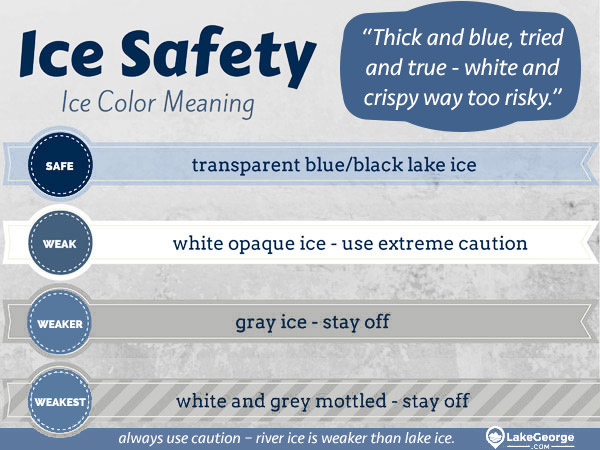 Ice Safety Can Be Determined By Color, As Shown In Infographic Above
One component of determining ice safety is checking the color of the ice. If the lake ice is:
Transparent blue/black, it is safe
White and opaque, you should use extreme caution
Gray, stay off of it
White and grey mottled, it's the weakest type of ice, and you should stay off of it
A good way to remember which color is safe is to think "Thick and blue, tried and true - white and crispy way too risky." Always use extreme caution when walking or driving on ice and keep in mind that river ice is weaker than lake ice.
Ice thickness is never uniform on any body of water, making it hard to judge the safety of the area. Running water, including the areas of lakes where streams, spillways, and dams are present, are often weaker areas. If you keep in mind that ice will never be completely safe, you'll be prepared for suddenly dangerous situations.
Heading out onto the ice? These additional ice safety tips could save your life »
Share these infographics with your friends on Facebook or Pinterest to help spread awareness about ice safety in Lake George.