Jazz at the Lake: Lake George Jazz Weekend
Canceled for 2020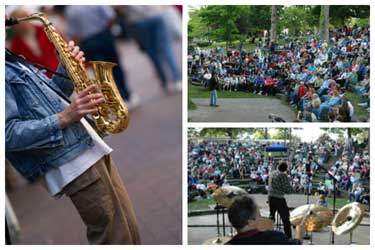 The 2020 Lake George Jazz Weekend was originally scheduled for September 19 & 20, but due to the uncertainty caused by the global pandemic, Lake George Arts Project has decided to cancel the event for 2020.
Stay tuned for the 2021 schedule as it becomes available! In the meantime, check out last year's details for an idea of what to expect:
2019 Lake George Jazz Weekend Schedule
Saturday, September 14:
1:00PM: Camila Meza & The Nectar Orchestra
Camila Meza, equally prized as a vocalist, guitarist, and composer, has brought a sound full of warmth, intricacy, and rhythmic clarity to the New York jazz scene ever since her arrival from Santiago, Chile in 2009. Inspired by jazz, South American music, and American popular song of many eras and genres, she has uplifted audiences worldwide.
2:45PM: Wayne Escoffery Quartet
Downbeat Critics Poll Winner and Grammy Award-winning tenor saxophonist Wayne Escoffery is one of the jazz world's most talented rising stars and in-demand sidemen. For the past decade, Escoffery has toured the globe with trumpeter Tom Harrell, recorded seven CDs with The Tom Harrell Quintet, and co-produced four of those releases.
4:30PM: Chango Dominguez - Piano Iberico
For over 40 years, internationally acclaimed jazz pianist Chano Dominguez has integrated the rhythms and languages of jazz and flamenco, placing him among the most influential musicians in the history of flamenco-jazz. He has released over 20 albums as a bandleader, and has collaborated extensively with other jazz artists including Paquito D'Rivera, Gonzalo Rubalcaba, Joe Lovano, Chucho Valdes, Wynton Marsalis, and the Lincoln Center Jazz Orchestra.
7:30PM: Nate Smith + KINFOLK
Since moving from Chesapeake, Virginia to New York City in 2001, Nate Smith has helped reinvigorate the international jazz scene with his visceral style of drumming by playing with such esteemed leading lights as guitarist Pat Metheny, bassist Dave Holland, saxophonists Chris Potter and Ravi Coltrane, and singers Patricia Barber, Somi, and Jose James.
Sunday, September 15
1:00PM: John Ellis & Double-Wide
Gifted, versatile saxophonist/clarinetist/composter John Ellis occupies an imaginary (and extremely imaginative) space directly between the celebratory, welcoming spirit of New Orleans and the edgy, frantic streets of New York City. Ellis Expresses a keen intellect and easy virtuosity while maintaining a mischievous gleam in his eye and never letting tongue stray far from cheek.
2:45PM: Nicole Zuraitis
Grammy-nominated vocalist, pianist, and songwriter, Nicole Zuraitis blends clever songwriting skills, an effervescent presence, and dazzling vocals in a consummate package that has thrilled audiences around the world. While pursuing a career that has spanned jazz, pop, and classical, Nicole has collaborated with Cyrille Aimee, Thana Alexa, Dave Stryker, Livingston Taylor, Tom Chapin, Omar Hakim, Melanie Safka, Helen Sung, and Bernard Purdie.
4:30PM: Dafnis Prieto Sextet
Cuban drummer, composer, bandleader, and MacArthur "Genius" Fellow Dafnis Prieto's revolutionary drumming techniques and compositions have had a powerful impact on the Latin and jazz music scene, nationally and internationally. His latest big band album Back to the Sunset recently won a Grammy Award for Best Latin Jazz Album.
Want to know what to expect at this year's Jazz Weekend? Watch our video with footage from past festivals!
Bring the family, leave your wallet at home, and soothe your soul with great jazz all weekend long!
Brought to you by the Lake George Arts Project. For more information, call 518-668-2616.