Jazz at the Lake: Lake George Jazz Weekend
September 16 & 17, 2017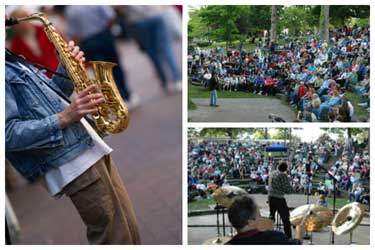 The 2017 Lake George Jazz Weekend is September 16 & 17 at Shepard Park. Jazz enthusiasts won't want to miss this weekend full of free performances by talented jazz musicians!
Bring your own chairs and blankets, and picnic while enjoying the music from the lawn. You can also listen from your boat behind Shepard Park Beach.
All concerts are FREE!
Schedule of Performances:
Saturday, September 16
1:00 PM: Lyric Fury
2:45 PM: Ola Onabule
4:30 PM: The Cookers
Special Saturday evening performance at 7:30 PM: Dave Liebman Tribute to Coltrane
Sunday, September 17
1:00 PM: Camille Thurman & The Darrell Green Trio
2:45 PM: Orrin Evans
4:30 PM: Emilio Solla
Want to know what to expect at this year's Jazz Weekend? Watch our video with footage from past festivals!
Bring the family, leave your wallet at home, and soothe your soul with great jazz all weekend long!
Brought to you by the Lake George Arts Project. For more information, call 518-668-2616.