Jazz at the Lake: Lake George Jazz Weekend
September 14 & 15, 2019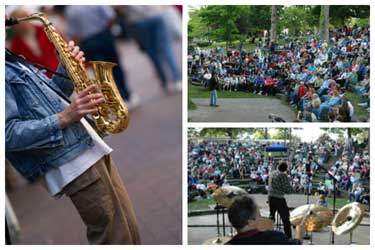 The 2019 Lake George Jazz Weekend is September 14 & 15 at Shepard Park. Jazz enthusiasts won't want to miss this weekend full of free performances by talented jazz musicians!
Bring your own chairs and blankets, and picnic while enjoying the music from the lawn. You can also listen from your boat behind Shepard Park Beach.
All concerts are free!
Stay tuned for the 2019 schedule as it becomes available! For an idea of what to expect, check out last year's details:
2018 Schedule of Performances
Saturday, September 15
1:00 PM: Robert Bootsie Barnes "Been Here All Along" Quartet
2:45 PM: Ryan Keberle & Catharsis
4:30 PM: Charlie Sepúlveda & The Turnaround
Special Saturday evening performance at 7:30 PM: Celebrating the Music of Weather Report: Jason Miles, Joel Fraham, Mino Cinelu, Gene Lake, Karen Briggs-Violin
Sunday, September 16
1:00 PM: Paul McCandless with Charged Particles
2:45 PM: Jim Ridl Quartet
4:30 PM: Sharel Cassity - Elektra with Ingrid Jensen
Want to know what to expect at this year's Jazz Weekend? Watch our video with footage from past festivals!
Bring the family, leave your wallet at home, and soothe your soul with great jazz all weekend long!
Brought to you by the Lake George Arts Project. For more information, call 518-668-2616.