Experience Maple Season In Lake George & The Adirondacks
March is one of the sweetest times of year in Lake George and the Adirondacks: maple season! Behind Vermont, New York State is the second-largest maple syrup producer in the country, and we celebrate that fact all month long.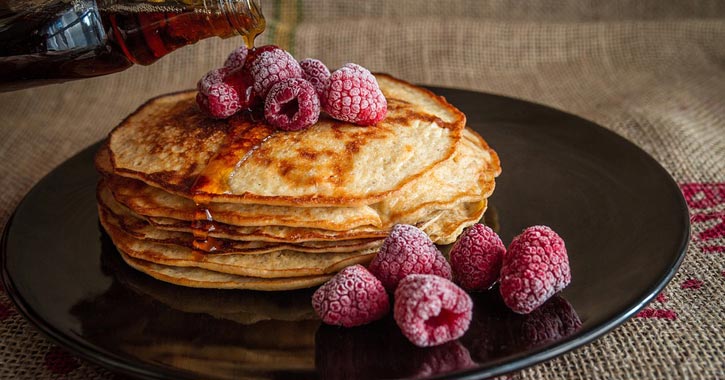 Maple Sugaring in the Lake George Region
Here in Lake George and the North Country, there are many local maple farms that produce the sweet syrup you know and love. The sap to syrup process is known as maple sugaring, and it typically takes place from March through early April, depending on the weather.
Over the years, the tradition has evolved and now involves the use of vacuum pumps and tubing to tap sugar maple trees. These trees are tapped when they are at least 30 years old and can support three taps at a time. The tap allows sap to flow into a collection area, such as an evaporator house or buckets. Once enough sap is collected, it is heated/boiled, and then the resulting syrup is filtered.
This traditional maple sugaring process is conducted throughout the Lake George Region each year. There are maple farms in Warrensburg and Thurman, a wide array within nearby Washington County, and even more in and around the Adirondack Park. Many of these places offer tours and maple products that are available for purchase.
2018 Thurman Maple Days
The Thurman area, about a half hour drive from Lake George Village, hosts three weekends worth of Thurman Maple Days each year. This year's Thurman Maple Days are slated for March 10 & 11, March 17 & 18, and March 24 & 25.
During the designated weekends, four farms in the region welcome visitors for open houses, tutorials on the sugaring process, syrup samplings, pancake breakfasts, kids' activities, and so much more.
The participating farms are:
Adirondack Gold Maple Farm, 74 Bear Pond Road, Athol, NY
Valley Road Maple Farm, 190 Valley Road, Thurman, NY
Hidden Hollow Maple Farm, 312 Dippikill Road, Warrensburg, NY
Toad Hill Maple Farm, 151 Charles Olds Road, Athol, NY
Maple Fun at Up Yonda Farm
On four Saturdays in March 2018, Up Yonda Farm in Bolton Landing will host their Maple Sugaring events.
Come witness the traditional process that results in the sweet syryp you know and love. On March 10, 17, 24, and 30, the staff at Up Yonda Farm will tap, collect, and boil the sap of sugar maples on the property.
To attend, the cost is free for members and $4 per person for non-members.
2018 New York State Maple Weekends
The maple celebration continues state-wide during two New York State Maple Weekends each year! This year's maple weekends are March 17 & 18 and March 24 & 25. More than 130 maple producers across the state participate in maple weekends, offering open houses, public demonstrations, family-friendly fun, and more.
Find Maple Events in the Adirondacks »