Ice Castles Lake George Reconceptualized as Winter Realms for 2023/2024 Season
Sponsored by: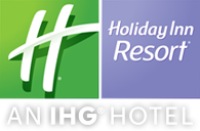 Stay and Play at Holiday Inn Resort Lake George
Enjoy year-round comfort at the Holiday Inn Resort at Lake George. This award-winning hotel features premium amenities, a restaurant, and various on-site activities. It's prime location makes it easy to enjoy every moment Lake George has to offer. Learn More »
Ice Castles, which brought 90,000 people to the Lake George Region in 2023, has been reimagined as Winter Realms, and is expected to bring in upwards of 100,000 people this 2023/2024 season. Here's what to expect!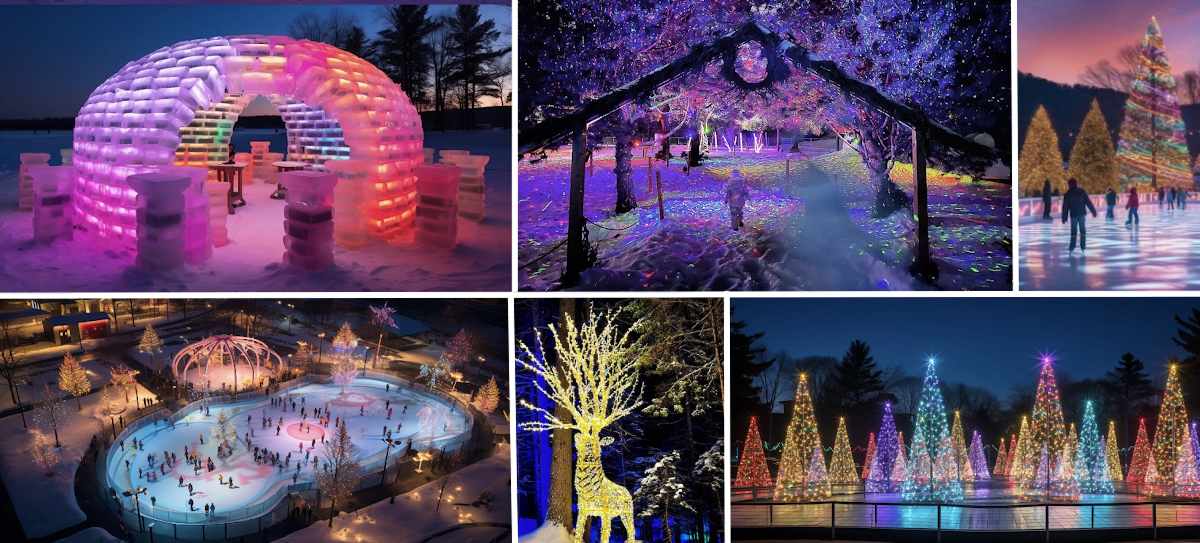 What to Expect at This Sensational Winter Attraction
Winter Realms is a wintertainment destination with all the magic that Ice Castles captured, but more weather resilient. Delight in the radiance of the Northern Lights as you and your family take in this immersive winter wonderland, specifically designed to evoke the wonder and magic of the season.
The attraction will take place at Charles R. Wood Park, in the same place that Ice Castles set up the past two years. It will also be close to the new Lake George Winter's Dream, an all-new winter experience at the Fort William Henry Historic Fortress that combines lights, sounds, music, and interactivity.
Winter Realms is open November 24, 2023 - March 3, 2024, 4:00pm-10:00pm, Thursday - Sunday + Holidays (12/14 - 1/1, 1/15, 2/19). The amount of time to walk through and enjoy the Winter Realms experience is approximately 45 minutes to 1.5 hours.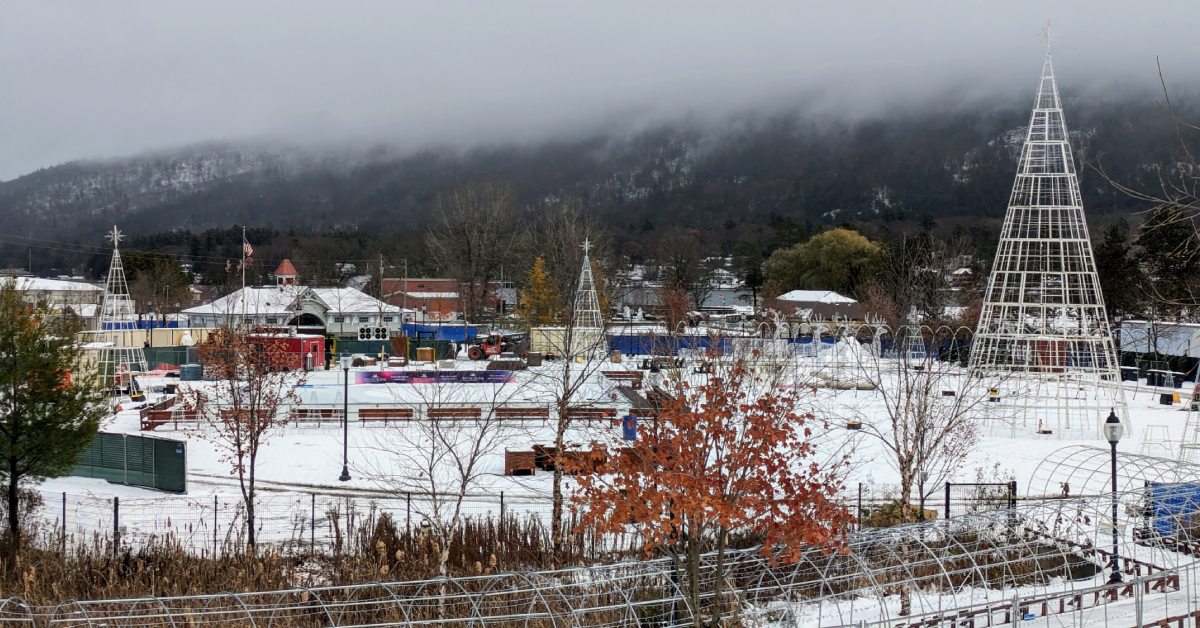 Ticket Information
Tickets are on sale now at winterrealms.com! Pricing is as such:
Off Peak: $17 Adults, $14 Children 4 to 11
Peak: $20 Adults, $15 Children 4 to 11
Kids under 4 are free.
Peak pricing applies to Friday through Sunday, and the following dates: 12/14/23, 1/1/24, 1/29/24, and 2/19/24 - 2/23/24.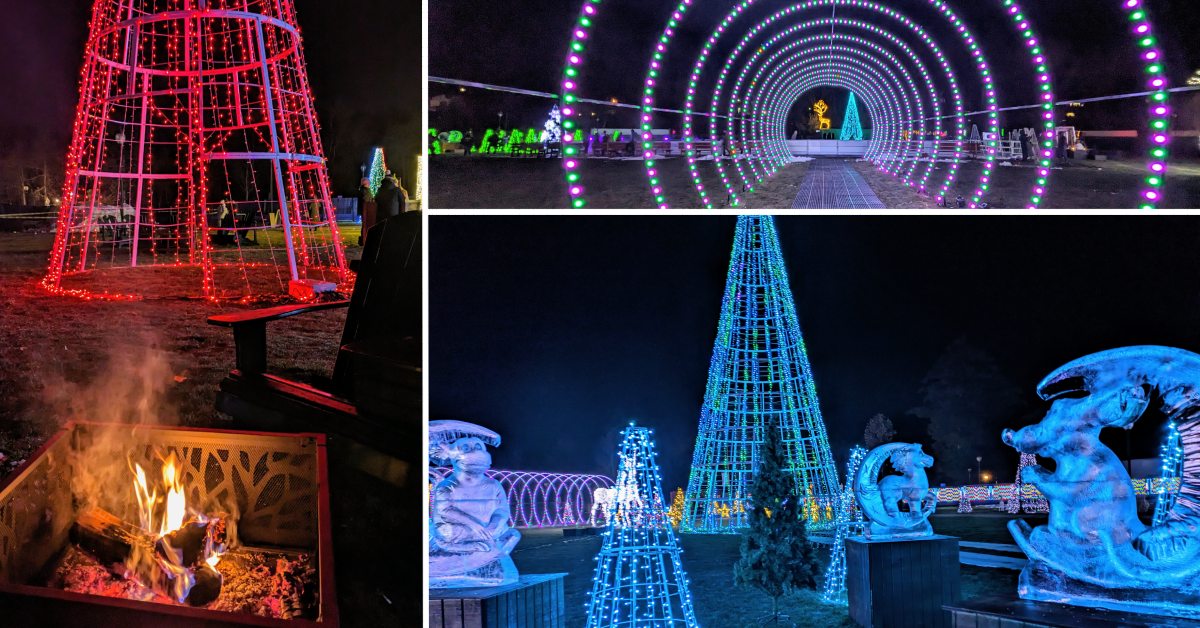 Winter Realms Attractions & Activities
Highlights of Winter Realms include:
Ice skating rink
Arctic Alcove (VIP Experience)
Polar Ice Bar
Ice sculptures carved from 24 pallets of ice blocks by world renowned sculptor from Ukraine
12 themed ice sculptures
Snowman over 15 feet
60-foot illuminated tree
Over 90 authentic Christmas trees
Igloos
Over 100,000 twinkling lights
Santa's Village
Fairy Village
And more!

The experience will evolve along with winter, so this is not a one-and-done experience!
Ice Skating Rink
Entry to the ice skating rinks is $9, separate from the entrance fee to Winter Realms. This does include skate rentals, if you need them. When you purchase tickets online for Winter Realms, there will be an option to add the ice skating tickets to your order.
What else to know:
Time slot entrances start every 30 minutes
There is a maximum capacity of 40 people per time slot
Guests may skate as long as they like (except for when the ice needs to be cleared, between 8pm and 8:30pm each night)
Once you have exited the ice rink, re-entry is not permitted
Assists are available for any children or guests new to skating at no cost

Guests can skate at any point during their visit to Winter Realms, space permitting
There will be a cozy spectator viewing area with picnic tables and warming stations
Rarely, snow or other weather events could affect the ice skating rink from opening
Jumps, hockey sticks/pucks, kicking/chipping holes are not permitted
Arctic Alcove
Freeze your special moment in time with a private visit to the Arctic Alcove! Perfect for proposing, celebrating a special occasion, or just sneaking away for some secluded time at Winter Realms, the Arctic Alcove is your ticket to a VIP experience.
When you book the Arctic Alcove you get:
6 tickets to explore Winter Realms as long as you and your party would like, including the ice skating rink
A private, 1-hour experience inside this small, intimate, roped-off space
Communication beforehand with your host, who will ensure your moment is magical and your questions are answered
A 20% discount on merchandise at the gift shop
A photo to commemorate this special time
Available time slots for the Arctic Cove are at 4pm, 6pm, or 8pm.
The Arctic Cove reservation is $350, and this can only be purchased ahead of time online, at winterrealms.com. Discount codes cannot be applied. You are welcome to include fewer than six people, but the price will not change.
Once your reservation is confirmed, you'll receive an email that contains a link to a form. Here you can ask questions or notify the staff that this is a surprise occasion, and this form will be sent to your host who will follow up via email.
Enjoy the Arctic Alcove, and all the other winter-ific elements of this special attraction!
This page was updated on November 27, 2023.