Plan a Winter Vacation to Lake George Village for These Top Events & Fun Activities
During winter, Lake George Village is a special place to visit in New York's North Country. You can see the beautiful snow-covered trees, attend one of the region's top events, and even go on an outdoor adventure. From ice bars to the Winter Carnival, festivals, and fun indoor activities, there are so many things to do throughout the season.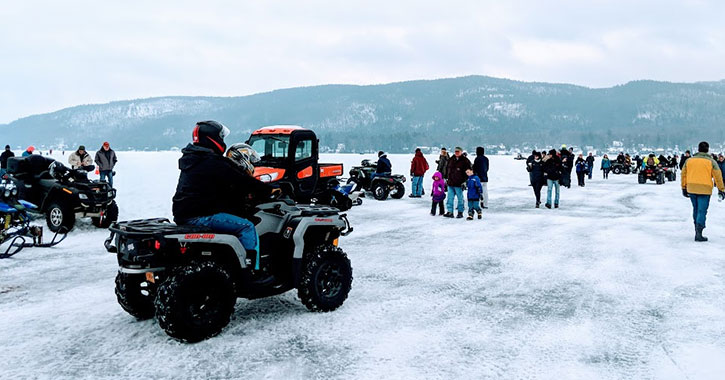 Since 1961, the annual Lake George Winter Carnival has attracted thousands of visitors to Lake George Village for four fun and activity-filled weekends in February. This grand winter celebration is typically held on the lake when the ice is frozen enough, or on land when it's not safe yet.
So what can you expect at the Lake George Winter Carnival? The schedule of events changes year to year, but there are always a wide range of family-friendly events and entertainment. You can watch competitors face off in wacky outhouse races, taste amazing food at the cook-offs, make your own s'mores on the beach, and more.
No matter which weekend you attend, you're sure to have a memorable time with family and friends.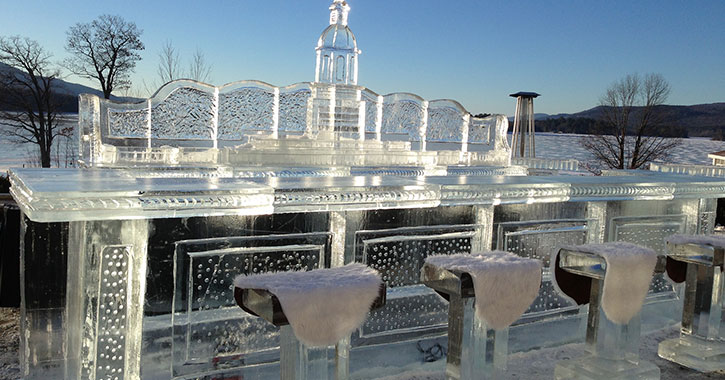 While the month-long Carnival may be the biggest highlight of winter in Lake George Village, the community has recently grown into a hotspot for ice bars.
As you may have guessed, ice bars are full-size bars crafted from ice and open for a limited time. From ice furniture and chairs to props and sculptures, ice bars are some of the "coolest" events you can attend. While all of them offer unique drink specials, some may have food or games too.
In the Lake George Region, different venues host ice bars in the village and nearby communities.
Chill Out & Celebrate Winter at Fun and Funky Festivals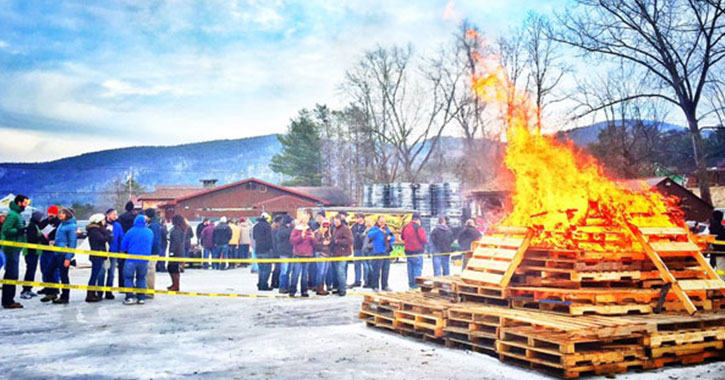 Don't let cabin fever take over this winter! Instead, plan a trip to one of Lake George Village's top festivals. Adirondack Pub & Brewery hosts two popular festivals each year - one in January and one in early March.
The brewery will host their annual Funky Ice Fest on January 24-25 and January 31 - February 1, 2020. You can look forward to multiple ice bars, live music, food, games, and much more during these two festive weekends.
Near the end of winter, don't miss out on their 9th Annual Adirondack Barrel Fest on March 7, 2020. Beer lovers from all around attend this event to sample rare barrel-aged selections around a blazing bonfire.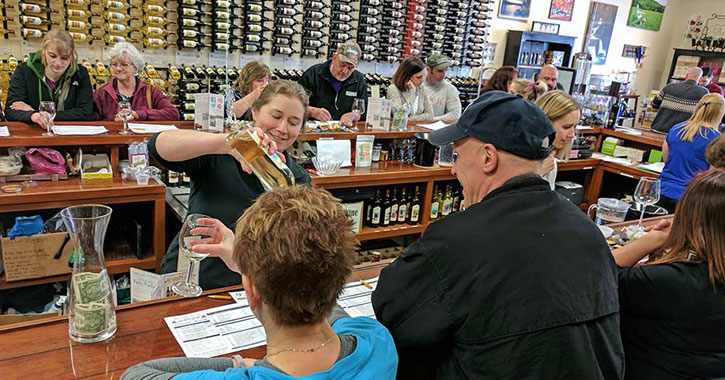 If you're looking to escape the cold and have a little fun indoors this winter, then you'll want to visit Adirondack Winery's Lake George Tasting Room, located right across the street from Shepard Park in the heart of the village.
At their Lake George Tasting Room, you can sample their selection of award-winning, handcrafted New York State wines. Stop in this winter to warm up and enjoy a wine tasting session with their knowledgeable tasting room associates. Who knows, you may discover your new favorite wine!
Adirondack Winery also hosts a variety of fun events throughout the season.
This February in celebration of Winter Carnival, they will also offer special 2-for-1 cups of mulled wine during carnival weekends.
See What's on Tap at Adirondack Pub & Brewery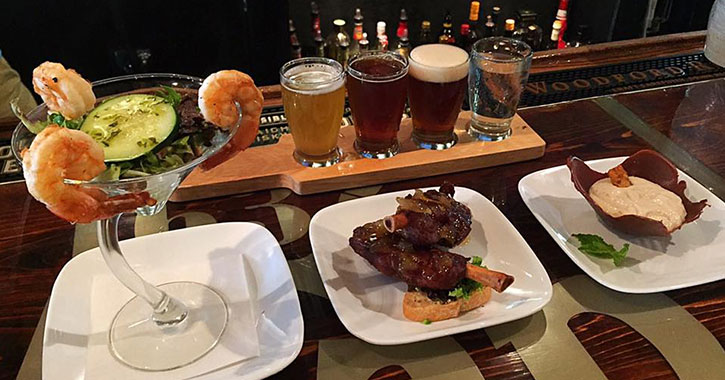 Located on Canada Street in southern Lake George Village, Adirondack Pub & Brewery is a great option when you're in the mood for a tasty beer. Featuring a comfortable and rustic restaurant, "The Pub" delivers visitors flavorful, handcrafted ales and delicious food.
On a chilly winter day in Lake George, step inside the brewpub and check out what's on tap. You can expect to find a variety of year-round favorites, seasonal brews, and special cocktails. While you're there, satisfy your hunger with a mouthwatering burger, char-grilled steak, or their fish tacos. Adirondack Pub & Brewery is open for lunch and dinner.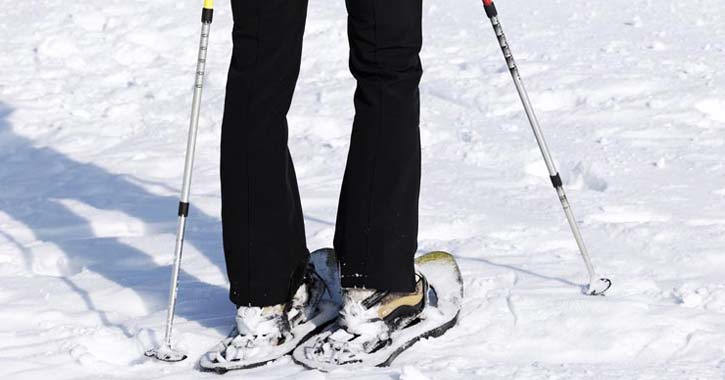 When snow arrives in Lake George, it's time to bundle up and prepare for some outdoor winter fun. The Lake George Recreation Center is the ideal playground for cross-country skiing, snowshoeing, and snow tubing.
Access is free, and you can bring the kids to the designated snow tubing area (adult supervision recommended), or strap on your cross-country skis or snowshoes and hit the trails.
The Lake George Recreation Center has four miles of groomed cross-country ski trails that range in difficulty from novice to advanced. Snowshoers are welcome to travel along the sides of these trails.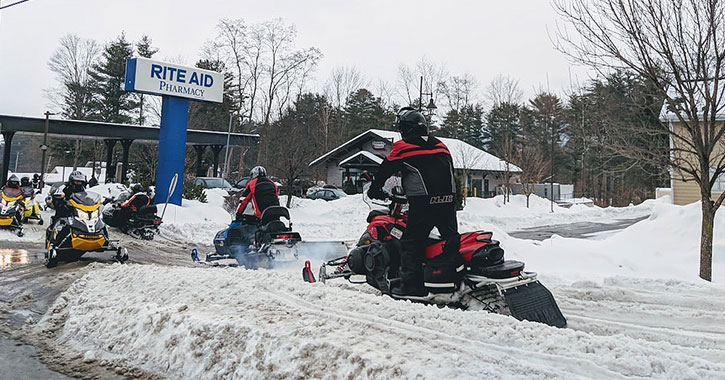 When you feel the need for speed in winter, there's no better solution than a snowmobiling adventure through a snowy wonderland. The Adirondack Park is full of communities with snowmobile trails to explore, and Lake George is no exception.
Lake George Village and the surrounding area are a key part of the trail network managed by the South Warren Snowmobile Club. From preparing proper signage to trail grooming, the local non-profit club works hard each winter to make their trails accessible and safe.
Many are accessible from Route 9N, which travels from the Town of Lake Luzerne to Lake George. The Lake George trails extend from Beach Road to U.S. Route 9 and beyond. Get ready to map your route, rev up your engine, and hit the trails!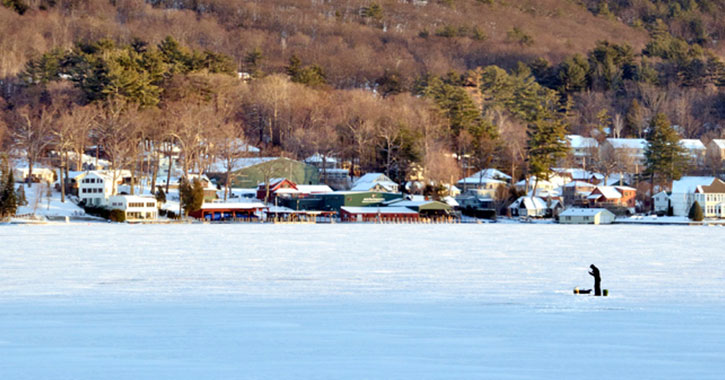 Photo: Luke Dow Photography
When the surface freezes over with a thick layer of ice, Lake George attracts ice fishermen from all around the region. Although you can fish anywhere the ice is safe to be on, Lake George Village is a good starting point due to the convenient parking options around the southern basin, including:
The village streets
The parking lot on Beach Road
The parking lot by the Million Dollar Beach boat launch; this is a 26-spot parking lot that is free and open to the public throughout winter
After you pick out a spot to dig a hole in the ice, you can fish for landlocked salmon, yellow perch, and lake trout.
Feeling excited about all of the things you can do this winter in Lake George? Take a look at the area's lodging options and plan your winter getaway today!