Explore 13 of the Best Places to Shop & Dine in Lake George Village This Winter
Sponsored by: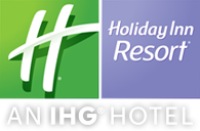 Stay and Play at Holiday Inn Resort Lake George
Enjoy year-round comfort at the Holiday Inn Resort at Lake George. This award-winning hotel features premium amenities, a restaurant, and various on-site activities. It's prime location makes it easy to enjoy every moment Lake George has to offer. Learn More »
Between all the winter events and outdoor activities, there is a lot to explore right in the village area. Make the most of your visit to Lake George this winter by checking out some of the best places to shop and dine locally.
7 Village Shops Offering Craft Beverages, Local Gifts & More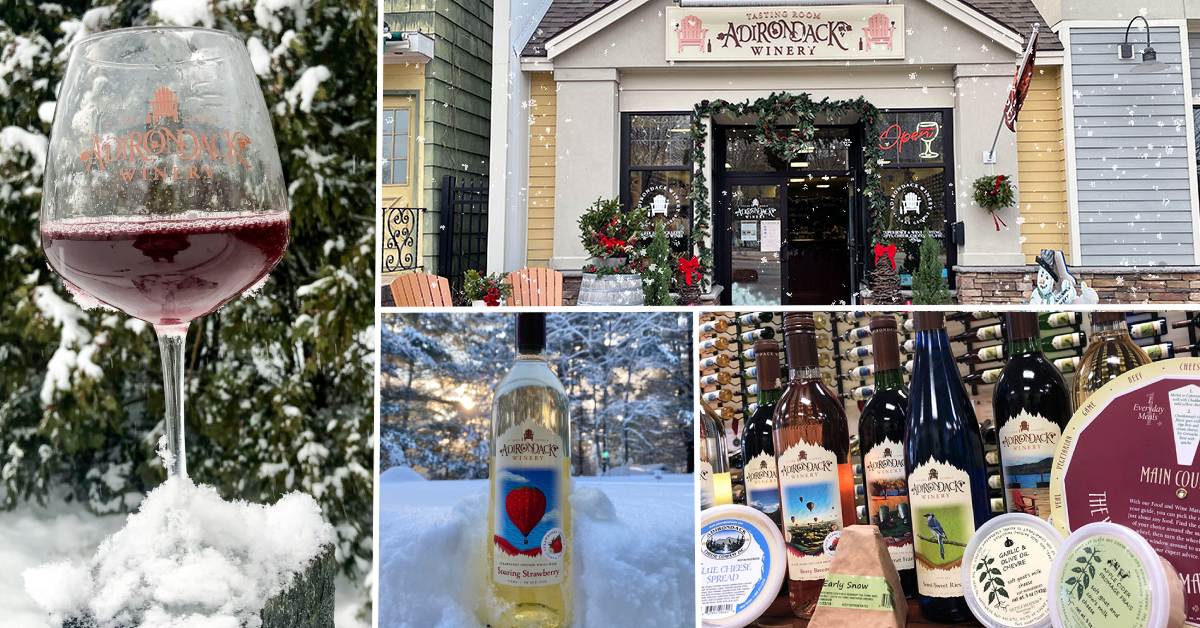 Warm up inside Adirondack Winery's Lake George Tasting Room and sip some of the region's finest handcrafted wines. Adirondack Winery proudly serves 35+ fruit infused and traditional varietal wines, and during winter, they are open for both wine tasting sessions and bottle/retail sales. Book a tasting during one of their many wintertime events or just stop by during their hours of operation and check out their locally made wine selection.
Discover a Superb Lineup of Spirits at Lake George Distilling Company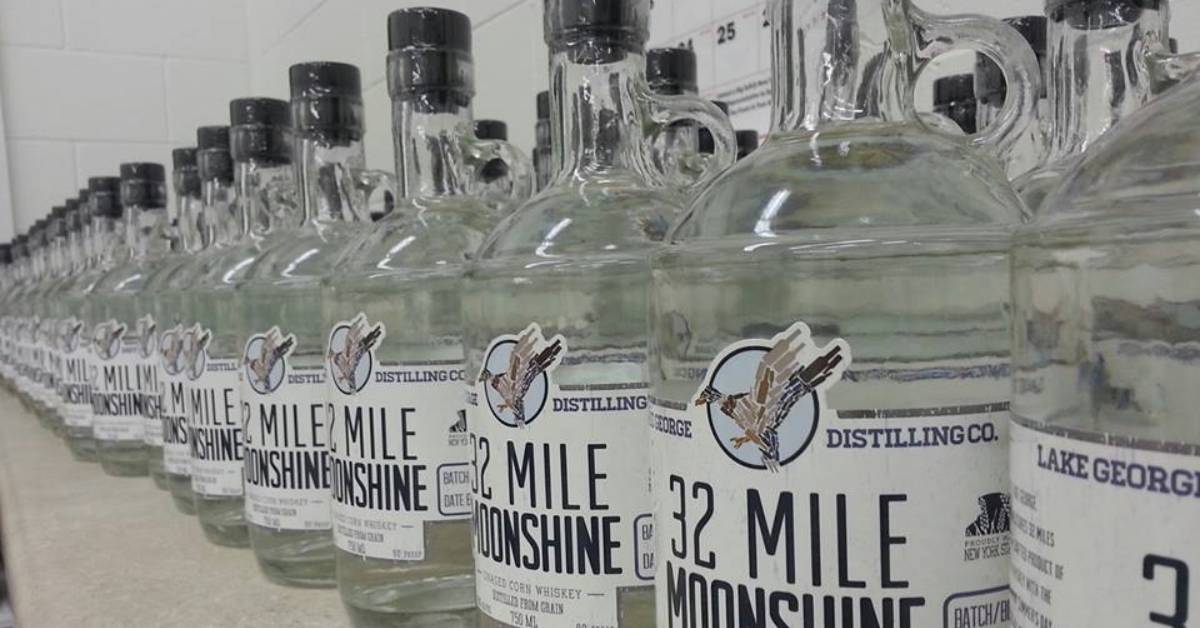 Lake George Distilling Company is a small New York State farm distillery in Fort Ann that operates a separate tasting room and shop on Canada Street in Lake George Village. The distillery specializes in handcrafted spirits that are made using local grains and inspired by the area, such as the 32 Mile Moonshine (named after the length of Lake George), the Adirondack Wildfire Whiskey, and the Red Rock Rye. Try their locally made spirits and discover a new favorite to bring home with you.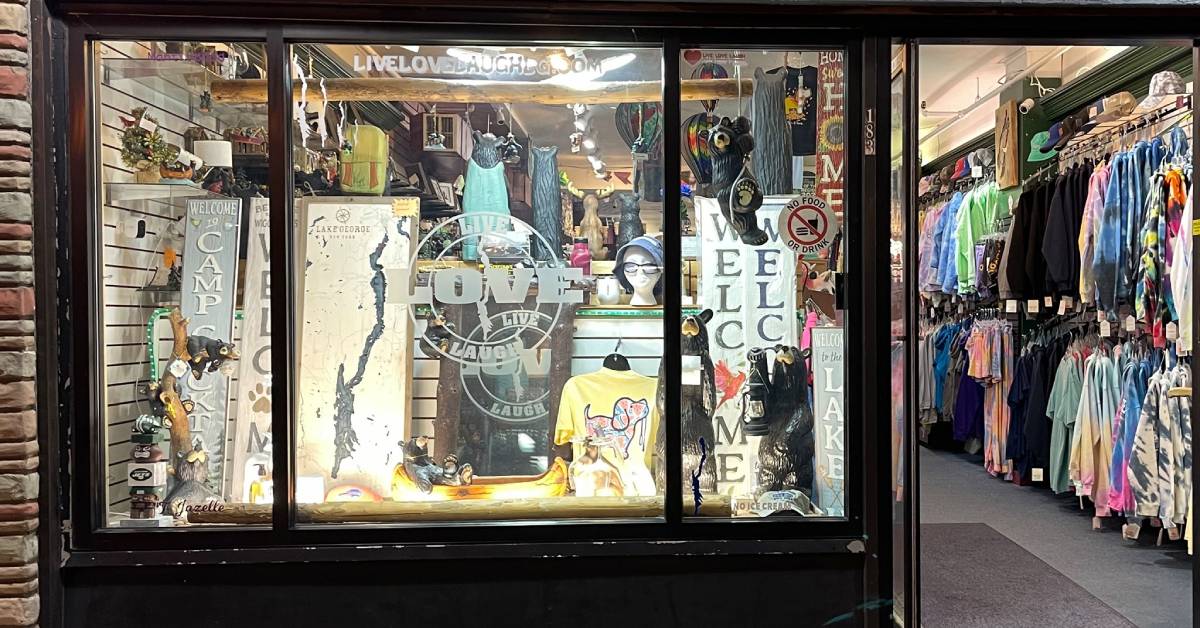 Open year round in the heart of Lake George Village, Live Love Laugh carries a wide variety of gifts, including Adirondack soaps, pillows, maps, and decor, as well as Lake George-themed apparel. As you walk through the store, you'll find gifts created by different artists, items made in New York, and other unique pieces. They truly have something for everyone, and their current hours of operation are available on their website.
Sample a Selection of Olive Oils & Balsamic Vinegars at the Lake George Olive Oil Company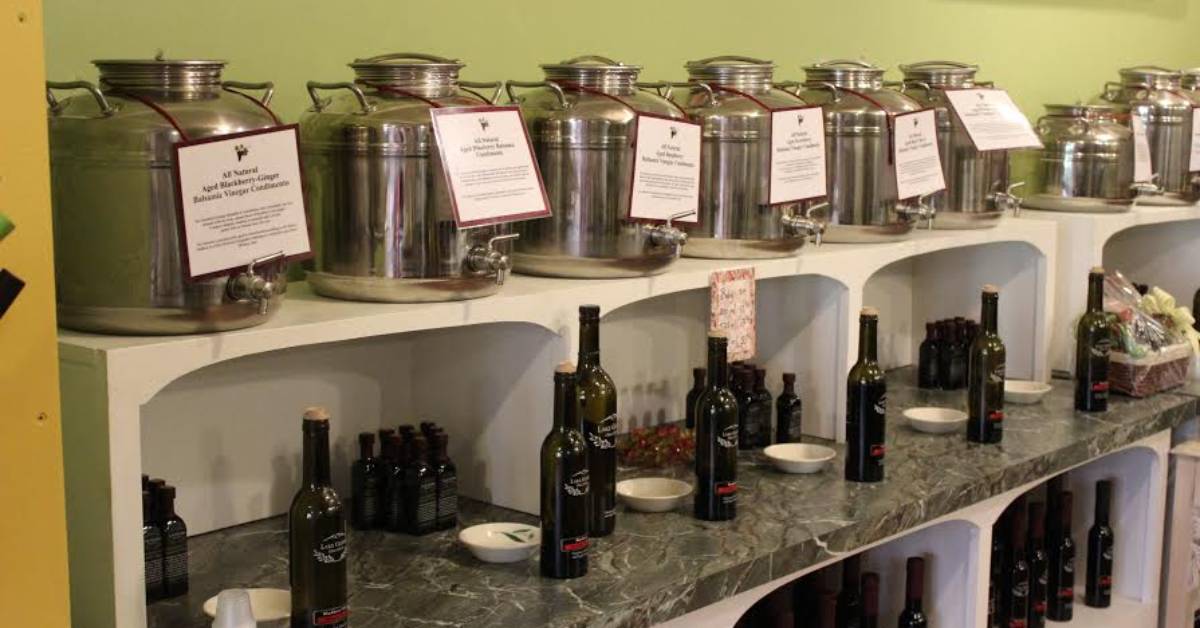 One of the most flavorful shopping experiences in the village can be found at the Lake George Olive Oil Company, where customers can sample the freshest extra virgin olive oils (EVOOs) and highest quality balsamic vinegars from around the world. This family-owned business operates stores in Lake George and nearby Glens Falls, and they sell traditional EVOOs, infused olive oils, dark and white balsamic vinegars, sea salts, and more. The Lake George Olive Oil Company is open year round with updated hours available on their website or Facebook page.
Get Your Irish Goods & Gifts at Molly Malone's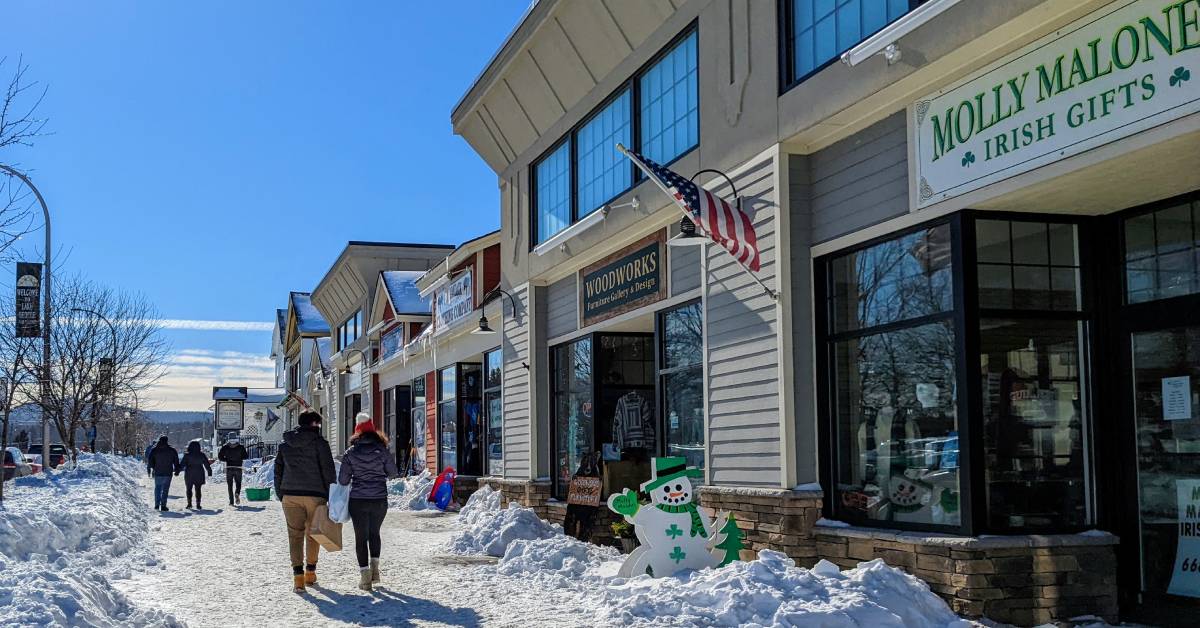 Whether you're Irish or Irish at heart, you'll want to check out the selection of fine Irish gifts available at Molly Malone's in Lake George. This little Irish shop on Canada Street offers clothing, jewelry, accessories, and giftware that are manufactured and imported directly from Ireland and Scotland, or made in the United States. Stop by and take a peek at what's in stock; their latest hours are available online, or you can call the store ahead of time.
When the ice is safe to walk on, Lake George's southern basin becomes a popular spot for local ice fishermen. Are you interested in taking a break from all the winter events and doing a little ice fishing yourself? Swing by Beach Road Bait and Tackle for all your ice fishing needs. Not only does the shop sell essential gear and supplies, but the staff can also provide Lake George ice fishing advice to help you get started.
Treat Your Furry Friend to Homemade Snacks & Fun Toys From The Dog Cabin
If you had to leave Fido at home during your trip to Lake George, then we recommend you pick up a couple treats or toys to give your furry friend when you return. Located on Montcalm Street behind Caffe Vero, The Dog Cabin sells their own homemade dog treats, a large selection of plush toys, balls, and squeakers, grooming supplies, and other dog-related items and gifts. The Dog Cabin is the oldest and only dog store in Lake George, and during the fall/winter months, they are open on weekends only.
6 Restaurants & Pubs Where You Can Satisfy Your Hunger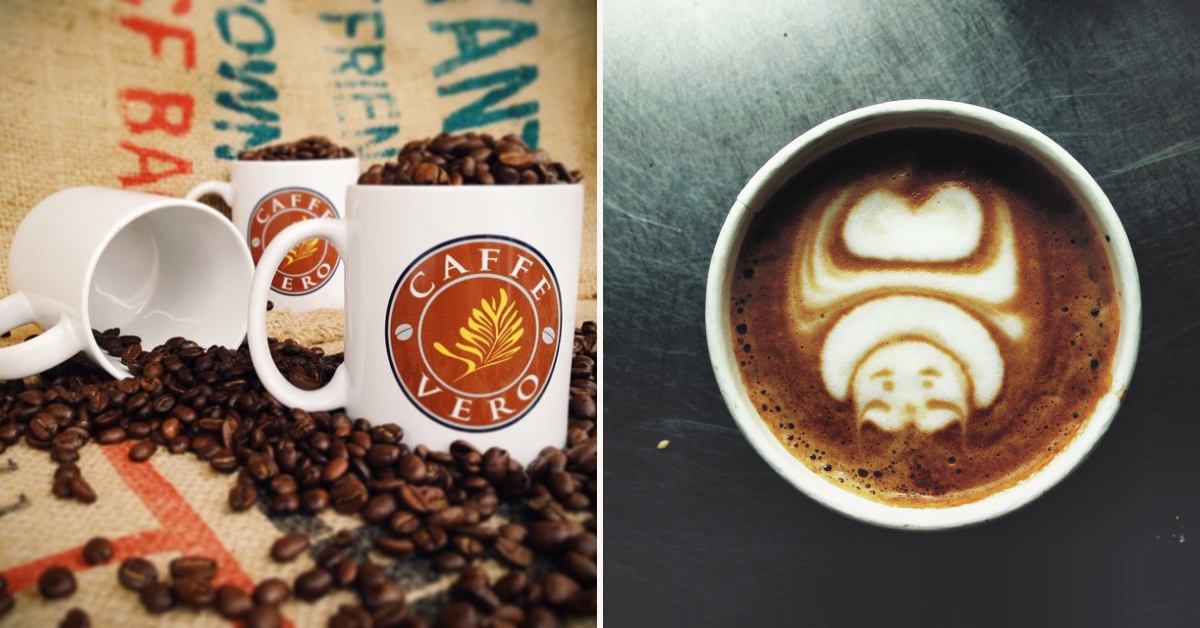 Before you embark on your next winter adventure, be sure to get your caffeine fix at Caffe Vero, one of the region's top coffee shops. Caffe Vero brews fresh coffee each morning using the finest Arabica Coffee Beans, and their other menu items include house-made baked goods, donuts, bagels, breakfast and lunch sandwiches, and more.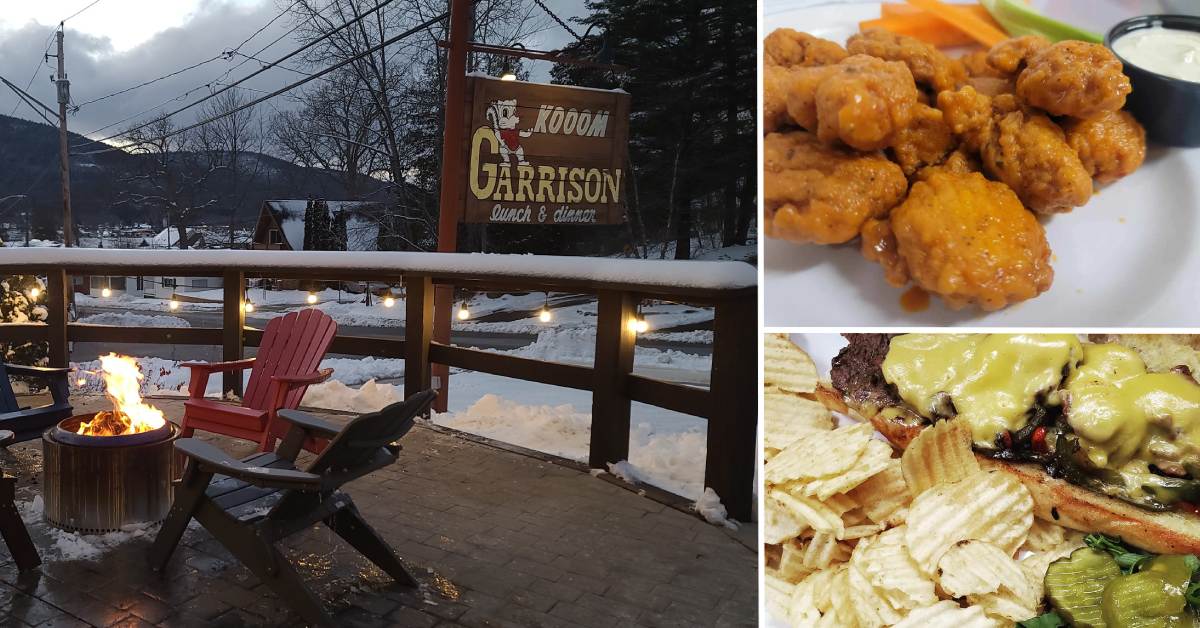 Pub grub is the perfect type of food for lunch or dinner, and The Garrison on Beach Road serves up all your favorites. Take a stroll to this Adirondack cabin-like restaurant and order one of their house specialties, such as the 'Dacks Mac & Cheese, the Fish & Chips, or the Garrison Pork Wings. You can sit in the spacious dining room, at the bar, or outdoors by the fire pit.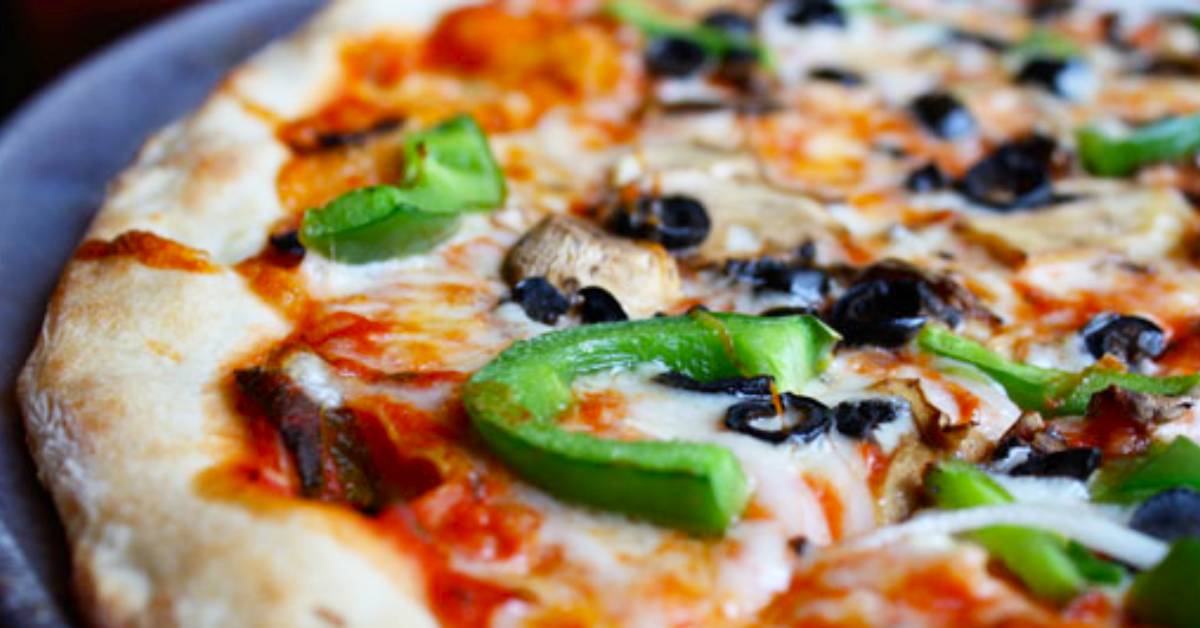 Although the Lake George Region is home to a number of pizzerias, one can argue that Pizza Jerks' hand-tossed NY-style pizza can't be beat. Over the years, reviewers continue to rave about the flavorful sauce, the thin and crispy crust, and the selection of specialty pies. Would you and your family like to try a Philly Steak pizza, a Cheeseburger pizza, or even a Rasta pizza with jerk seasoned chicken? Head over to Pizza Jerks in Lake George Village.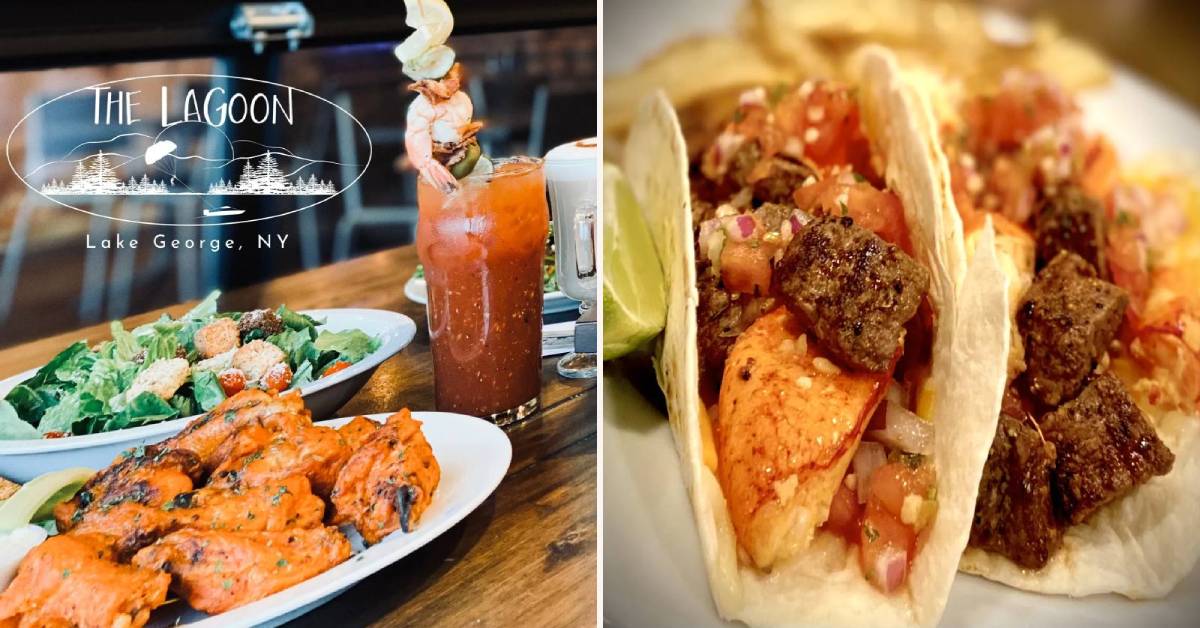 For delicious food, friendly service, and excellent craft beer options in Lake George, make plans to eat at The Lagoon. This local bar and grill is located on the middle level of The Village Mall and offers beautiful views of southern Lake George. Burgers, sandwiches, seafood, and wood-fired pizza are some of their specialties, and they are known for hosting live music and trivia nights throughout the year.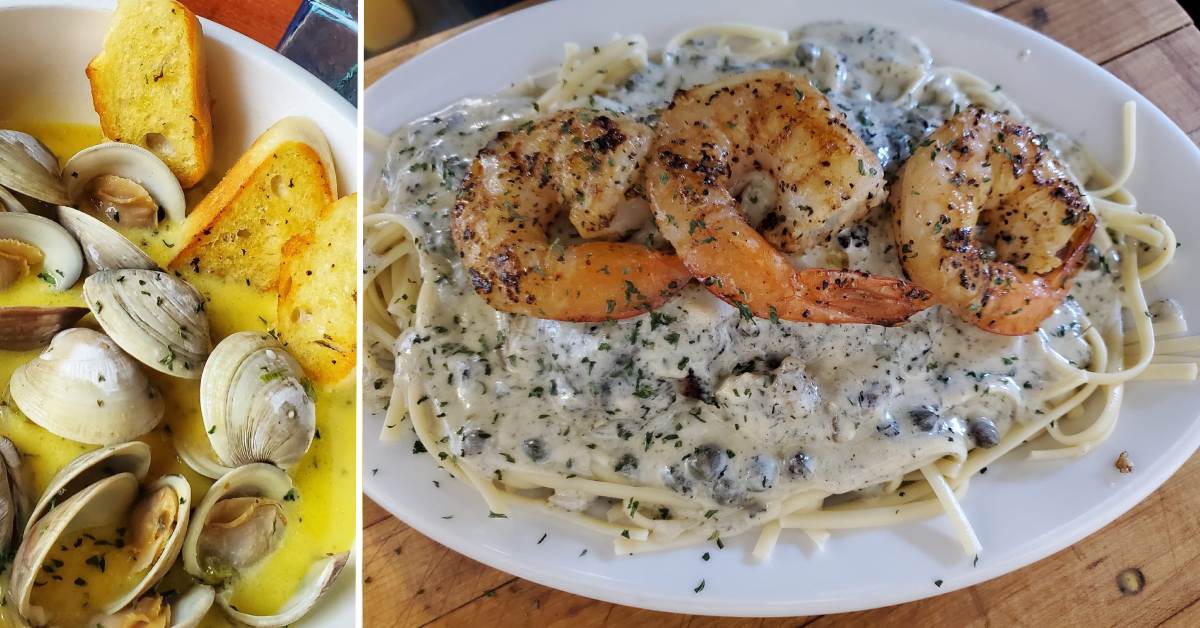 Enjoy gorgeous views of Lake George while savoring an incredible meal at Blue Thirty-Two. This spot offers an expansive menu with options like burgers, steak, seafood, and unique sandwiches, like their epic Fire Tower Chicken Sandwich, pictured above. They often have daily specials, like Wednesday Wine Nights, where you can get half priced wine with any entree.
Find Out What's on Tap at Adirondack Pub & Brewery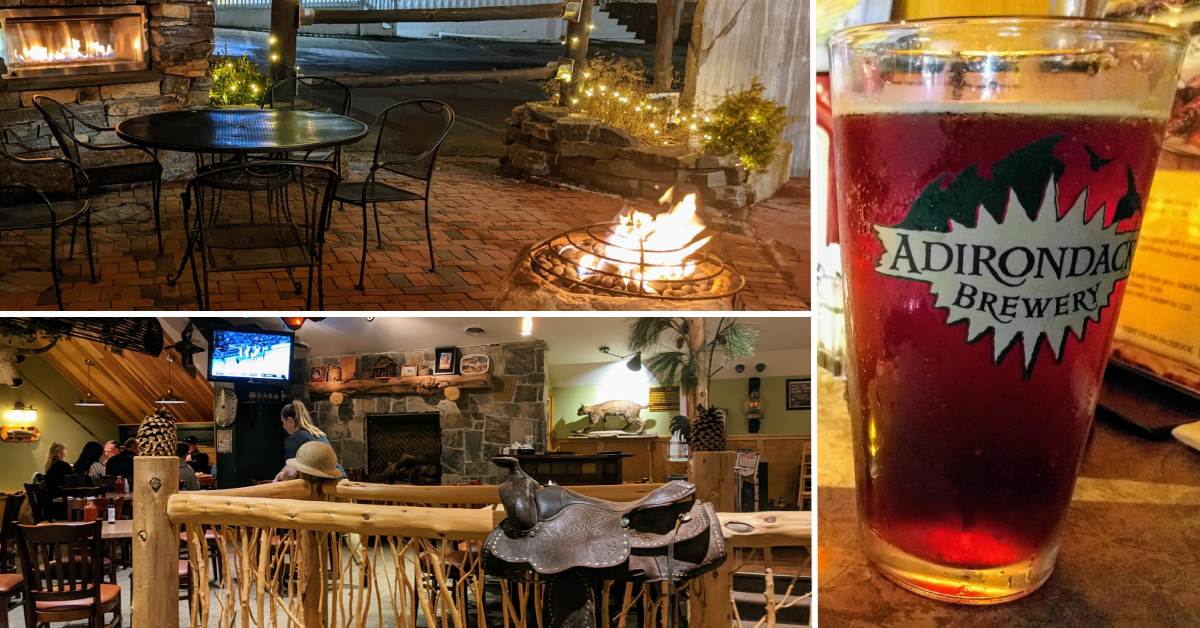 Adirondack Pub & Brewery is worth a trip any time of the year, but during winter, you can enjoy your pub grub and local craft beer indoors or around one of their blazing outdoor fireplaces. Brewed on-site, their beer list includes the Bear Naked Ale, the Bobcat Pilsner, and winter releases like the Peanut Butter Porter and the Fat Scotsman. Pair your drink with an Adirondack Brewery Burger, Fish Tacos, or a Po Boy, and you have the recipe for an amazing meal.
Are you ready for your day trip or winter getaway to Lake George? Come for the exciting events and activities, and stick around for a little shopping and dining throughout the community.
Find more local restaurants that are open in winter >>