Lake George, NY - Frequently Asked Questions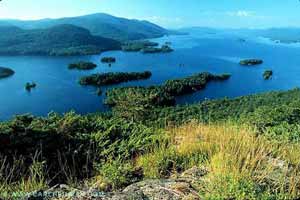 Visitors to the Lake George area (and any area) often have a few questions they would like answered while vacationing. We have compiled a list of the most frequently asked questions, and answered them for you. Next time you come to town you can spend more time shopping or at the lake, as your questions will already be answered!
Lake George FAQs:
Where can we eat?
There are plenty of great places to eat in and around Lake George, so choosing a place just depends on what you want to eat. With a wide range of eateries in town and nearby, there are plenty of options to please any palate. Check out this list of Lake George restaurants that you can sort depending on what you would like to eat: American, Barbecue, Breakfast, Buffets, French, Italian, Mexican, Organic/Local, Seafood, etc. Just looking to go out and grab a drink? Check the list of Lake George bars.
What activity shouldn't we miss in Lake George?
Visiting for summer vacation? You will not want to miss the weekly fireworks! Head to Shepard Park for live music and fireworks every week! You should also check out our list of the Top 10 Things You Must Do In Lake George!
Visiting in fall, winter or spring? In the spring, Lake George is a whitewater rafting haven! For fall, don't miss our list of "Must-See Fall Attractions" and visit the Lake George Fall Guide for more ideas. Winter in Lake George also offers an array of fun that is not to be missed! There is the annual Lake George Polar Plunge on New Year's Day, which kicks off the popular Winter Carnival every weekend throughout the month of February, and once the lake is frozen, there is a ton of fun to have! See our Winter Guide to Lake George to learn more.
Do you have a list of all the events in the area?
Yes! You may want to bookmark this Lake George events page - updated daily with all the latest events in the area! Whether you're here in July or in February, there is always something to do in Lake George! Here is a complete list of Lake George attractions that can be sorted by season or whatever your interests might be.
We want to rent a boat, where do we go?
The shores of Lake George are brimming with marinas! Whether you want to rent a party boat, take a cruise on one of the steamboats, or purchase a waterskiing boat, you can do it all here! The lake is just beautiful in the summer, so visit one of these Lake George marinas and get out on the water!
We are looking for outdoor activities, what do you suggest?
Being located in the southern Adirondack Park, Lake George is the perfect place to vacation if you're looking to get outdoors! There are all kinds of things to do outside in the area, and our top suggestions would be: Biking, Hiking, Fishing/Hunting, Horseback Riding, Rafting/Tubing/Kayaking.. and of course, hitting the beach!
Where is the best shopping?
There are plenty of options here: outlets, stores, gift shops and a shopping mall all within close proximity offer something for everybody! Whether you're looking to buy clothes, souvenirs, or sporting equipment, check out our shopping in Lake George directory!
It's raining - what can we do?
Ok, so you're here and ready to have a blast! But wait, it's raining outside. Now what are you going to do? Surprisingly, vacationers find they can have just as much fun on a rainy day in Lake George! You can enjoy Lake George's thrilling indoor waterpark, learn about the area at one of the local museums, take a cruise on a steamboat, take a day-trip or scenic drive up north to the Adirondacks, or south to Saratoga! Check out our rainy day guide for more ideas and information on indoor fun in the area!
Is there camping in the area?
Oh yes - camping is both fun, and affordable! There are many RV parks, campgrounds and island campsites available depending on what you are looking for! If you have a boat, or wish to rent one, we suggest you try island camping. Island camping is fun and unique, and out on the lake you'll be isolated from the traffic and lights of town.
Where are the best hiking trails?
There are quite a few mountains around Lake George that have well marked (and traveled) trails to the summit. Each offers its own view of the lake and surrounding area. Looking for some historic locations, or some more challenging hikes in the Adirondacks? Check out the list of Adirondack Hiking Trails.
Where can we play a great round of golf and is it hard to get a tee time?
One of the best things about this region (and the least known) is the golf. The Lake George area and surrounding towns hold many golf courses, many of which are very nice. There is something within close proximity for every level of golfer. Whether you are a beginner and want to just hit a bucket of balls, or you are a scratch-golfer and want to play on a championship course designed by Donald Ross, you'll find an answer here. Check the list of Lake George area Golf Courses.