How To Get Around Lake George Without A Car
Hate the hassle of driving and finding parking when on vacation? Leave the car in your hotel parking lot and utilize a variety of transportation options to get you from point A to point B.
Whether you are arriving by train or plane and don't plan on renting a car, or you're just looking for options after a fun night of food and drink in the village, here are the main transportation options you should know about.
Jump To:
If you don't have a ridesharing app on your phone, or you prefer the tried-and-true method of calling a local taxi company and scheduling a specific pick-up time and location, then you're in luck. There are a couple reliable and experienced taxi companies that operate in Lake George and much of the surrounding area.
Based in the Glens Falls Region, Queensbury Taxi provides efficient transportation anytime, anywhere, and any distance! You can be sure your ride will be in a clean and safe car with a professional driver.
Click to give them a call and schedule your ride.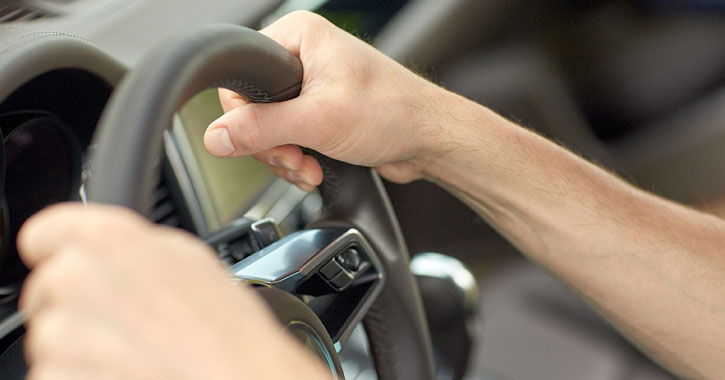 For long-distance travel to or from the Lake George Region, you should consider hiring a car/shuttle service. Many car services can also drop you off at or pick you up at Albany International Airport or the Albany-Rensselaer Amtrak Train Station.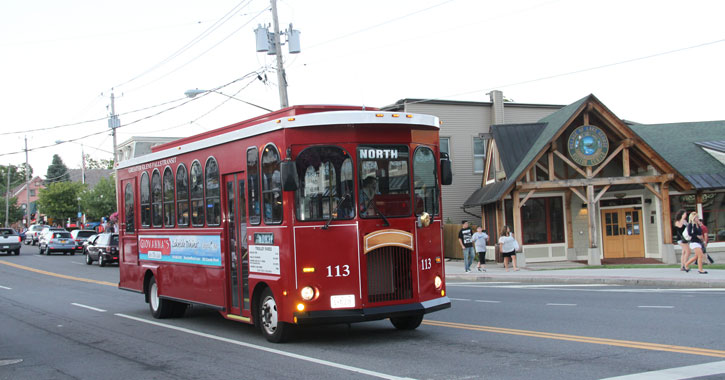 During the summer, the Greater Glens Falls Transit (GGFT) operates a trolley service in the Lake George area. Depending on where you want to go, you can choose between the South Service and the North Service.
The South Service carries passengers from Beach Road in Lake George south to Glens Falls, which includes various stops in between. The North Service carries passengers from Beach Road in Lake George north to Bolton Landing and Warrensburg (a new addition beginning in 2017).
Red GGFT trolleys operate seven days a week during the regular trolley season. A limited fall trolley service is typically offered from Labor Day through Columbus Day Weekend.
Since the costs are minimal to take the trolley and transfer between them, it's a convenient form of transportation in and around Lake George. However, as with any form of public transportation, you'll need to be aware of the trolley schedule if you want to catch a ride.
For more information, please see our guide to the Lake George Trolley »
Catch a Ride With Uber or Lyft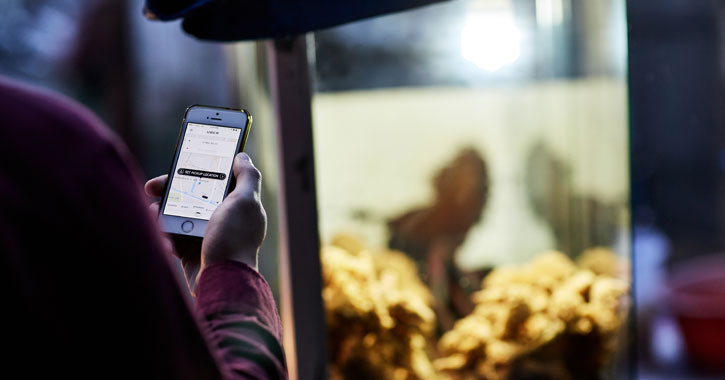 Around the summer of 2017, ridesharing services Uber and Lyft made their highly anticipated arrival in Upstate NY, including Lake George and the greater Capital Region. If you are new to using ridesharing, it's easy to get started. Just download the Uber or Lyft app on your mobile phone, create an account, and then add your preferred payment method. Once that's complete, you can begin using Uber or Lyft to get picked up at your location and driven to your destination.
Each app will tell you the approximate pick-up time (beginning with the nearest available driver) and the estimated fare for the trip. The estimated fare may change if a different destination is chosen, if there are extra stops along the route, or if the trip takes a lot longer than expected. Payment for the trip is made when you reach your destination.
There are many similarities between the services, and which one to use often comes down to preference, availability and pricing. With Uber, you can choose between UberX (1-4 passengers) or UberXL (1-6 passengers). UberXL costs more because the vehicle can accommodate extra passengers. In the same vein, Lyft offers the regular Lyft service (1-4 passengers) and Lyft Plus (1-6 passengers). Lyft Plus costs more for the same reason.
One thing to be aware of, ridesharing services are known for their surge pricing. This means that during busy or high-traffic times, prices for rides may increase based on a surge rate. In other words, that ride you took on a quiet Tuesday evening, will not be priced the same as after the Thursday night fireworks end. When crowds of people are all trying to hit the road at the same time, find a place to relax for a bit, and you'll be able to save some bucks for more vacation fun later.
Please note that scheduled rides may be subject to availability and are not offered in all regions.
See details about local buses and train services »
Find out how to get to Lake George Village »