Frequently Asked Questions About Island Camping on Lake George
Camping on one of Lake George's islands is a truly unique and amazing experience. If you're new to island camping, we've got the answers to our most frequently asked questions below!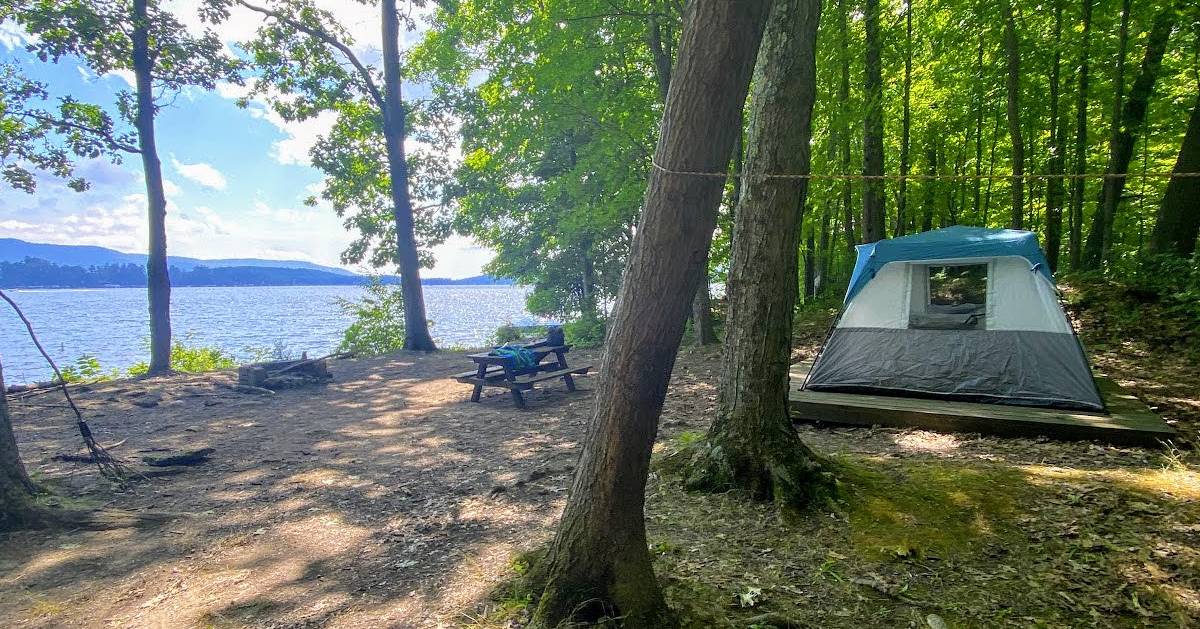 How do I make a reservation for island camping?
Island campsites are usually reserved months in advance, so book as early as possible.
Lake George islands are separated into three categories: Glen Island Group, Long Island Group, and Narrow Island Group: You can check island campsite availability through Reserve America.
General Island Group Info:
You can check for availability for these groups through Reserve America's website (links down below). You can also contact Reserve America directly, as they can help answer any specific questions you have. Their reservation phone number is 1-800-456-2267 and their customer service phone number is 1-800-777-9644.
Are all of the overnight island campsites reservable?
For all three island campsite groups on Lake George, the reservable ones are listed on Reserve America: Glen Island Group, Long Island Group, and Narrow Island Group.
However, there are also campsites in each island group that are not reservable. They are first-come, first-serve, and the sites can only be obtained in person at the appropriate ranger station during check-in. These non-reservable sites can change season to season, so you can't expect one to be open when you arrive at the ranger station.
If you are interested in non-reservable campsites, make sure you have a backup plan or prior campsite reservation because none may be available when you arrive at the ranger station.
Note: You cannot obtain a non-reservable campsite at Norowal Marina's ranger station because this station is only able to check in campers with prior reservations.
What is the cancellation policy for island camping?
You'll want to contact Reserve America directly for cancellation information. Their reservation line is 1-800-456-2267 and their customer service line is 1-800-777-9644.
Do I need a boat to reach the island campsites?
Yes, all island campsites are only accessible by boat. All sites have a dock for one boat.
Can I take water taxis to and from the island campsites?
Yes! If you don't have a boat, or aren't planning to rent one, you can take a water taxi.
Is the water deep enough near the islands, and the docks long enough, to fit my boat?
The water depth near many of the island docks on Lake George is not enough to fit cruisers and other boats that draw a significant amount of water. Most people with these types of boats go to Red Rock Bay and drop an anchor instead of docking.
As the lake levels vary and different boats draw differently, it is always best to check with an island ranger about your particular circumstances before attempting to dock.
I don't have a boat, where can I rent one?
There are many boat rental places in Lake George you can check out before making your visit.
Do I need a boat license to rent a boat on Lake George?
No, but you do need your drivers license and a boating safety certificate. You can read more about this and other regulations here.
What should I pack for overnight island camping?
Check out our island camping checklist and helpful tips.
What are the best islands to picnic on, or visit for the day?
You can see a directory of picnic islands here.
Can I purchase a day pass to the islands in advance?
In the past, you could not, but now you can! As of 2023, day use permits for campsites and docks on Lake George's islands can be reserved and purchased online. Reservations can be booked as early as seven days in advance of arrival and as late as the same day. A day use permit costs $12.
Book online through ReserveAmerica, download the ReserveAmerica app, or call 1-800-456-2267.
Can Lake George boaters who buy season passes book picnic sites at no charge?
No, not anymore. This is another recent change. In the past, a passholder could reserve a day-use site at no additional charge using their pass number. Now, passport holders must pay the standard fee to reserve a site.
Can I bring my dog or pet to the island with me?
Unfortunately, dogs and pets are prohibited by the NY State DEC from being on any of the islands, island docks, or vessels moored at the island docks.
Which island has a convenience store?
Glen Island has a store!
Which islands are one-campsite islands?
Which islands and campsites will accommodate larger boats/sailboats?
There are a number of sailboat-friendly docks and campsites on both the overnight islands and some day-use picnic islands on Lake George.
Can I fish at the islands?
Yes, you can fish if you have a NY State fishing license. Juniors 15 years old & younger do not need a license to fish.
Feel free to submit further questions to LakeGeorge.com via our contact page.
Can I chop down trees for firewood at the islands?
Cutting standing trees is prohibited. The lands of the state shall forever by kept as wild forest lands, which prohibits the timber on such lands from being destroyed, removed, or sold. No person shall remove or injure any trees, plants, flowers, or rocks found on state land. There can be fines associated with cutting down trees which can be as much as $250 per tree.
Further, you need to get firewood from a local vendor, and ask for a receipt or label that has the firewood's local source. By transporting firewood, you could be spreading diseases and invasive insects that can quickly kill large numbers of trees, particularly the ash borer.