Gem Island is a nice private island on Lake George that is perfect for a small group of campers. Water depth: 3.5 feet. See photos and learn more about this little island!
Gem Island Is Part Of The Glen Islands Group
This page is dedicated to Gem Island camping on Lake George. See more Lake George islands here.
About Gem Island
Gem Island is a single campsite island on Lake George. Located just northeast of Phantom Island, it is ideal for small groups. There is boat activity on both sides of the island, and it provides beautiful views of the lake and the surrounding mountains.
These photos provide a glimpse of the view and features of Gem Island on Lake George, which will help you determine whether it would be a good island camping option for you to consider. The island has shallow water all around which is ideal for little children, and you can swim over to Little Gem Island and discover that island. Gem Island has a platform that sits in the sun with both southern and northern views. It is very open to the wind which also keeps mosquitos away.
Reserve your Gem Island campsite at ReserveAmerica.
Our Guide to Gem Island Camping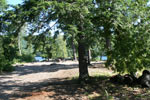 The Gem Island campsite is large and flat, and there is a tent platform. There is a max limit of 4 people on the island, so if you are camping with a small group, it is a great choice.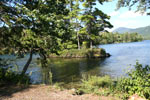 There is a nice dock off Gem Island, which is great for your boat! However, there is high boat traffic on both sides of the island, so be careful if you decide to swim! Like to fish? This spot is for you!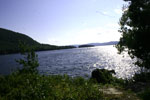 The view from Gem Island is not to be missed! Don't forget your camera because the sunsets are something you are going to want to remember.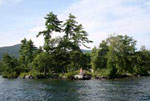 If you want to relax and take in the beauty of your surroundings while still enjoying activity on the lake, Gem Island is perfect. You can have a great camping experience and not be too removed from civilization.