NYS Fishing License Info
Editor's Note: Please follow the DEC and CDC guidelines for social distancing while fishing during this public health crisis. Avoid busy waters and purchase your sporting licenses online.
Buy your sporting license online »
Anyone who wishes to fish in New York State (with a few exemptions) is required to have a fishing license. New York State fishing licenses can be purchased for the entire year, a week, just a day, or an entire lifetime. Licenses are available to everyone, whether they live in NYS or not. Planning on working with a fishing guide or boat charter? You can sometimes procure your license from them as well. Read on for more details below.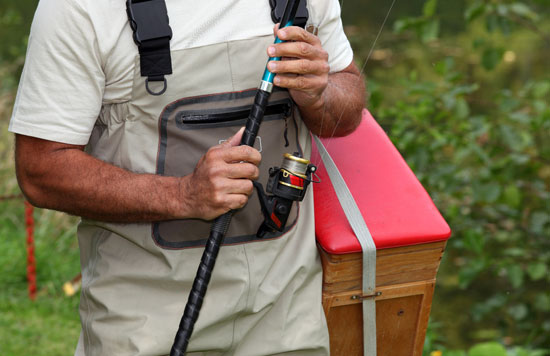 Getting Started:
How to Acquire a Fishing License
New York State fishing licenses can be acquired online, by phone, or in-person at an official license issuing agent.
Online: Sporting licenses, including New York State fishing licenses, are obtainable through the DEC.
Phone: 1-866-933-2257
License Issuing Agents: Lake George is in DEC Region 5, and local license issuing agents can be found online.
Note: When you obtain your fishing license, you will be given a booklet entitled "New York Freshwater Fishing Regulations." Everyone that has a fishing license is responsible for knowing the rules and regulations in this booklet.
If hiring a fishing guide or chartering a boat, check with them on whether you need to obtain your license first, of if they are an issuing agent and you can purchase your license from them.
Regular Fishing Licenses
Residents of New York State
Annual Senior Fishing License (70+ / Military Disabled): $5.00
Annual Fishing License (Ages 16-69): $25.00
7 Day Fishing License: $12.00
1 Day Fishing License: $5.00
Non-Residents of New York State
Annual Fishing License: $50.00
7 Day Fishing License: $28.00
1 Day Fishing License: $10.00
Free/Reduced Fishing Licenses
Resident military members of NYS Organized Militia or U.S. Reserve Forces - free fishing license is available
Resident active military members of U.S. Armed Forces stationed outside New York State who are home on leave for 30 days or less - free fishing license is available
Nonresident military members stationed in New York State (»30 days) - New York State resident license price is available
Citizens who are legally blind and residents of New York State - free fishing license is available
Nonresident students attending a New York State college or university full-time - New York State resident fishing license price is available
Exemptions
There are eight fishing license exemptions that apply throughout New York State:
Juniors 15 years old & younger do not need a license to fish
Anyone can fish during the annual free fishing weekend
Anyone who is at a free fishing clinic
Anyone fishing on licensed fishing preserves
Citizens that are occupying and cultivating farmland, when fishing on their own land
Anyone holding farm fish pond licenses and members of their immediate families, when fishing waters that are covered by license
A Native American living and fishing on reservation land
A patient residing at a qualifying U.S. Veterans Administration hospital/facility in New York State
Find Local Fishing Services »»