Frequently Asked Questions about Lake George Boating
Boating is one of the most popular summer activities in Lake George, but if you have questions, you're certainly not alone! Below are some of the most common questions about boating along with our answers.
You can also check out island camping FAQs.
Not finding the information you need? Let us know!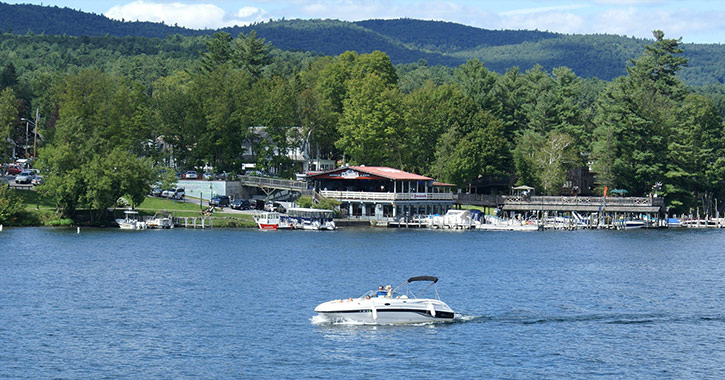 Where can I launch my boat on Lake George?
There are many public and private boat launches available for you to use. Check out a full list, and decide which one is right for you!
Do I need to register my boat?
If your boat is 18' or larger, or propelled by a motor that is 10 horsepower or greater, you do need to register it. You can do so online. Jet skis must be registered as well.
How can I register my boat for Lake George?
You can purchase a boat registration sticker from the Lake George Park Commission. There are three types of registration options, depending on how long you are planning on boating.
Where can I rent a boat?
There are many marinas and boating centers on the lake that can set you up with the specific type of boat you're looking for. See a directory here »
How old do I need to be to rent and drive a boat?
You must be at least 21 years old with a valid drivers license in order to rent and drive a boat on Lake George.
Do I need training before I can rent and drive a boat?
Yes. If you rent a boat on Lake George you'll be required to receive basic safety training from the marinas at no charge to you. The training will consist of a short video and hands-on boat handling skills; there will also be information cards provided on each rental boat.
Are boat inspections in Lake George a requirement, and where do I get my boat inspected?
As part of the initiative to prevent aquatic invasive species from entering the lake, it is now a requirement that you get your boat inspected before launching.
There are seven stations located throughout Lake George where you can get your boat inspected and decontaminated.
Are there emergency towing services on Lake George?
Whenever we've needed towing, we've called the closest marina for assistance. The Lake George Park Commission runs the marine patrol.
Where can I find Lake George boating regulations?
Here is a full set of regulations for boating on Lake George. Be sure to exercise caution on the water, as there are an abundance of small motorized and non-motorized vessels.
You can also submit questions to LakeGeorge.com via our contact page or on Facebook!