Recipes for a Romantic Valentine's Day Meal
Even for amateur chefs, cooking can be a fun way to bond with your significant other. The meal doesn't have to be complicated, just the fact that you get to spend time together and create something makes it special! Below are some easy recipes you should try this year for breakfast, dinner, and dessert.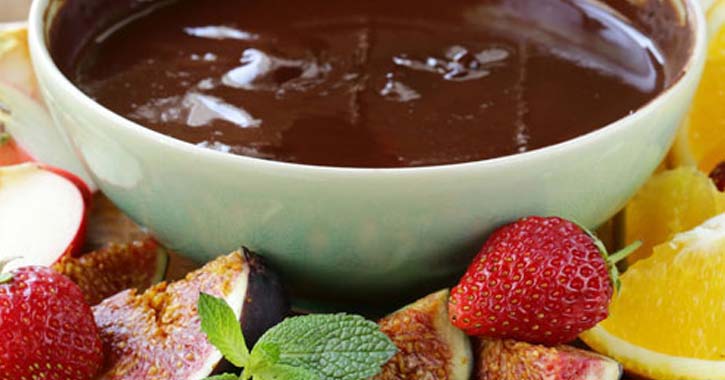 Breakfast
A delicious breakfast is a great way to start your Valentine's Day!
If coffee or juice doesn't cut it on this morning, get out the champagne flutes and try making a Valentini for your special breakfast:

Combine 2 ounces of cranberry juice cocktail, 1 1/2 ounces freshly squeezed orange juice, and 3 ounces brut champagne. Chill and serve.



Special French Toast

Ingredients:

3 eggs
1 1/4 cups nonfat milk
1/2 teaspoon vanilla extract
1/4 cup part-skim ricotta cheese
8 slices of whole-wheat sandwich bread, crusts removed
1 (8-ounce) container strawberries, hulled and sliced
4 teaspoons bittersweet chocolate chips
Cooking spray
2 teaspoons confectioners' sugar

Directions:

In a large bowl, mix together the eggs, milk, and vanilla - set aside.
Place and spread 1 tablespoon of ricotta in the center of 4 of the pieces of bread.
Top with strawberry slices and a teaspoon of chocolate chips.
Cover each with another piece of bread to make a sandwich.
Carefully dip each of the sandwiches into the egg mixture until completely moistened, then place on a large skillet (spray with cooking spray beforehand).
Cook 3-4 minutes per side, until the outside is golden brown and chocolate is melted. Top with remaining strawberries and confectioners' sugar.
Dinner
A homemade dinner for two is very romantic! Make sure you set the table nicely and light some candles.
Tenderloin Steaks with Herb Cheese Topping

Ingredients:

4 beef tenderloin steaks, cut 1 inch thick
2 tablespoons cream cheese, softened
4 teaspoons crumbled blue cheese
4 teaspoons plain lowfat yogurt
2 teaspoons minced onions
Dash white pepper
1 large garlic clove, halved
1/2 teaspoon salt, divided
2 teaspoons chopped parsley

Directions:

Combine cream cheese, blue cheese, yogurt, onion, and pepper; reserve.
Rub each side of beef steaks with garlic.
Place steaks on rack in broiler pan so surface of meat is 2 to 3 inches from heat.
Broil 5 to 6 minutes. Season with salt. Turn and broil 3 to 4 minutes. Season with remaining salt.
Top each steak with an equal amount of reserved cheese mixture. Broil an additional 1 to 2 minutes. Garnish with parsley.
Recipe may also be prepared using 1 pound beef top loin steaks cut 3/4 inch thick. Makes 2 servings.
Dessert
Now it's time for dessert! Dessert is the best part of a Valentine's Day meal, and everyone loves chocolate. Fondue is the perfect, passionate dessert to share at the end of a romantic meal!
Chocolate Fondue

Ingredients:

6 ounces semisweet chocolate, coarsely chopped
1/4 cup half-and-half or light cream
1 tablespoon flavored liqueur, such as cherry, orange, coffee, or raspberry; optional
1/2 teaspoon vanilla extract
Fruit, such as whole strawberries or chunks of banana, kiwi, or pear
Other things to dip - marshmallows, pieces of pound cake or cookie, pretzels, and graham crackers

Directions:

In a heavy 1 quart saucepan or fondue pot, melt chocolate with half-and-half over low heat until mixture is smooth, stirring frequently.
Stir in liqueur and vanilla; keep sauce warm.
To serve, arrange fruits and everything else on a large platter.
Spoon fondue into small bowl. With toothpick, dip fruit and other items into fondue!