Recipes for a Romantic Valentine's Day Meal
If you're staying in for February 14th this year we've got a couple recipe recommendations for romantic meals below. The dinner meal has champagne as one of the ingredients, so that's a perfect excuse to pop the cork for this special holiday. For more of a low key Valentine's Day meal, we also provided a breakfast recipe - breakfast in bed, anyone?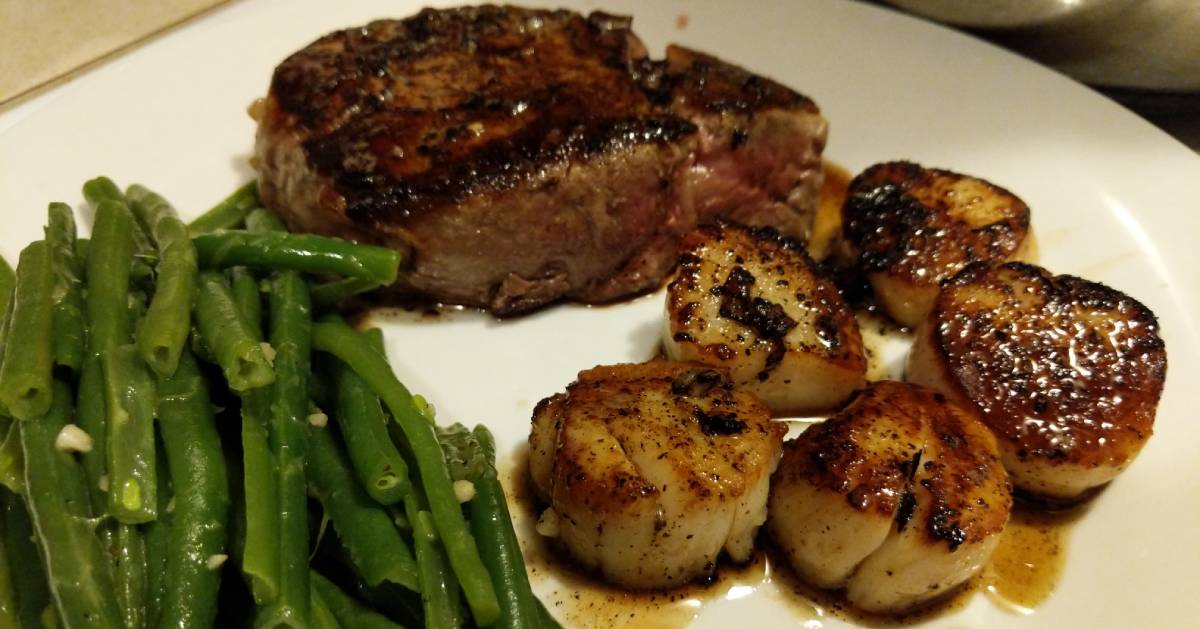 Cook a Hearty Dinner for Two & Serve With Champagne
Steak & Scallops With Champagne Butter Sauce
2 (4-oz) beef tenderloin steaks
1/4 tsp salt
Pinch of pepper
6 large sea scallops
1 tbsp olive oil, divided
1/3 cup Champagne or dry white wine
1 1/2 tsp lemon juice
1 tbsp minced shallots
3 tbsp butter, cut into pieces
Heat 1/2 tbsp oil over medium-high heat in nonstick skillet. Cook steaks about 3 minutes on each side, or until desired doneness. Transfer to a plate and cover to keep warm.
Add remaining 1/2 tbsp oil to skillet and cook scallops about 2 minutes on each side, or until done. Transfer to a plate and cover to keep warm.
Add champagne, lemon juice, and shallots to pan and bring to a boil. Cook 3 minutes or until sauce has reduced to 2 tbsp. Remove from heat. Add butter, 1 piece at a time, whisking constantly until the butter is thoroughly incorporated. Season to taste with salt and pepper.
Top steak and scallops with sauce. Green beans pair perfectly as a side dish!
Not Ready to Tackle Dinner? Start the Day With a Delicious Breakfast
Special French Toast
3 eggs
1 1/4 cups nonfat milk
1/2 teaspoon vanilla extract
1/4 cup part-skim ricotta cheese
8 slices of whole-wheat sandwich bread, crusts removed
1 (8-ounce) container strawberries, hulled and sliced
4 teaspoons bittersweet chocolate chips
Cooking spray
2 teaspoons confectioners' sugar
In a large bowl, mix together the eggs, milk, and vanilla - set aside.
Place and spread 1 tablespoon of ricotta in the center of 4 of the pieces of bread. Top with strawberry slices and a teaspoon of chocolate chips. Cover each with another piece of bread to make a sandwich.
Carefully dip each of the sandwiches into the egg mixture until completely moistened, then place on a large skillet (spray with cooking spray beforehand). Cook 3-4 minutes per side, until the outside is golden brown and chocolate is melted.
Top with remaining strawberries and confectioners' sugar.
Bonus tip: If coffee or juice doesn't cut it on this morning, get out the champagne flutes and try making a Valentini for your special breakfast: Combine 2 ounces of cranberry juice cocktail, 1 1/2 ounces freshly squeezed orange juice, and 3 ounces brut champagne. Chill and serve.