10 Fancy Restaurants in Lake George for When You're Treating Yourself (or Someone Else)
Are you celebrating a special occasion? These 10 restaurants are within 25 minutes of Lake George Village, offer entrees averaging over $25, and are the top-rated fine dining restaurants in the Lake George region. Find the right fit for you and make a reservation today for a memorable meal with your loved ones!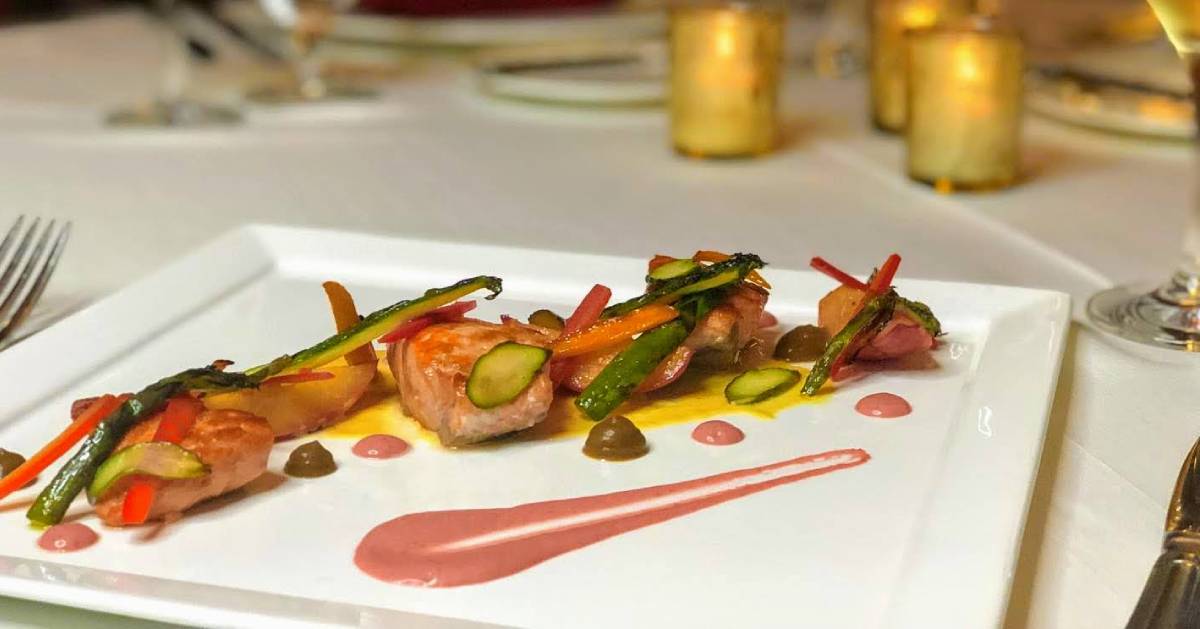 At The Inn at Erlowest, an intimate, 4-Diamond restaurant, you'll enjoy incredible food and incomparable atmosphere. Enjoy a fireplace patio with views of the mountains and the lake, or stay cozy and warm by the fire in the intimate dining room. The farm-fresh ingredients and seasonal menu keep things contemporary yet classic at this Lake George mainstay.
Lake George's picturesque Huddle Bay is home to The Algonquin Restaurant, open from April through October. Rachael Ray called The Algonquin her favorite lake-front dining for a reason: the breath-taking setting and the inspired menu create an unforgettable experience. Fresh seafood is a speciality here, although the choice cuts of beef will tempt you as well.
For over 100 years, visitors have been wowed by the Sagamore on Lake George. This historic resort on Green Island is also known for its fine dining options, many of which are perfect for a special occasion. La Bella Vita offers the most elegant setting and an impressive Italian menu. For al fresco dining, try The Pavilion. For steak lovers, visit the Club Grill Steakhouse, which also features views of the award-winning golf course.
Waterfront dining, private boat docking, and live seasonal entertainment make an incredible first impression at The Boathouse Restaurant, open seasonally. Yet it's the mouth-watering Angus steaks and burgers, succulent seafood, and memorable, creative nightly specials that make the dining experience at The Boathouse Restaurant a favorite among locals and visitors.
The Log Jam offers a cozier option for fine dining: in an authentic log cabin, you can enjoy a romantic dinner or a lovely night out with the family. Pick your lobster from the live lobster tank, relax in the cozy lounge, peruse the extensive wine and beer list (the specialty martinis are a local favorite), and enjoy a night of delicious food in a comforting setting. The Log Jam is a great choice for diners with dietary restrictions who are looking for a special meal.
Please note, as of January 2021 Bistro Le Roux is temporarily closed. Click through to their website for updates.
Fresh ingredients define the menu at Bistro LeRoux, chef-owned and operated by culinary team Jacob and Tiffany Guay. Specialties include veal osso bucco, a butter poached lobster risotto, and a Grand Marnier bur blanc grilled salmon, yet vegetarian and gluten-free diners will also find a wide selection of high-quality meals. Guests describe their experience with phrases like "hidden gem," "warm, inviting, knowledgeable staff," and "cooked to perfection."
Twenty minutes from Lake George, across the road from City Park in Glens Falls, Morgan & Co. Restaurant offers a versatile menu and fantastic ambiance in a historic house. Chefs Steve Butters and Rebecca Newell-Butters offer creative takes on classics and strive to accomodate those with dietary restrictions. Try the Inca Bowl, which can be made with any meat or as a vegan dish with tofu. The attentive staff will make you feel cared for in this accessible restaurant, which offers a wheelchair elevator in addition to the historic front steps.
Travel back in time when you visit this chef-owned establishment set in a 1940s log cabin. This is a great option for a cozy, more casual date with no loss in quality of food or service. The scallops and steak dishes are among the most popular menu mainstays, and guests comment on the lovely fireplace and extensive martini menu!
The Chateau On The Lake - Lake George, NY
Please note, Chateau On the Lake is closed through March of 2021.
In 2015, the Chateau on the Lake was named one of the Top 100 Romantic Restaurants in America. Your date will be impressed by the delicious food, chic decor, outstanding service, and in the warmer months, the lakefront views from the patio. Guests love the outdoor firepits and the engaging staff, but the menu is the crowning jewel in this dining experience: try the Drunken Ribeye and the chocolate mousse!
The Ridge Terrace - Queensbury, NY
Please note, the Ridge Terrace is closed through March 2021.
The Ridge Terrace has been a local favorite for fine dining for over 60 seasons. This family-owned restaurant offers a wide-ranging menu and is known to bring back past specials, not on the current menu, for guests who remember them. The baked harvarti with raspberry sauce is a favorite appetizer. Enjoy a quick drive to Queensbury and a relaxing evening of delicious food and Adirondack atmosphere at The Ridge Terrace.