No Kids, No Problem! Plan the Perfect Lake George Winter Weekend Getaway For Empty Nesters
Sponsored by: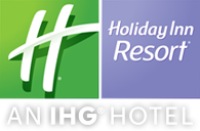 Stay and Play at Holiday Inn Resort Lake George
Enjoy year-round comfort at the Holiday Inn Resort at Lake George. This award-winning hotel features premium amenities, a restaurant, and various on-site activities. It's prime location makes it easy to enjoy every moment Lake George has to offer. Learn More »
When the kids have flown the coop and you're looking for ways to spend your newfound freedom, consider a winter weekend getaway to Lake George. This time, you can skip the kid-friendly theme parks and attractions and plan a vacation that's perfect for you and your significant other. From cross-country skiing to wine tastings and shopping locally, here are some top activities you should do during your trip to the area.
Discover the Joy of Cross-Country Skiing & Snowshoeing in the North Country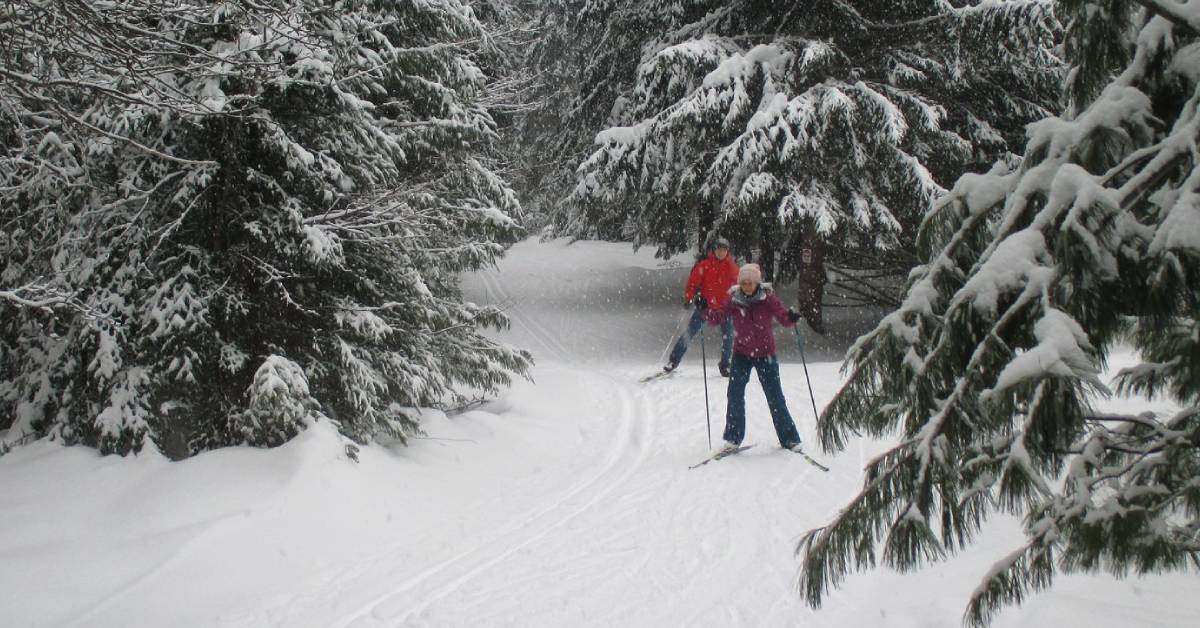 Cross-country skiing and snowshoeing are two of the most popular winter activities in Lake George and the North Country, and you should try at least one of them during your winter weekend getaway. You don't even need your own gear to hit the trails, as many ski areas provide rentals at affordable prices.
Professionally Groomed Trails & Lights Make Skiing Fun Day or Night at Gore
Although alpine skiing and snowboarding come to mind when you think about Gore Mountain, this North Creek ski resort is home to a full Nordic Center offering recreational fun for cross-country skiers and snowshoers, day and night. The groomed terrain includes natural wooded routes and varying inclines, and people of all fitness levels are welcome. (Note: Rentals available)
Longer Winters Mean More Time For Snow Sports at Lapland Lake Cross-Country Ski Center
Lapland Lake Cross-Country Ski Center in Northville is a skier's paradise that's tucked away in a unique snow basin that sees plentiful snowfall. This allows for a longer winter/ski season that frequently runs from November into April. The property is renowned for its impeccably groomed cross-country ski trails and backcountry snowshoeing terrain. Plus, most of the trails are one-way, which gives skiers a more peaceful and private experience. (Note: Rentals available)
Ski & Snowshoe For Free Minutes Away From Lake George Village
The Lake George Rec Center in the Town of Lake George is a great option if you already own a pair of skis or snowshoes. This public property has a mix of novice, intermediate, and advanced cross-country ski trails.
Bundle Up For a Wonderful Winter Walk in the Woods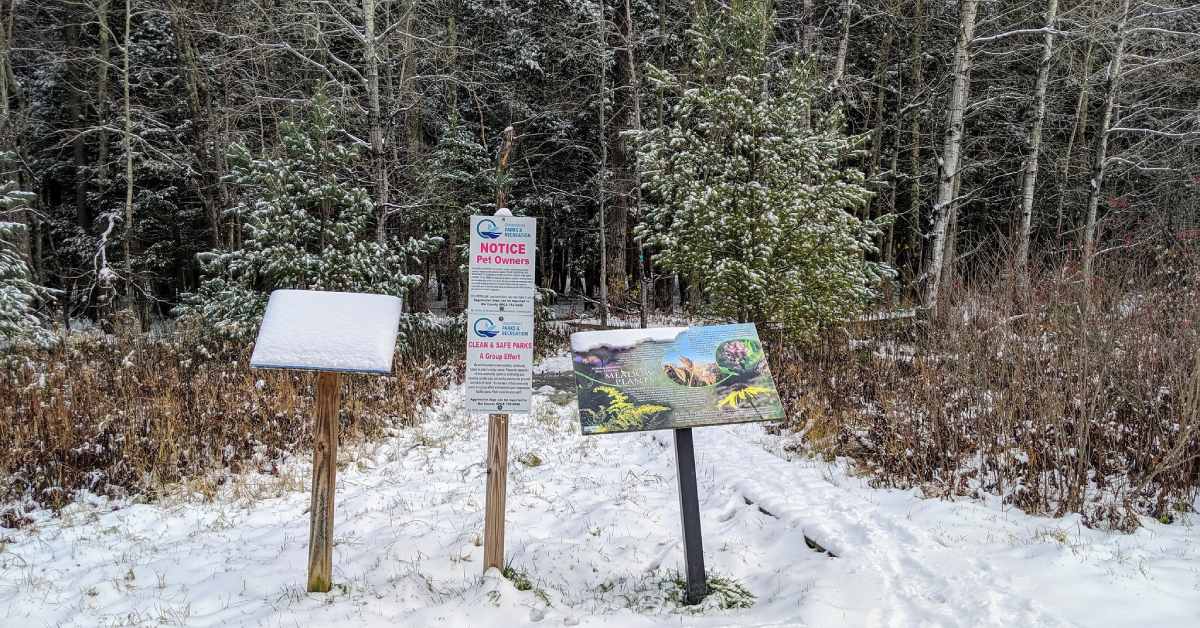 A winter hike to the top of an Adirondack mountain may not be for everyone, but you can go for a walk in the woods instead. There are several nature preserves in the nearby Town of Queensbury that contain easy trails for walking and snowshoeing.
Explore 44 Acres of Former Farmland at the Meadowbrook Preserve
The 1.75-mile trail system in the Meadowbrook Preserve starts in a meadow and then loops through the woods before bringing you back to the entrance. During your walk, you can learn about the preserve's habitats, plants, and animals by stopping to read the interpretive signs along the trail.
Take Advantage of Convenient Parking & Easy Trail Access at the Gurney Lane Recreation Area
Nature and hiking trails, cross-country ski trails, snowshoeing trails, and more can be found at the Gurney Lane Recreation Area. Reconnect with nature as you follow the 1.3 miles of casual walking trails. Parking is conveniently available at each of the different trailheads.
See the Majestic River Flow at the Hudson Pointe Nature Preserve
Get a breath of fresh air as you explore the 83-acre Hudson Pointe Nature Preserve. This trail system is located along the Hudson River and features interpretive signs about the area's history and wildlife.
Fall in Love With the Beauty of Winter on a Scenic Drive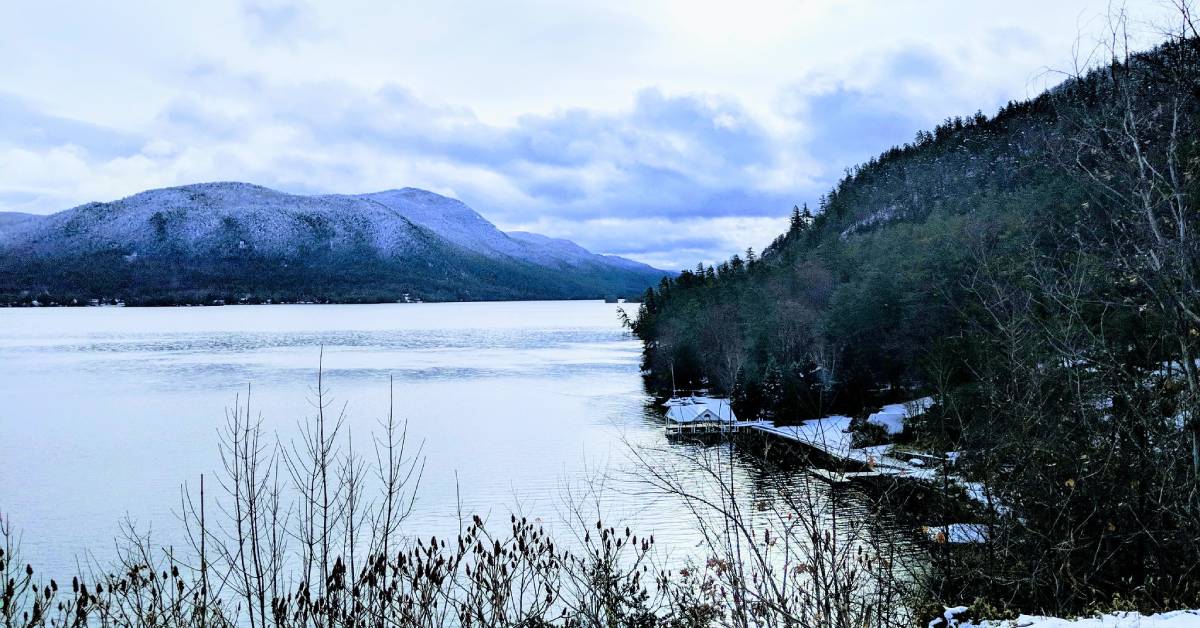 One of the best ways to experience winter's natural splendor is on a scenic drive with your significant other. From snow-covered peaks to dangling icicles and frozen lakes, winter is full of many beautiful sights to see in the Adirondacks. To get started, we've highlighted two scenic drives that are worth the trip this winter.
Gaze at the Snowy Mountain Vistas From the Lake George Shoreline
The first scenic drive will bring you north of Lake George approximately 23 miles to the Sabbath Day Point Overlook. Starting in Lake George, follow Route 9N through Diamond Point and Bolton Landing until you arrive in Silver Bay. Before you travel too far into the community, pull off to the right and check out the Sabbath Day Point Overlook (pictured above), which features a sweeping view of Lake George and the mountains along the eastern shoreline.
Snap a Photo of the Towering Peaks & Wintry Woods From Newcomb Overlook Park
Go on a longer drive into the heart of the Adirondacks by following this 50-mile route from Lake George to Newcomb Overlook Park. Starting from Lake George, take I-87 north to Exit 26, and then drive northwest through Minerva and all the way up to the Town of Newcomb. Newcomb Overlook Park is located next to the High Peaks Golf Course Club, and you can park your car and admire the view of the snowy landscape and mountains in the distance.
Go on the Ultimate Tasting Trip to Local Craft Beverage Producers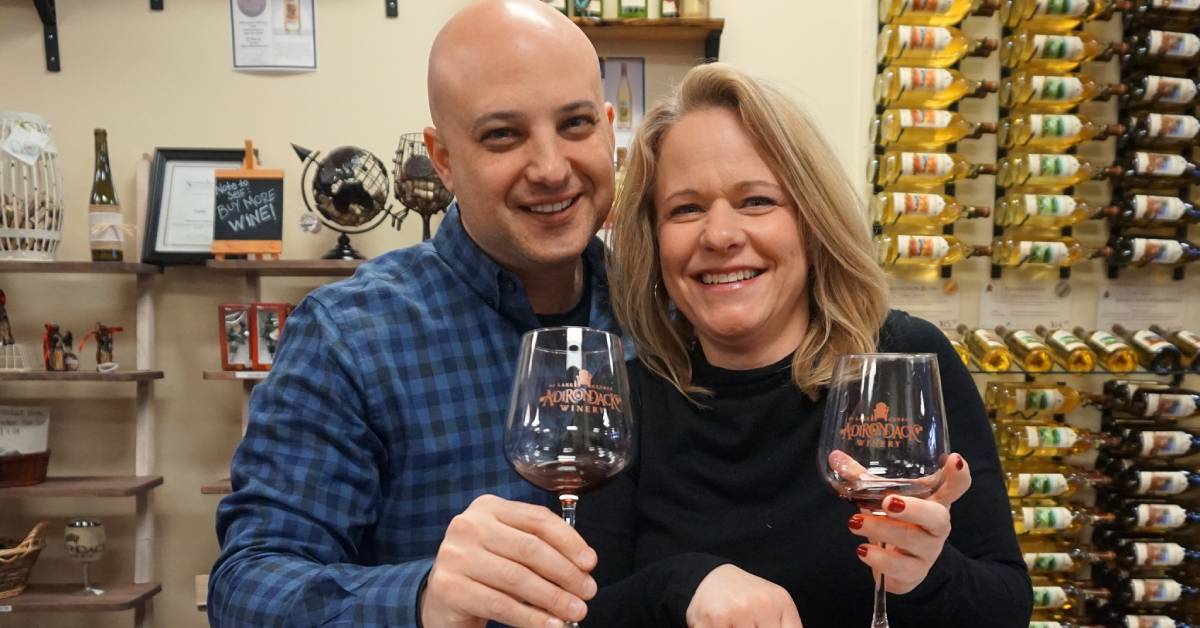 When you're ready to wind down after an eventful day, stop by a local brewery, winery, or distillery. The Lake George Region is home to an outstanding craft beverage scene that continues to grow. No matter your palate, there is a locally made drink that's just right for you.
Drink Fresh, Flavorful Beer at One of the Region's Best Craft Breweries
Love beer? Check out what's on tap at the Bolton Landing Brewing Company in Bolton Landing, located a short drive from Lake George. Enjoy a juicy and hazy IPA, a crisp lager, a full-bodied stout, or a flight of beer.
Sip & Sample Award-Winning Wines Right in Lake George Village
For a nice glass of wine, Adirondack Winery is the place to be this winter. They have a tasting room in Lake George Village and in Queensbury, where you can sample their handcrafted red, white, and semi-sweet, fruit-infused wines.
Raise a Glass to the Finest Spirits Around
If you prefer something stronger like whiskey or vodka, then you need to bring your taste buds to Springbrook Hollow Distilling Company in Queensbury. This farm distillery produces some of the region's highest quality spirits in small batches.
Treat Yourself to Unique Gifts & Local Products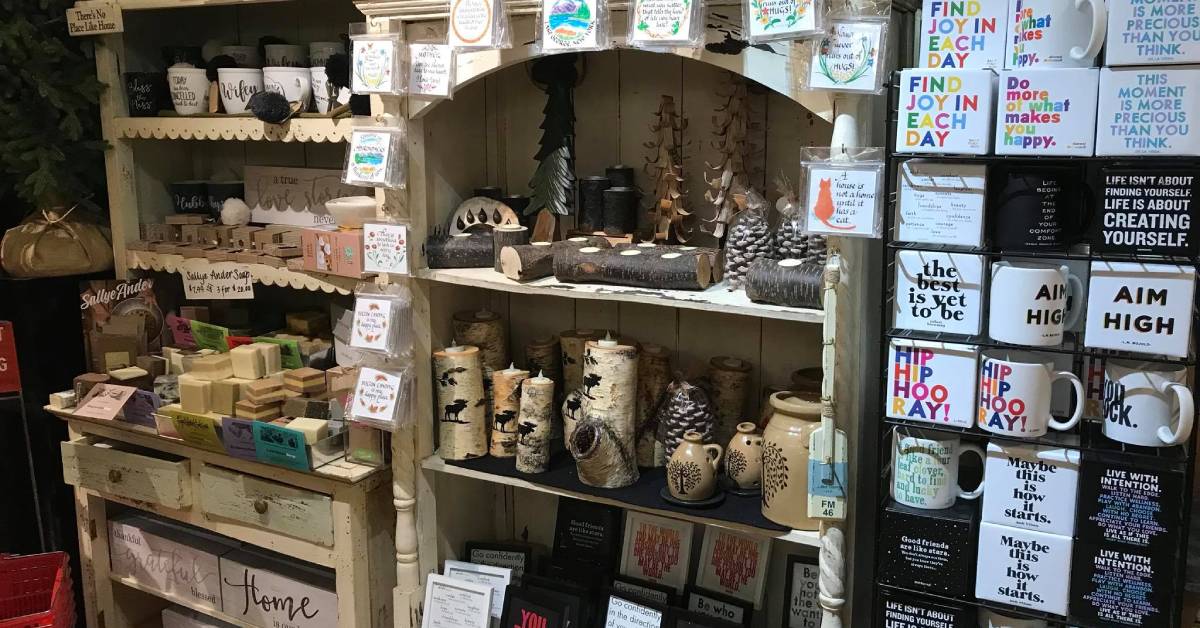 With the kids off on their own, it's finally time to spend a little extra on yourself. From Adirondack stores to the popular outlet malls, prepare to shop till you drop in and around Lake George.
Take Home a Memento of Your Time in the Adirondacks and Lake George
The Silo Country Store in Queensbury and The Indian Tepee Gift Shop in Bolton Landing are two old-fashioned shops full of Adirondack treasures and household items. Browse an amazing selection of picture frames, candles, pillows, and other decor that would bring a piece of the Adirondacks into your home. They also sell one-of-a-kind handmade gifts and specialty foods too.
Staying the weekend right in Lake George Village? Stroll down Canada Street to Live Love Laugh, another gift store that carries Lake George souvenirs, apparel, mugs, and more.
Upgrade Your Wardrobe at the Outlet Malls
Take a short drive south of Lake George Village to The Factory Outlets of Lake George, which include The Outlets at Lake George East and West, The French Mountain Commons Outlet Center, The Log Jam Outlet Center, and The Adirondack Outlet Mall. Open year round, this is one of the region's top shopping destinations for name brand clothing, shoes, and products.
Shop Local, Support Local at a Farmers Market
Drive down to the Glens Falls Farmers Market's Indoor Market, held inside Aviation Mall. This market is a major source for locally grown food and handcrafted gifts.
Grab a Bite to Eat at These Top Breakfast, Lunch & Dinner Spots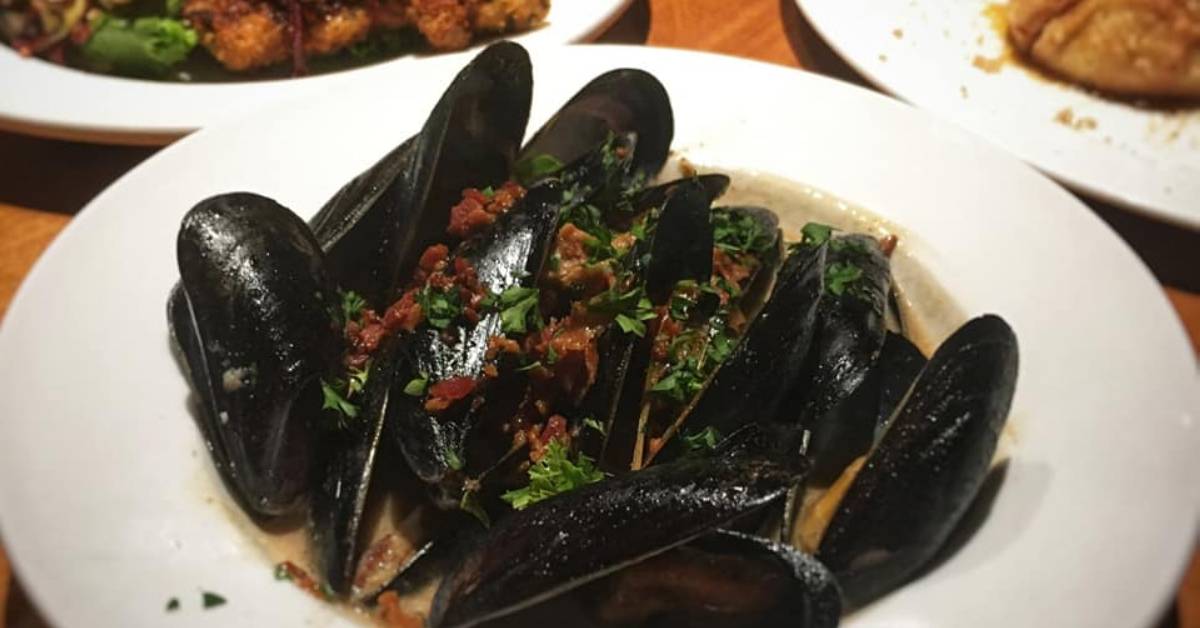 Whether it's time for breakfast, lunch, or dinner, there are plenty of outstanding restaurants to pick from in Lake George. Here are some of our favorites that are open year round and serve delicious food and drinks.
Enjoy Breakfast All Day at Prospect Mountain Diner
Prospect Mountain Diner is located just outside of Lake George Village and features a retro-style atmosphere and the best breakfast around. Start your morning off with pancakes, French toast, an omelette, or one of their specials. Breakfast is available all day.
Try the Burgers, Beer & Pub Bites at The Garrison Restaurant and Bar
Craving a juicy burger, a hearty sandwich, or more pub grub? The Garrison Restaurant and Bar in Lake George has menu items to please everyone during lunch. Plus, they always have a large number of craft beers on tap to pair with your meal.
Dine By a Roaring Fireplace at The Log Jam Restaurant
Dinner at The Log Jam Restaurant in Lake George is like eating inside an Adirondack cabin. With rustic decor, stone fireplaces, and a savory selection of steak, seafood, and other entrees, this restaurant offers a top-notch dining experience.
Now that you've learned about a variety of different activities you can do during your winter weekend in Lake George, take the next step and book your stay. Browse these exceptional lodging properties that are ready to welcome you this winter.