FREE Things To Do In Lake George NY
Have fun in Lake George without paying a dime!
Looking for FREE things to do in Lake George NY? You have come to the right place!
The Lake George area thrives during the warmer months with activity and adventure around every turn. Below are some free things to do that the whole family will enjoy. Special thanks to fans of our Lake George Facebook Page for helping us to compile this list!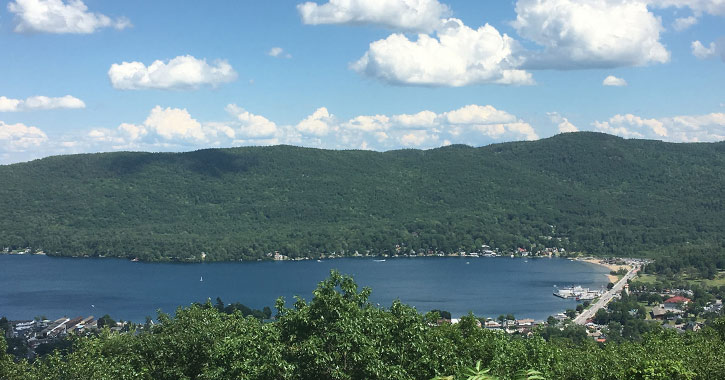 Top Lake George Activities You Can Enjoy For Free
Hiking:
Pack up some gear and head out for a day of Lake George hiking on the surrounding Adirondack Mountains. You'll witness views that will take your breath away! Prospect Mountain is the closest hike to Lake George, and if you'd prefer, you can drive up the mountain and get the 100-mile views for just a small fee. There are also many other hikes within the Lake George / Adirondack Region that are quite worthwhile! Visit our hiking guide to learn more.
Biking:
Whether it's hitting the Warren County bike trail or heading to the Americade motorcycle rally in Lake George, there is no doubt that biking is an ever-popular free activity to enjoy in this area. Watch bikers in action!
Swimming:
Why not spend a day of fun under the sun? You can head to one of the beautiful Lake George beaches to splash around in the refreshing, pristine water. Bring the kids to Shepard Park Beach to enjoy the nearby playground! These public beaches offer free admission but may charge a few dollars for parking, so park elsewhere and walk down to avoid any fees.
Fireworks:
Most Thursday nights at dusk in July and August, there are spectacular fireworks over Lake George Village. These can be seen for miles, and make for a great night of free entertainment. On the evenings when there are no fireworks, enjoy star gazing beneath the clear night sky. Kids love spotting shooting stars and making a wish! For more kid-friendly fun, read our Vacation Itinerary for Kids.
Concerts:
Enjoy fabulous concerts at the bandstand in Shepard Park all summer long. Almost every night in the summer, there is a live performance or some other entertaining event going on in the park. So bring a blanket or a couple of chairs and listen to the tunes for free!
Historic Sites:
The Lake George area offers plenty of history and intriguing landmarks to discover. From Battlefield Park on Beach Road to the many educational museums in the area, there are a wealth of places to discover! Some Lake George museums and historical sites may charge a small fee.
Picnicking:
Pack a lunch and head down to the shoreline for a delightful picnic by the lake! Just remember to keep your napkins and other lunch necessities from blowing into the water. (For some added aventure, reserve one of the day use or picnic islands on Lake George for just a few bucks).
GeoCaching:
A new trend is developing among GPS users in their quest to find new and interesting places to discover! GeoCaching is like a high-tech treasure hunt where you use your GPS to locate hidden treasure containers. It's great for all ages and is becoming a new favorite among Lake George visitors! Learn more
More:
Whether its window shopping or people watching, it's fun just to be in the middle of all the action as you walk up and down Canada Street. Rollerblading, kayaking, canoeing, boating, snorkeling, fishing and many other activities are also available for free if you have the equipment. Lake George always has events going on in the park and interesting sites to see, so head to the Village with no particular plan, and see where the day takes you!
Looking for more fun in Lake George? Check out our Things To Do Section or Day Trips for more ideas and activities you can enjoy this season.
Have more suggestions for free fun in Lake George NY? Become a fan of Lake George on Facebook and add some information - maybe your story will be featured on LakeGeorge.com!