Lake George Area Biking Trails & Routes
Within the Lake George Region and the Southern Adirondacks, there are a ton of biking trails to be found. Find the one that suits your skill level and get pedaling! Two of the most popular routes are listed below, but you can click here to visit our Biking Guide where you'll find even more places to ride.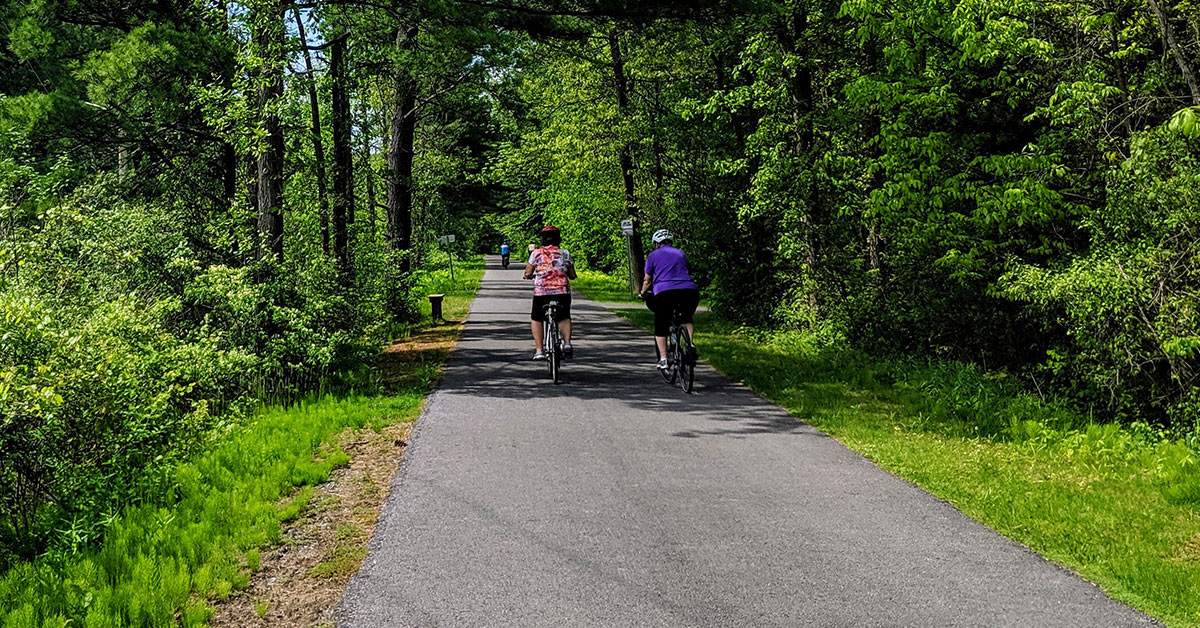 Warren County Bikeway
At the southern tip of Lake George where the steamboats dock, you'll find the entrance to the Warren County Bikeway - a scenic and paved 9-mile-long bike path that runs from Lake George to Glens Falls. The bikeway is dotted with signs from the historical association that make the trip educational as well as fun! There are scenic spots to stop and take a break along the way, so be sure to pack snacks and plenty of water.
During the ride, you will bike through a forest under a canopy of trees, cross two bridges, and pass a small inlet of Glen Lake, among other highlights. Please note that there are some sections of the bikeway where the trail shares the shoulder of the road with motor vehicles.
Note: Dogs are prohibited on the bikeway, as indicated by signs.
Feeder Canal Trail
Another one of our favorites is the Feeder Canal Trail, a 9-mile-long gravel path that passes many historic and scenic sights, including the remains of a five-stepped lock. Because of the gravel, mountain bikes are recommended for use on the Feeder Canal Trail.
More Area Trails
The scenic and varied terrain of the Southern Adirondacks makes for great biking in the Southern Adirondacks. Cyclists of all ages and ability levels can find places to ride, from designated paths and paved roads to mountain bike parks and wooded trails.