Lake George Area Biking Trails & Routes
Within the Lake George Region and the Adirondack Mountains, there are a ton of biking trails to be found. Find the one that suits your skill level and get pedaling!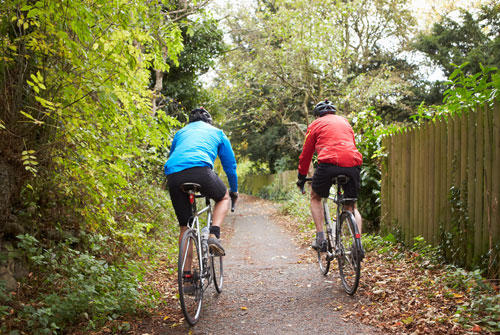 Warren County Bikeway
At the southern tip of Lake George where the steamboats dock, you'll find the entrance to The Warren County Bikeway - a beautiful wooded 9-mile long bike path. The bike path is dotted with signs from the historical association, telling of times past and historical events that make the trip educational as well as fun! There are picnic tables along the way and scenic spots to stop and take a break, so be sure to pack your backpack with a snack and enjoy the sights and sounds of the streams that run along the path.
Along the way you will bike in a forest under a canopy of trees. You'll cross over a bridge near the outlet malls and another bridge which goes over a small inlet of Glen Lake.
Note: Dogs are prohibited on the bikeway, as indicated by signs.
Feeder Canal Trail
For the avid biker, the Warren County Bikeway eventually connects to the Feeder Canal Trail by way of an abandoned railroad right-of-way in the city of Glens Falls. The Feeder Canal trail is a gravel path that passes the five stepped locks, which is an amazing site. This is best for mountain bikes and not suited for road bikes. It is also about 9 miles long.
Maps are available online at the Warren County website!
More Trails and Tips
There are countless trails, country roads, and byways that make for great biking in the Adirondacks. From paved roads to mountainous terrain, the whole family can take in the scenic landscapes and natural beauty of the region. Here are a few of our favorites:
Hudson Pointe Nature Preserve - Located off of Corinth Road, this 83 acre of land includes extensive trails for hikers, bikers and joggers alike. Open daily from dawn to dusk.
Adirondack Marathon - A Schroon Lake path that takes the rider on a 26 mile paved loop around the lake.
West River Rd - A relatively flat, 12 mile path that begins at the border of Fort Edward and Gansevoort and ends at the Saratoga Monument.