Lake George is full of summer fun and excitement for all ages. If you're looking for a great summer vacation with teens, Lake George is the perfect destination! With thrilling amusement parks, water parks, river rafting, outdoor adventures and so much more, your teens will experience the ultimate in summer fun in Lake George!
Need a few ideas to get you started on planning the best vacation ever with your teens? We've put together this 7-day teen vacation itinerary of day-by-day adventures in Lake George.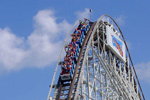 Day 1:
Six Flags Great Escape!
Start the vacation off with this thrilling theme park in Lake George, home to the Comet, Steamin' Demon and Boomerang Coast to Coaster. Nothing says "this vacation is going to be fun" better than spending the first day at The Great Escape and Splashwater Kingdom!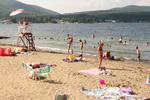 Day 2:
Swimming and Cruising!
Pack a lunch and head over to the Million Dollar Beach in Lake George Village, a state-run free beach where you only have to pay for parking. Your teens will have a blast playing volleyball and spending the day relaxing in the sun. Afterwards, go back to the hotel so everyone can get cleaned up for a classy dinner cruise on a Lake George steamboat!
Day 3:
Water Park Fun and Movie Night!
Visit Water Slide World, a "tropical paradise" in the heart of Lake George - the perfect way to spend a day of exhilarating adventure with your teens. Whether they relax by the Hurricane Harbor Wave Pool, or speed down the Tasmanian Twister slides, your teens will surely have a blast at this action-packed water park in Lake George. Top the night off with a trip to the drive-in movie theater in Glens Falls. The Glen Twin Drive-In Theater features two big screens with double features running on each for a night of fun with your teens.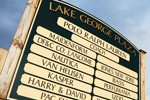 Day 4:
Scooting and Shopping!
Rent a motorized scooter or scootcar and see the sights of Lake George! These scooters are very similar to motorcycles but only require a regular driver's license to operate. They are so much fun to drive – especially for young adults! Only two people can ride on each scooter or scootcar, so you may want to rent a couple of them. If your teen is at least 16 years of age with a regular driver's license s/he may operate the vehicle with a parent accompanying, and 18-year-olds are free to ride alone. After scooting around town for a while, check out all the great shopping venues and restaurants in Lake George. Let your teens pick out a few Lake George T-shirts and some souvenirs for friends and significant others.
Day 5:
Tubing and Mini-Golf!
Teens love adventure, and there are few activities that are more thrilling than tubing and river rafting on the Hudson River. Let your teens choose their tubing adventure down the Hudson for an afternoon of fun and excitement in Lake George. Afterwards, head up to Lake George for a guided tour of the Adirondacks… on horseback! This is an amazing experience with spectacular views and a great opportunity to capture some really great photos. (Plan this adventure on a Thursday, and top off the evening with Lake George mini-golf and fireworks in the Village.)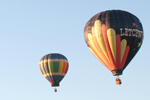 Day 6:
Hot Air Ballooning and Outdoor Adventures!
Make it a vacation to remember. Your teens will surely never forget the one-of-a-kind experience of going up, up and away over the great Adirondack Mountain region in a hot air balloon! The ride is a slow and steady float, a great way for small and large groups to admire the beauty of Lake George and the surrounding region. Learn more about hot air balloon rides in Lake George. Take a balloon ride in the morning, then plan an excursion to Adirondack Extreme Adventure Course in Bolton Landing! Discover tree top obstacle courses nestled in the Adirondack Mountains is perfect for adults, teens and kids alike. The whole family will love the zip lines, suspended bridges, slides, swings, nets, and aerial surf board!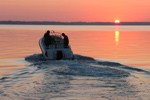 Day 7:
Boating and Fishing!
Spend your last day on the lake! Take your teens on a Lake George fishing charter trip for a few hours, and let them test their skills fishing the 32 mile long body of water. Or you could rent a boat and head out on your own for the day, exploring the lake and the various islands that grace it. Stop somewhere private and drop a few fishing lines or go for a dip in the pristine waters of Lake George. For even more adventure, make it a waterskiing trip! It's a great way for your teens to remember your one-of-a-kind Lake George vacation.