Lake George on a Budget? Yup, It's Possible... And We'll Show You How!
On a budget, but want to go on an awesome vacation with your friends or family? Plan a budget-friendly vacation to Lake George and give yourself and your loved ones a vacation everyone will talk about for years to come. With affordable places to stay, plenty of free activities, and - oh yeah - one of America's most beautiful lakes, Lake George is the perfect destination for a family vacation that won't break the bank.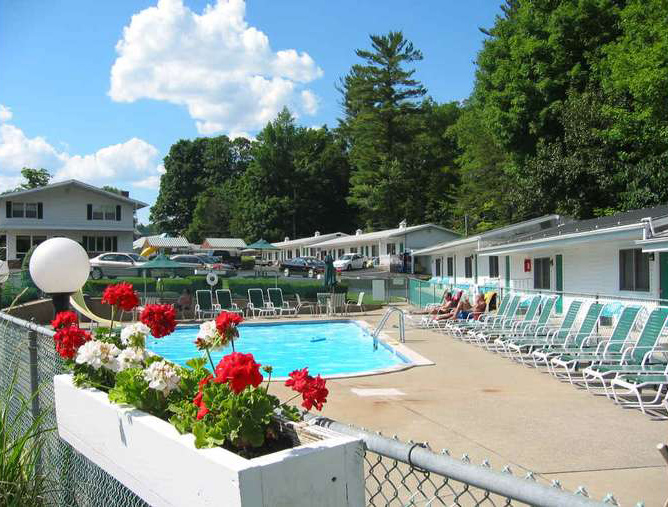 Pictured: The pool at the Brookside Motel
Just north of the Village, Brookside Motel has it all: location, great service, and awesome amenities. Travelers who want a fun, no-frills vacation will adore the Brookside. Actually, travelers who want a fun, all-the-frills vacation would adore the Brookside. With meticulously clean rooms, beds more comfortable than you'd find at a lot of upmarket chains, and friendly service, we think this motel deserves five-stars. Between their heated outdoor pool and a trout fishing pond, you might not even want to leave the property to check out the fun in the Village (but if you do, the Brookside has a convenient trolley stop!).
Do you find that you remember people more than places? If so, the Luzerne Court Motel is the perfect choice for your trip to Lake George. The owners, Ryan and Jody, think of themselves more as hosts than landlords, and you will love their comfortable, clean rooms and friendly atmosphere. You will spend evenings catching up over s'mores by the fire pit and days splashing in the swimming pool. This motel has pet-friendly rooms (so you can bring the whole family), and is right next door to mini-golf (one of our favorite low-budget activities in Lake George).
Located right on the strip at the northern end of the Village, you cannot ask for a better location at a better price than Lake Haven Motel. Park your car and walk everywhere, even to the beach (literally, the beach is a minute away)! We love their free wifi and heated pool, the profusion of happy flowers, and their complimentary BBQ grills so you can save on meals and make your own dinner.
A simple, family-friendly, Adirondack-style lodge on beautiful Glen Lake, the Glenmoore Lodge is a great choice if you want a quiet, lakefront vacation away from the noise (but close enough to easily hit up Six Flags or the Village on a whim) that isn't going to dent your wallet. They have docks for boats and free canoes, rowboats, and paddleboards for exploring the lake. Another one of Lake George's awesome pet-friendly lodging options, don't hesitate to bring your well-behaved family pet along, too!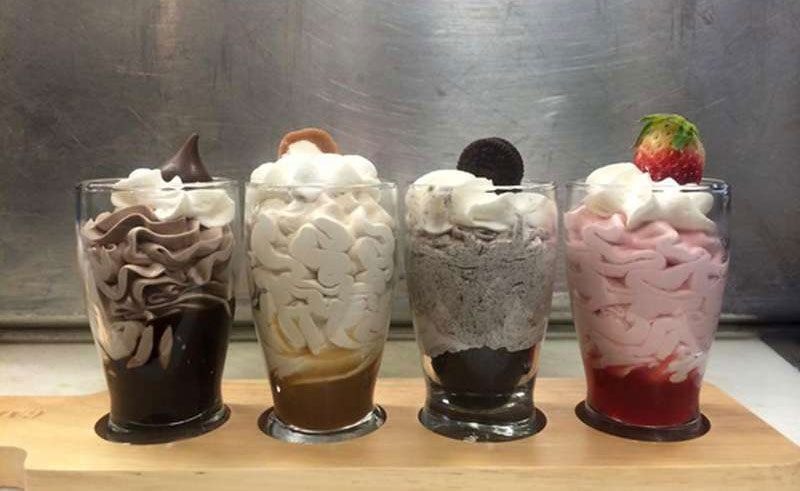 Pictured: Dessert at the Garrison.
With great pizza (and even gluten free options), Pizza Jerks is a favorite among locals and visitors to the Lake George area. Their menu variety and kid-friendly food make Pizza Jerks one of the best family-and-budget-friendly restaurants in Lake George.
Just north of the Village, the Garrison has a great patio and is definitely where the locals go. You'll enjoy the Garrison's relaxed vibe, excellent craft beer list, and even billiards. Though their entire menu is affordable, the $5 snacks and $2 domestic drafts during happy hour make the Garrison one of the best places for a deal in Lake George.
Most people think of Martha's for ice cream (and you should definitely make sure you save room for dessert), but this famous spot has a great outdoor grill, too. Their menu isn't fancy, but it's good, American fare and you can't beat the prices! Plus, a former local gal you may have heard of named Rachael Ray listed Martha's as one of her favorite spots in Lake George, so you know it's good.
Located on Canada Street, the Prospect Mountain Diner serves breakfast, lunch, and dinner and has something to appeal to the whole family! This place is the down-home, American diner you've always loved (or wanted to try), with foods that will bring back treasured childhood memories (or create new ones) and - everybody's favorite! - breakfast allllllllllll day. Bonus: it's totally affordable and your kids will love it.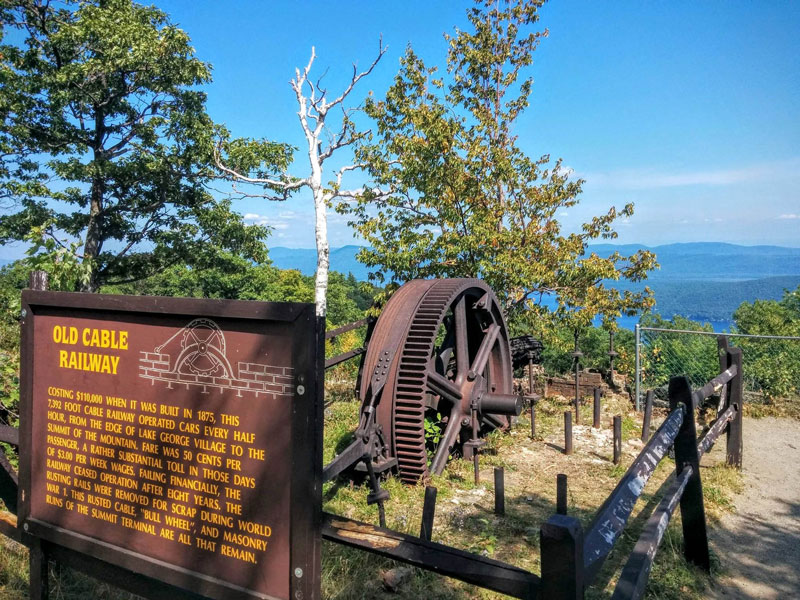 Prospect Mountatin. Photo Credit: Alan Nudi
We're gonna leave the lake out of this one, because it's pretty obvious. What's not so obvious are all the other free (or so close to free you can totally justify it) things to do in Lake George.
This one's pretty cool because you can choose your own adventure. Prospect has great views of the lake and is a fun place to picnic. Only about three miles round trip, this hike is totally doable for everyone in your family. Not feeling the walk? That's ok, too - you can drive (please note: there is a small fee per car to drive to the top).
Every Thursday night at dusk in July and August, Lake George Village sets off a spectacular fireworks display. Ooh and ahh over the fireworks, and then spend the rest of the evening star gazing with the kids!
The bandstand in Shepard Park is a great place for find free live performances almost every night in the summer. Whether you just sit and enjoy the tunes or get up and shake ya groove thang, you'll enjoy the show!
Though not free, mini-golf is a great, low-budget activity for the whole family. With plenty of different courses to choose from, there's a mini-golf theme to appeal to everyone in your party.
Ok, ok, this one definitely isn't free. But if you're looking for great deals on back-to-school or end-of-season clothes, seriously - stop by the outlets and all the great shops in the Village. You're almost guaranteed to find a bargain or two.