Places to Stay in Bolton Landing, Diamond Point & North of Lake George With Private Docks
Get waterfront access to your boat right from your hotel, resort, or cabin! The following list covers lodging with private docks on the northern end of Lake George, in Bolton Landing, Diamond Point, and points north.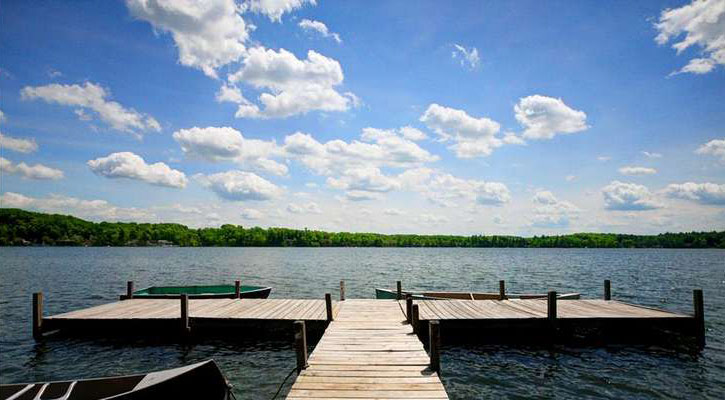 Note: All boats entering Lake George must be inspected first to protect against invasive species.
Bolton Landing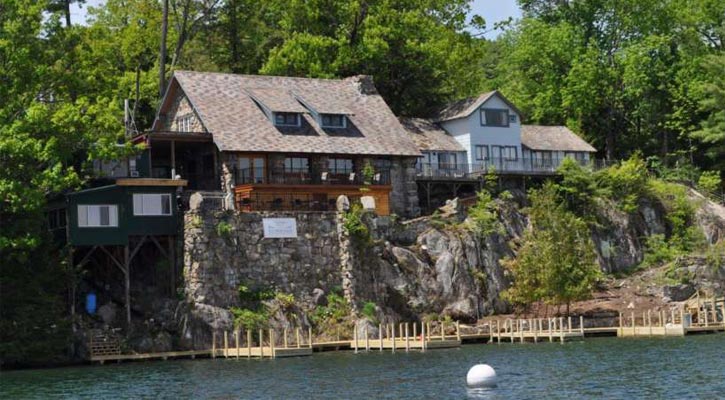 Choose from a variety of Adirondack-style lodging at Blue Water Manor and then take advantage of all the water activities offered: kayaking, canoeing, and paddle boats.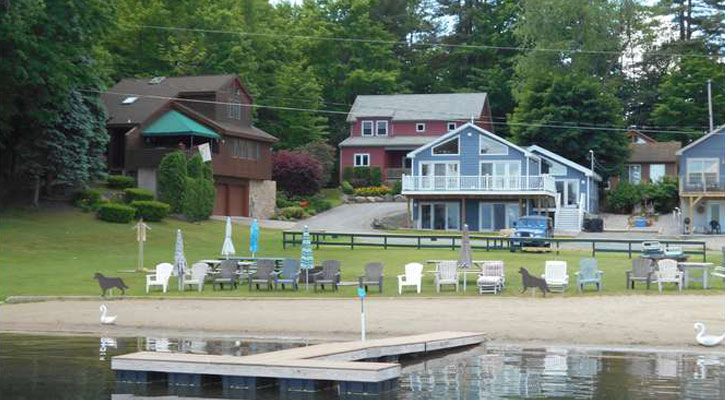 You can rent this two story, four bedroom lake house in Bolton Landing where you can bask in the sun on a private beach, have space to dock your boat, and you'll be a short walk to area shops.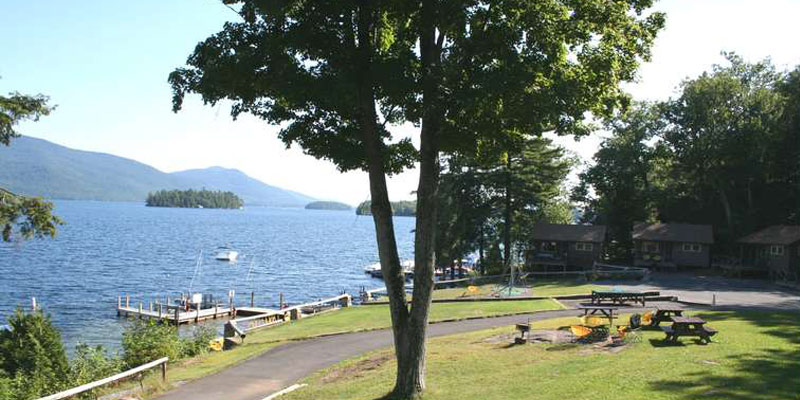 At Candlelight Cottages you can rent a cottage with one, two, or three bedrooms, a fully equipped kitchen, and everything you need for a relaxing and enjoyable vacation by the lake.
Some of the rooms at the Chelka Lodge are as close as two feet from the water! Relax on the sandy beach, splash around in the swim area, and of course take advantage of dock rentals for private boat docking.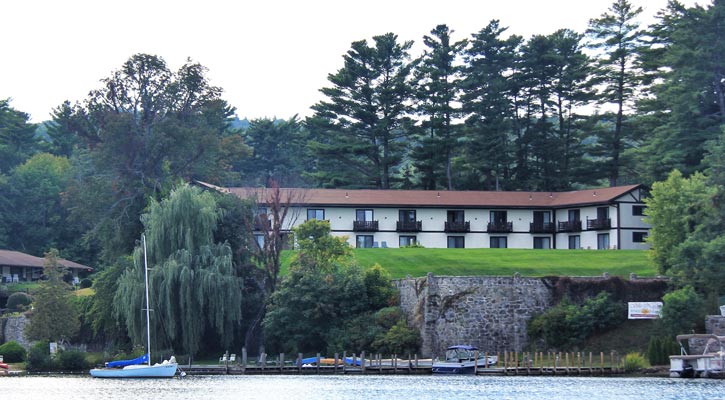 Enjoy 300 feet of prime lakefront property at Melody Manor where you can also find dock space, kayaks, row boats, paddleboats, a heated swimming pool, and a tennis court.
Adirondack Park Motel
Adirondack Park Motel offers dock/mooring space along with a picnic area with tables and grills, an outdoor swimming pool, and more at their cottages and lake houses.
Carey's Lakeside Cottages
Rowboats, canoes, and boat docking are available at Carey's Lakeside Cottages. You can also picnic on nearby islands or hike the mountain trails, and they're a five-minute walk to restaurants, shops, museums, and more in Bolton Landing.
Cool-Ledge on Lake George
The docks at Cool-Ledge can accommodate watercraft up to 28 feet. It's also a perfect place for young ones to swim, as the first 20+ feet of water only reaches a depth of 3 feet.
Northward Ho
Dock space is available to rent for boats up to 20 feet when you stay at Northward Ho. Both cottages and motel rooms are available.
Red Gate Cottages
Limited dock space is available at Red Gate Cottages for a fee of $35 a day or $200 a week. You can choose between 10 available cottages all fully equipped with amenities.
The Point Cabins
Each cabin at The Point Cabins has the option to utilize a dock slip in a new crib dock complex. This is a great place to stay to see fireworks from The Sagamore.
Diamond Point
Blue Lagoon Resort on Lake George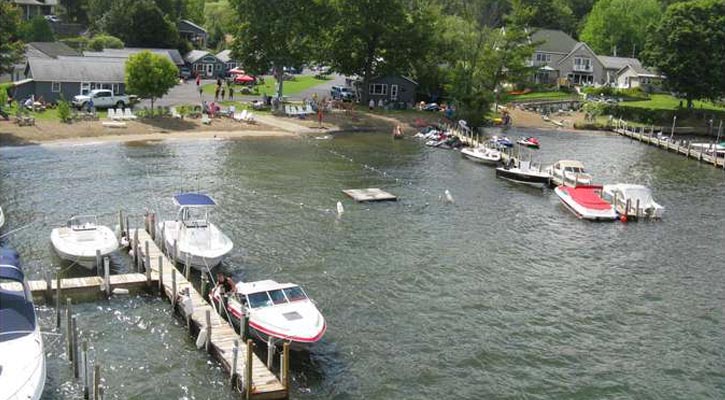 In addition to a private dock there is also a 200 foot sandy beach with a shallow, safe swimming area for you and your family at the Blue Lagoon Resort.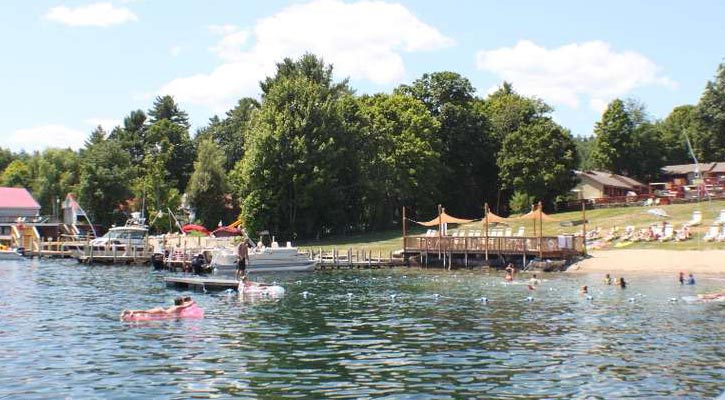 The Capri Village Resort and Motel has over 400 feet of a park-like lakefront, a large sandy beach, and complimentary kayaks, paddleboats, and rowboats right on their private dock.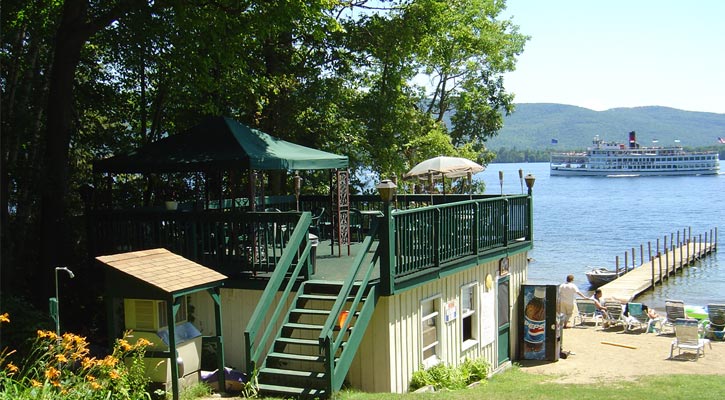 The Juliana Resort doesn't just have a private dock, but also a heated pool and complimentary use of canoes, rowboats, kayaks, and stand up paddleboards.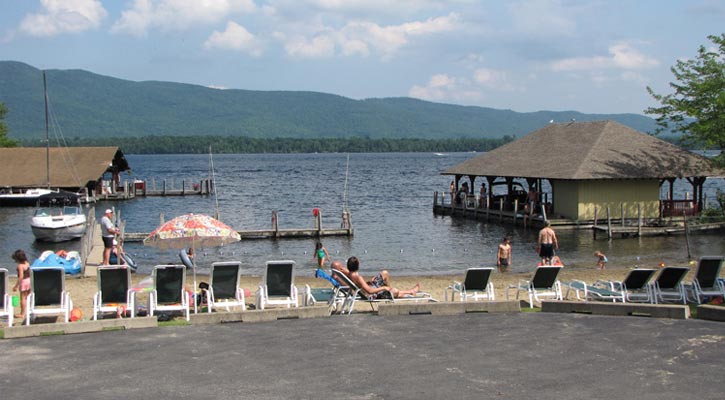 Ask about docking options at the Treasure Cove Resort where you can also find two heated pools, a fully equipped playground, and more fantastic amenities.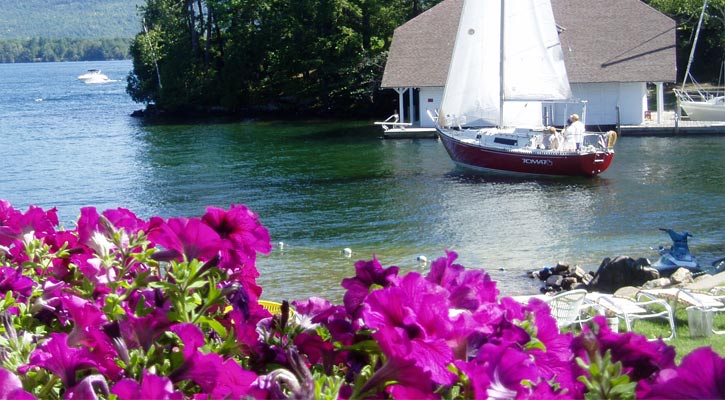 Stay at the family-owned resort and marina The Villas on Lake George and you can choose between a lake house, a townhouse, a family suite, or a resort room.
Diamond Cove Cottages & Resort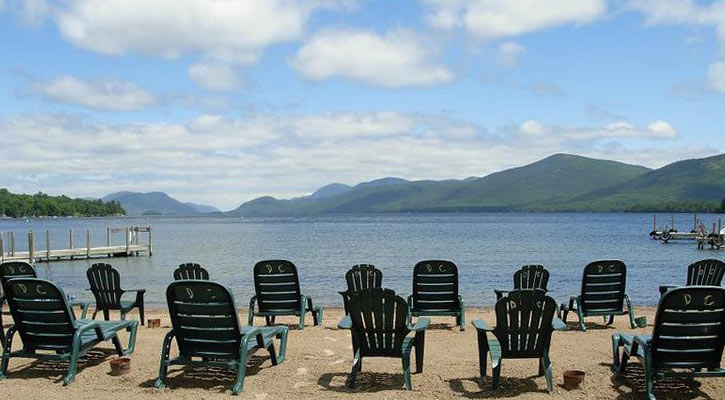 Dock space is available by reservation at Diamond Cove Cottages & Resort. Boats are also available for your family, along with kayaks and row boats, or you could also take a private power boat tour.
Lake George Suites
Dock space is available for boats and personal watercrafts ranging from 5 feet to 30 feet at Lake George Suites. You'll also find a beach, heated swimming pools, picnic tables, grills, a swing set, and a fire pit on the beach!
Mt. Knoll Beach Cottages
A private dock awaits you at Mt. Knoll Beach Cottages along with a private beach, swimming area, picnic tables, girlls, and more amenities and attractions.
Stepping Stones Resort
Dock spaces are available for rent at the Stepping Stones Resort, which is known for being private, clean, and quiet.
Beyond Bolton Landing & Diamond Point

Enjoy the rustic northern shores of Lake George at Northern Lake George Resort in Silver Bay, just north of Bolton Landing. Activities include boating, swimming, scuba diving, fishing, hiking, horseback riding, volleyball, badminton, table tennis, horseshoes, tennis, and waterskiing.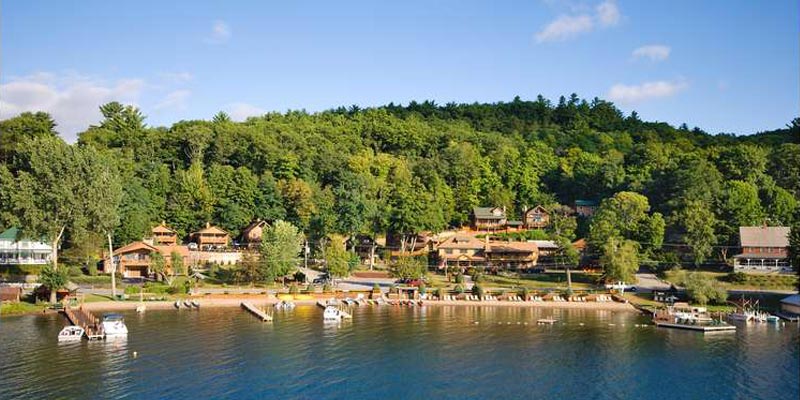 You can dock your boat for free at Trout House Village Resort in Hague from mid-May through June 20th. There are plenty of other amenities and activities to enjoy as well - horseshoes, shuffleboard, basketball, volleyball, tetherball, ping pong, bocce ball, and more.
Carol's Cozy Cottages
Located just north of Bolton Landing, Carol's Cozy Cottages in Silver Bay offers dock space for guests at $20 a day. This lodging option is just one mile away from the nearest island and it's right across the street from Snug Harbor South Marina.
Heart Bay Lodges
You can choose from a variety of vacation homes and cottages at Heart Bay Lodges in Ticonderoga, towards the northern tip of Lake George. Docks for your boat are available, and you'll be right near a 260-acre Adirondack nature preserve.
Northbrook Cottages
You can have access to docks, a private sandy beach, and more right on Lake George at Northbrook Cottages in Silver Bay.