Lodging with Private Docks in Lake George
Looking for hotels and resorts with private docks in Lake George? We've got a list of all the lodging with private docks in Diamond Point, south to the Village.
Though there are plenty of places to rent boats in Lake George, why not bring your own? (Note: You will need to get your boat inspected before you put it in the lake so we can protect Lake George from water hitchikers that may have tagged along for the ride from other lakes!)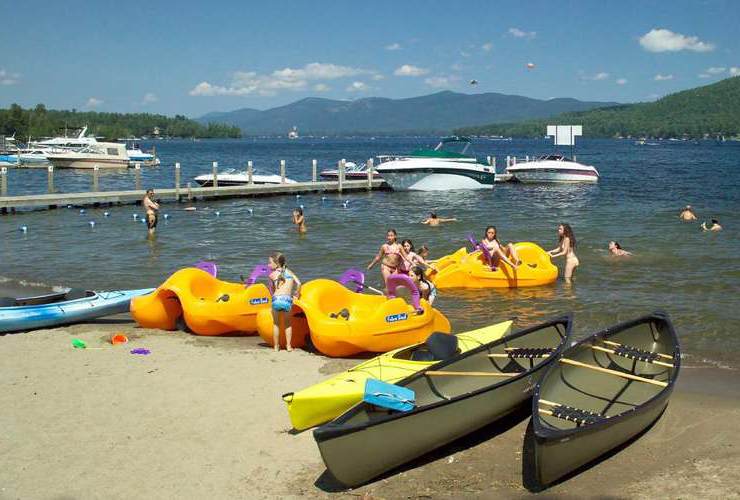 Pictured: Marine Village Resort
Between Lake George Village and Bolton Landing, the Juliana is ideally located for fun on land and on the water. Take your boat out on the lake, or stay on land for a dip in the heated pool, then head into town for dinner.
Sun Castle has 15 acres of beachfront property just waiting for you to dock your boat and stay for a while in a waterfront villa or townhouse.
Spend your Lake George vacation at this luxurious, lakeside resort that's surprisingly ideal for both romantic getaways and family vacations.
On shore just across from Tea Island, Tea Island Resort has a sandy beach and is just a mile from the Village by car (but you can go by boat!).
Boulders offers a variety of lodging options, including cozy cottages, lodges, townhouses, or a motel. Beware: if you drop anchor here, you might not want to leave!
With over 300 ft of sandy Lake George beachfront and a private dock, you will love tying up at Marine Village Resort!
Vacation in fully furnished condominiums in a secluded oasis- with panoramic views! Take a swim in The Quarters' indoor or outdoor pool, hot tub and of course Lake George.
Be in the buzz of downtown Lake George with the luxury of a 350-foot private beach. Take a break from the sun at Scotty's Beach Bar and Cafe.