8 Best Hotels With A View of the Lake or Mountains
One of the biggest perks of vacationing in the Lake George area is waking up to beautiful views of the lake and surrounding Adirondack Mountains! The next time you're deciding which hotel to stay at, make sure to consider these picture perfect destinations.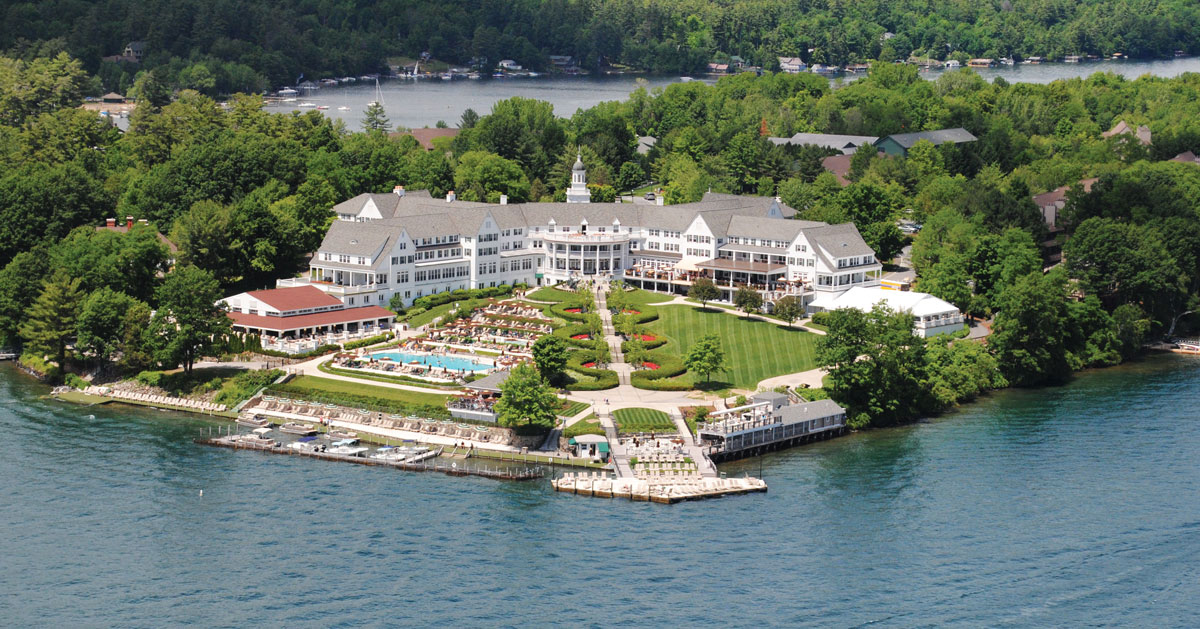 Located on Lake George in Bolton Landing, The Sagamore offers a stunning view of the lake and nearby islands. This historic hotel and resort provides all the amenities you could ever dream of, including a golf course and other sports activities, a state-of-the-art fitness center, a 10,000-square-foot outdoor pool (which also overlooks Lake George!) and more.
When you're ready for a delicious meal, The Sagamore has award-winning restaurants right on-site. Check out the Lakehouse, an open-air restaurant positioned right next to the lake, and the Pavilion, which provides incredible lakeside patio dining.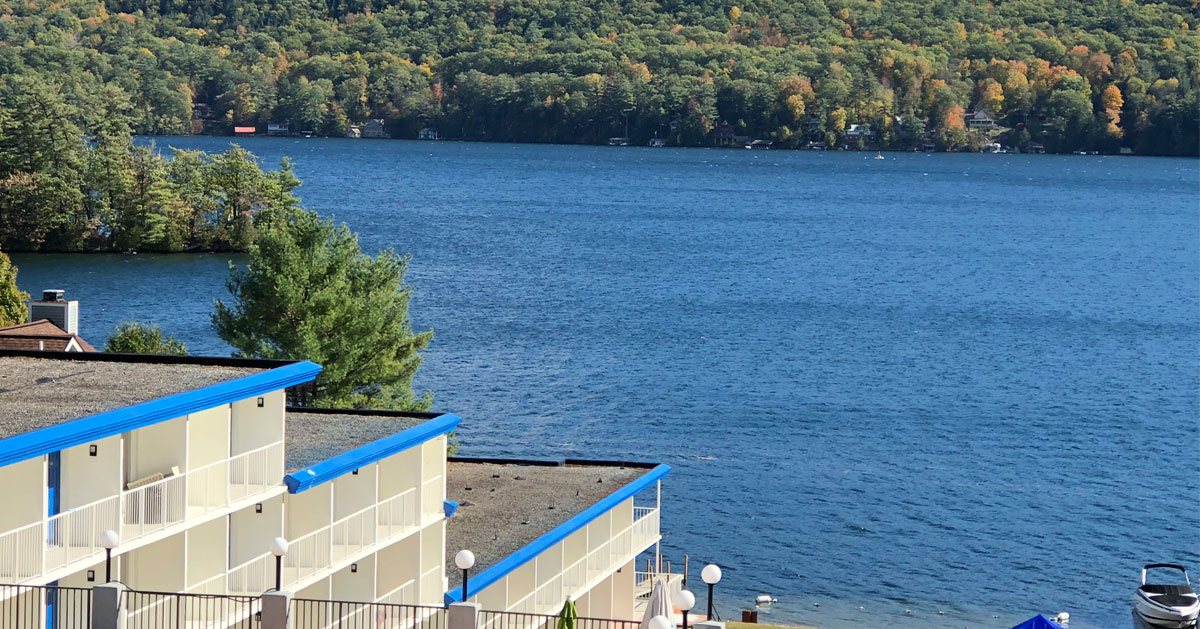 Every room at the Lakefront Terrace Resort has a balcony or patio that looks right out onto the lake or their picturesque courtyard, and some are just steps away from the beach. You can also take advantage of gorgeous views on one of their multiple outdoor terraces with patios. They aren't called the Lakefront Terrace Resort for nothing!
At the beach, take in the lake views while making use of their lounge chairs, kayaks, and paddleboats. There's also an outdoor fireplace, several grills, a kid's playground, and more amenities to enjoy as you take in the scenery.
When it comes to scenic sights, you can really get a panoramic view from a rooftop, and there's no better place to do this than at the Rooftop Cabana Bar at Surfside on the Lake. This 3,000-square-foot rooftop terrace offers gorgeous views of the lake, the mountains, and the hotel's private beach.
They serve lunch and dinner here, or you can just relax with your favorite drink. A retractable roof makes this an even more enjoyable experience, so you can sit in the sun or get out of the heat.
Surfside is always undergoing upgrades and renovations, so you can be assured your rooms and all the amenities are top notch for when you can drag yourself away from the rooftop bar.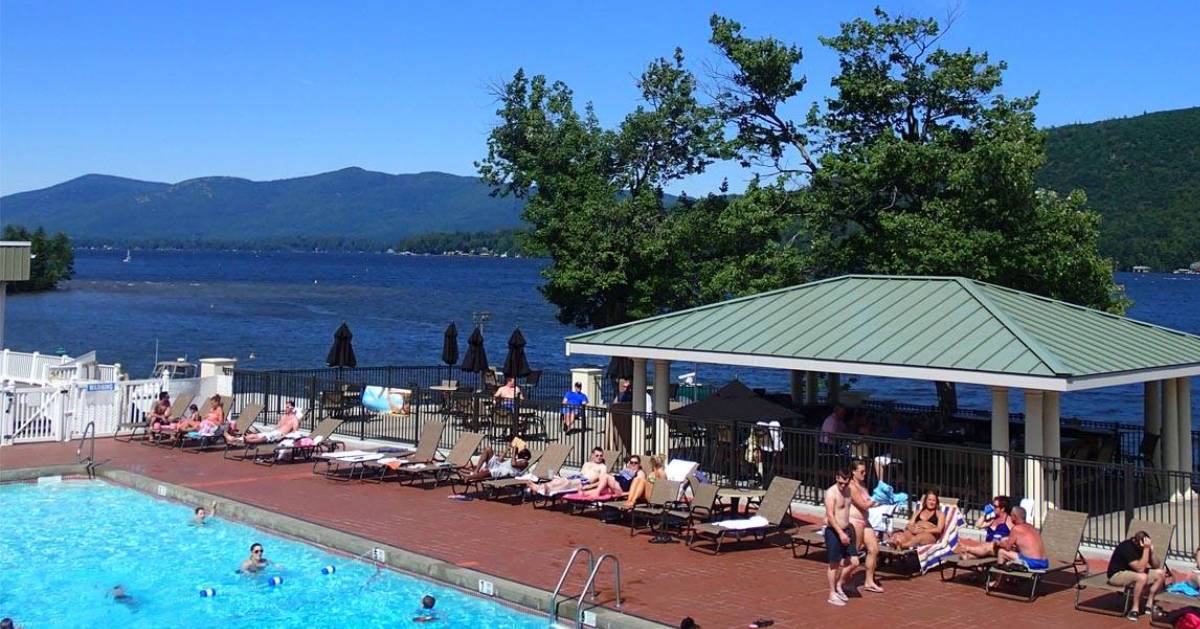 Located in the heart of Lake George Village, The Georgian Lakeside Resort offers views of the lake from their gorgeous pool, and they have lakeview suites available as well. Or, take advantage of the beautiful scenery of Lake George right on their private beach; they also provide kayaks and pedal boats for guests to use.
A bar at the pool and a restaurant on site means you can take in the views while enjoying a drink or a meal.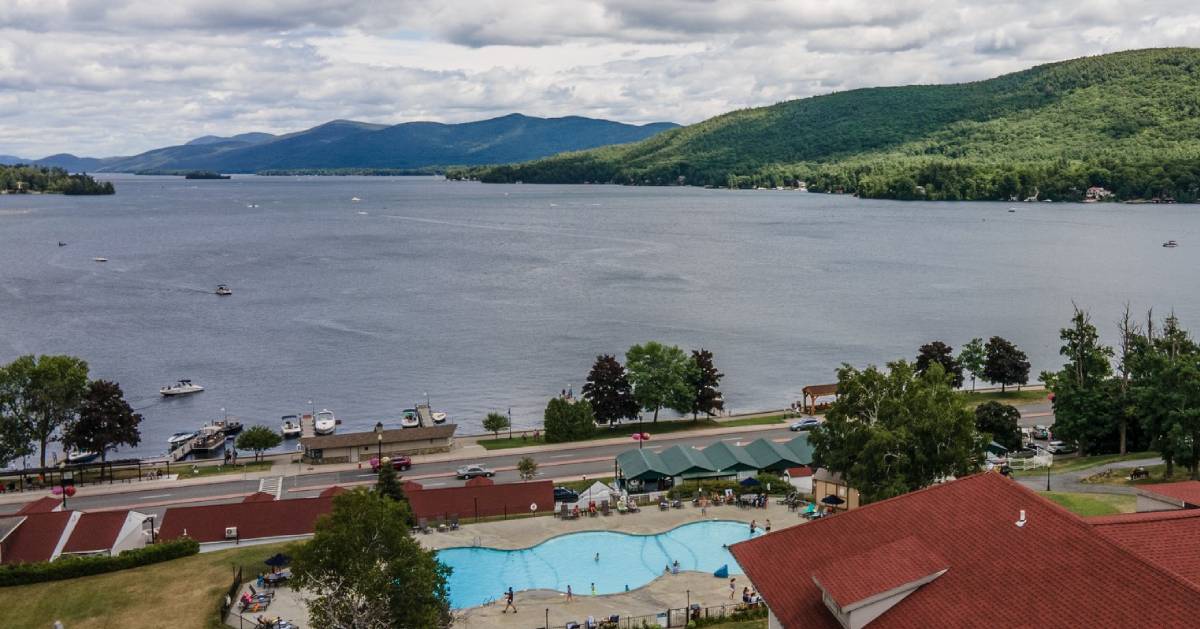 Fort William Henry Hotel & Conference Center at the southern end of Lake George offers fantastic views of the southern basin and surrounding mountains. Book a lake-facing room and watch the steamboats dock, parasailers fly, and soak up the picturesque sights right from your own room.
This unique lodging option offers a bit of everything - in addition to the views, they have an Olympic-size swimming pool, an on-site restaurant with award-winning cuisine, and they're adjacent to the Fort William Henry Museum. Plus, they're within walking distance of shops, restaurants, and beaches in the Village.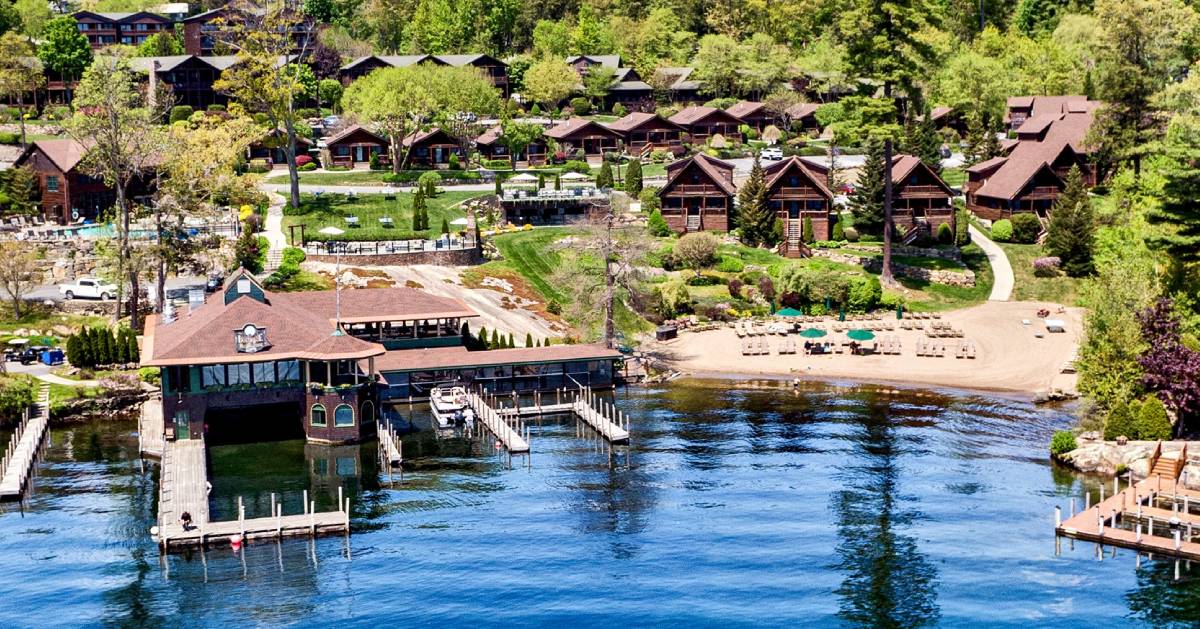 Go for a scenic swim at one of the area's largest resorts, The Lodges at Cresthaven. Their renovated outdoor area includes an expansive pool deck, lakeside lounge, and hot tub grotto that overlooks Lake George for a one-of-a-kind outdoor experience. You can also make the most of the sights right from your room, as each lodge has a covered porch or patio with seating facing the lake.
This is a perfect place to choose for a family vacation, with a little bit of something for everyone: an indoor/outdoor pool, a playground, a video game room, a volleyball and badminton court, a bocce ball court, picnic tables, grills, and much more.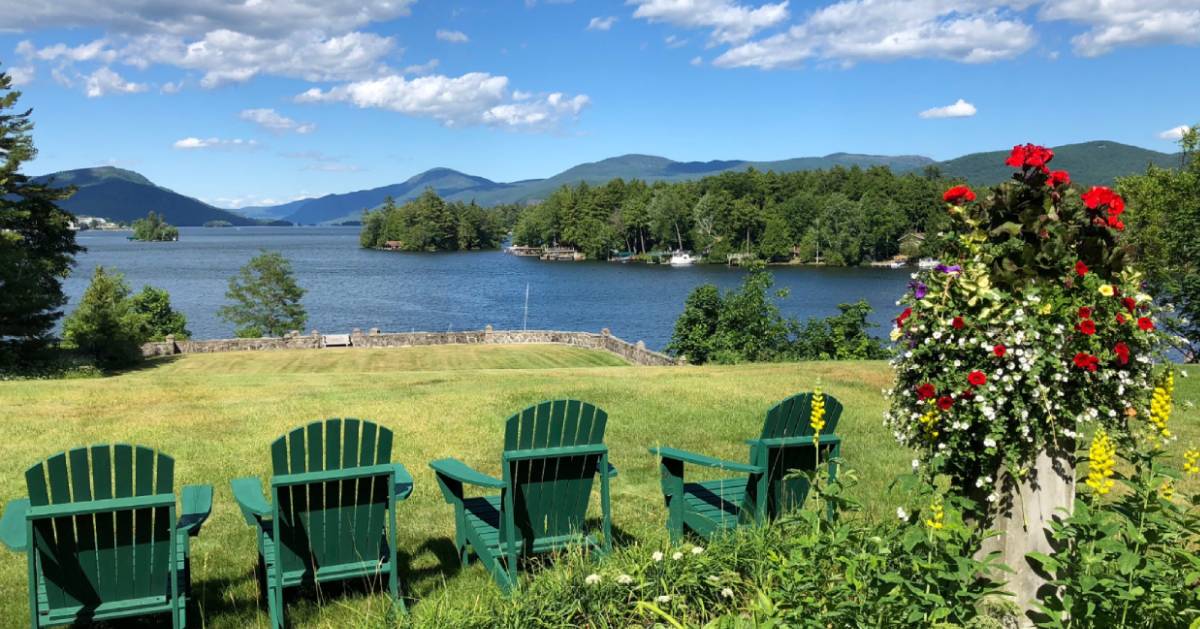 Kick back and take in the view at Melody Manor in southern Bolton Landing. Nestled in picturesque Huddle Bay, this hotel gives a majestic view of Hiawatha Island and the Adirondack mountains. Although it offers its own sights on a different part of the lake than the southern basin, it's less than a 10 minute drive from Lake George Village.
Melody Manor offers 300 feet of prime lakefront property with great views and a private sandy beach. Deluxe lakefront accommodations are available to guests with private balconies so you can enjoy the sights right from your own room.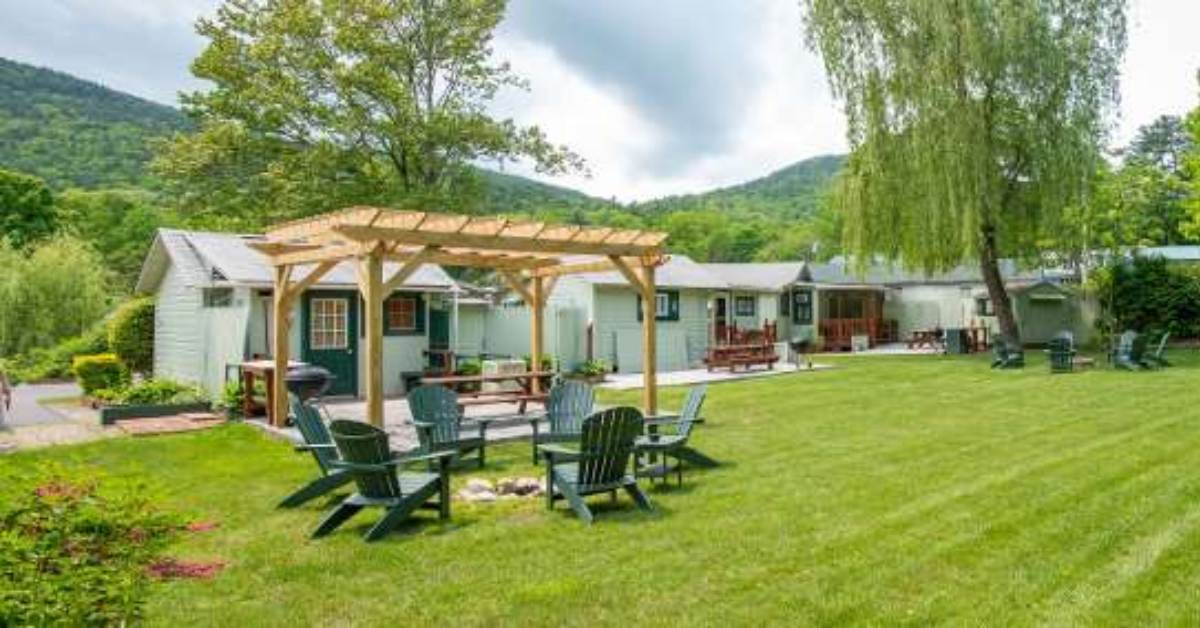 If you're looking for a place to stay with cozy, family-friendly, Adirondack vibes—yet is also close to downtown Lake George—Adirondack Sunrise Lodge is the perfect spot. The property is large, with spacious suites and cabins to fit any family size, a pool, firepits, and a playground for the kids.
The Lodge has beautiful mountain views, especially from the pool area, and is also located just a short drive from the beach, shops, eateries, and all the fun downtown Lake George has to offer.