Sleeping Beauty Mountain
Sleeping Beauty Mountain on the east side of Lake George is a moderate hike with a few steeper switchbacks.
The length of the climb depends on the starting point and the number of added stops, and can vary between 5 and 7.5 miles, round-trip. The hike is suitable for older children who will be able to handle the rocky switchback sections, and is generally regarded as family-friendly.
The two starting points are the Hog Town Trailhead and the Dacy Clearing Trailhead. The Hog Town trailhead comes first, and a 1.5 mile dirt road connects it to Dacy Clearing.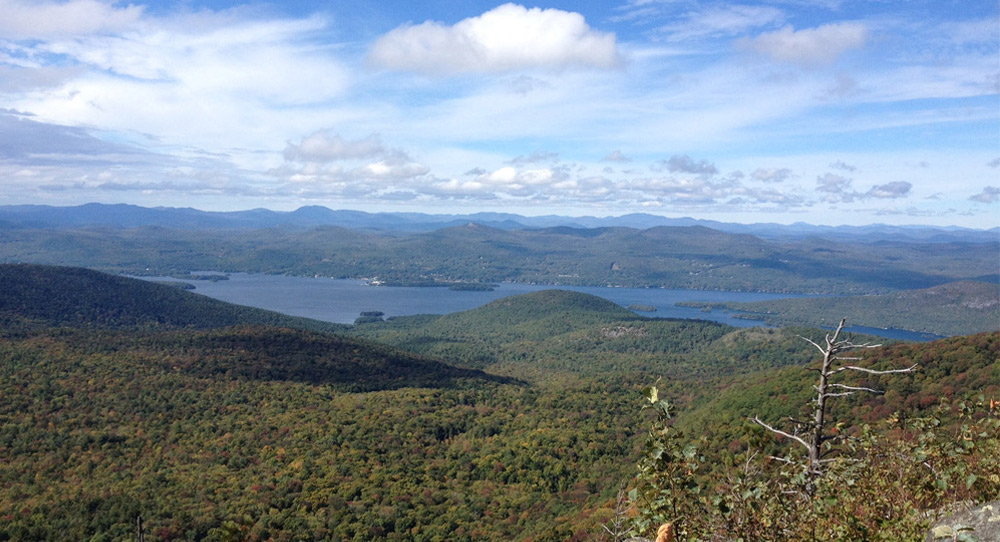 Take Exit 20 from the Adirondack Northway (I-87), and continue past the outlet malls.
Turn right onto Route 149, and continue until the intersection with Buttermilk Falls Road.
Turn left onto Buttermilk Falls Road, and continue for 3.2 miles until it becomes a dirt road (Sly Pond Road).
When Sly Pond Road intersects with Hog Town Road, stay straight onto Shelving Rock Road.
Dacy Clearing Road will branch off to the right, the parking lot you see here is the Hog Town Trailhead.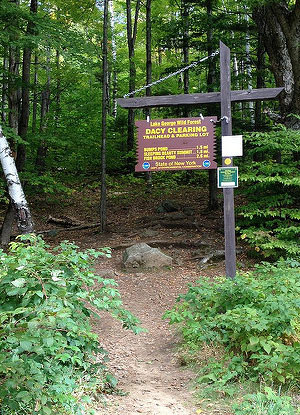 During certain times of year, usually in the summer and during prolonged periods of dry weather, the road from the Hog Town Trailhead to Dacy Clearing is open to vehicle traffic. It is a single-lane, dirt road with many bumps and dips, so if your car can't handle this type of terrain, you should park in the Hog Town lot. If the gate to the road is closed, you will also have to park in the Hog Town lot and begin your hike from there.
If the gate is open and your car is well-suited for rough terrain, you can drive the approximately 1.5-mile dirt road to Dacy Clearing and begin your hike there.
The trail is well-marked and the false summit offers wonderful views of the lake and surrounding mountains. The true summit is almost a half mile up from the false summit, but is wooded and not a great lookout point.
If you want to add an extra stop or two to your descent, from the summit you can follow markers to Bumps Pond, then take the path from Bumps Pond to Fish Brook Pond. The trail loops around and will eventually lead you back to the parking area. Take note that these extra stops will add distance (approximately an additional mile) and time to your hike.
Check out more photos of the hike up Sleeping Beauty Mountain: