Pumpkin Spice & Everything Nice: Find the Best Pumpkin Treats in the Lake George Region
The smell of pumpkin spice is wafting through the air, which can only mean that fall is underway. This is the time of year to warm up with a cozy sweater, grab a pumpkin latte, and enjoy the colorful foliage. However, if you just can't get enough pumpkin this season, then you're in luck! The Lake George Region is full of cafes, bake shops, and more that offer pumpkin-flavored treats and specials.
Note that pumpkin treats are seasonal and subject to availability. It's recommended to call ahead of time to ensure you can get your fall pumpkin spice fix.
Try Mouthwatering Baked Goods & Pumpkin Spice Drinks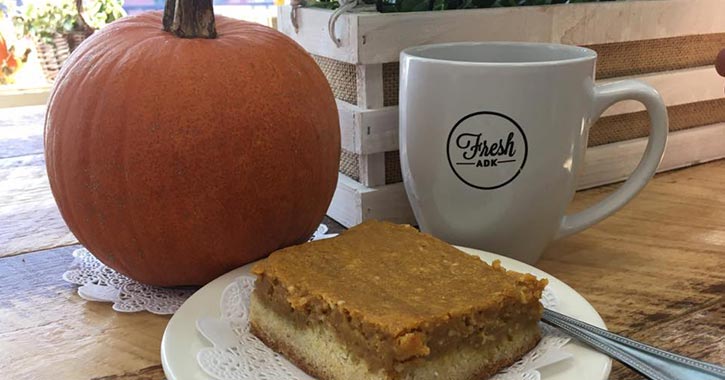 Photo Credit: Fresh ADK
When you're ready to sip a warm and creamy pumpkin spice latte, then visit Caffe Vero in Lake George Village. The excellent mix of spices makes their drink taste like pumpkin pie, and you can have it hot or iced.
Lox of Bagels & Moor
Breathe in the alluring smell of fresh-baked bagels and other goodies inside Lox of Bagels & Moor in Queensbury. Although they are popularly known for their bagel selection, this small bakery and deli sells a variety of baked goods throughout the year. Keep an eye out for the sweet pumpkin rolls!
SPoT Coffee
Conveniently located in the heart of downtown Glens Falls, SPoT Coffee is your friendly neighborhood cafe that goes all out this season. From pumpkin spice lattes to muffins and brownies, there are plenty of treats to enjoy while you relax in the comfortable coffee shop.
Fresh ADK
As their name suggests, Fresh ADK in Glens Falls offers clean, healthy, and delicious breakfast and lunch options. While their main menu has standard cafe fare, there are always several freshly-made baked goods inside their display case, available for purchase, such as pumpkin squares. If you don't see what you're looking for, they do offer custom orders for various treats.
Rock Hill Bakehouse Cafe
You may know about Rock Hill Bakehouse Cafe's hearty sandwiches, but have you ever tried their homemade baked goods? In autumn, pumpkin bread and muffins are two popular choices you can expect to find on display. Not only that, but they can "pumpkin up" your latte or cappuccino upon request!
Libby's Bakery Cafe
Head to the northern end of Lake George and visit Libby's Bakery Cafe in Ticonderoga for some awesome pumpkin-based specials. When fall gets underway, they usually offer a pumpkin latte with a house-made pumpkin syrup. It's the perfect complement to a pumpkin cream cheese-filled muffin or a slice of pie.
Historic Grounds
This unique coffee house combines the history of Whitehall with all your cafe favorites. Check out the numerous historic photos on the walls while you sip a pumpkin spice latte. Pumpkin baked goods will be available throughout the season.
Ozzie's Coffee Bar
Planning a leaf peeping adventure in the Adirondacks? Consider traveling to Old Forge in the Western Adirondacks where the fall foliage is spectacular and the smell of pumpkin spice is all around. Ozzie's Coffee Bar always has pumpkin lattes and baked goods this season, including pumpkin bread and cookies.
Discover Sweet Pumpkin Treats & Ice Cream

Open daily until Columbus Day in the fall, Nina's Sweet Shoppe in Lake George Village is a classic sweet shoppe serving sugary treats, ice cream, and baked goods. Their fall specials usually include pumpkin fudge, pumpkin ice cream, pumpkin donuts, and of course, pumpkin lattes.
Barkeater Chocolates
Satisfy your craving for chocolate with a trip to Barkeater Chocolates in North Creek. The shop is recognized as a premier source of gourmet chocolates in the Southern Adirondacks, offering everything from truffles and caramels to chocolate bars, bark, and peanut butter cups. From late-September through Thanksgiving, you can order a Giant Pumpkin Pie Truffle full of creamy white chocolate ganache and pumpkin & spices.
Cooper's Cave Ale Company
With over 50 custom soft serve flavors, super sundaes, fantastic floats, and more, there are plenty of reasons to order ice cream at Cooper's Cave Ale Company in Glens Falls. For pumpkin lovers, there is a pumpkin-flavored hard ice cream that is made on the premises with real pumpkins (hard ice cream flavor availability subject to change).
Martha's Dandee Creme
While supplies last, local favorite Martha's Dandee Creme will sell pumpkin ice cream on weekends through the end of their ice cream season (Columbus Day). Before the weather gets too cool, stop by and celebrate fall with one more ice cream cone.
Cheers to Fall With a Pumpkin-Flavored Craft Beverage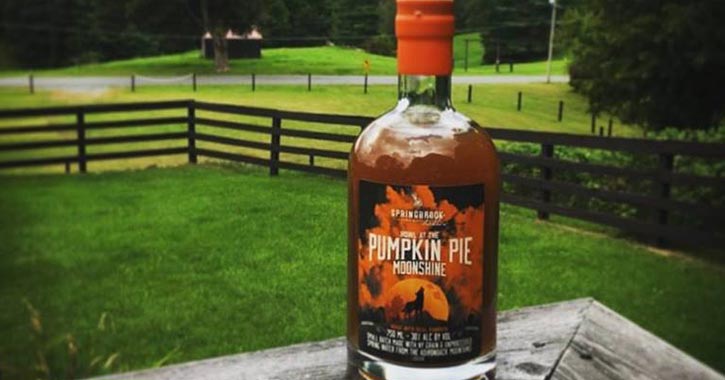 Nestled within the foothills of the Adirondacks, Springbrook Hollow Farm Distillery in Queensbury produces a wide range of handcrafted spirits, from vodka to bourbon, limoncello, and moonshine. During autumn, one of their seasonal specialties is Howl at the Pumpkin Pie Moonshine, which is the perfect drink to sip while viewing the local foliage.
Brewed using the area's finest pumpkins, Argyle Brewing Company in Greenwich sells a delicious, mellow-spiced Pumpkin Ale each year. However, this fall favorite is only available for a limited time, so be sure to fill up a glass or growler as soon as you can.
Cooper's Cave Ale Company
Step inside Cooper's Cave Ale Company in Glens Falls and celebrate autumn with some of their seasonal beer and drink specials. A glass of Pumpkin Ale is always a great option, while the Dark Jack O'Lantern cocktail features Black IPA floating atop Pumpkin Ale with a cinnamon sugar rim.
Lake Placid Pub & Brewery
Since 1996, Lake Placid Pub & Brewery in the Village of Lake Placid has been brewing award-winning beers. They have a massive catalogue of seasonal selections that rotate in and out of their lineup, and there are always six house beers on tap. The brewery is no stranger to pumpkin as they have crafted an Imperial Pumpkin, a Pumpkin Ubu Ale, and a Harvest Pumpkin Ale.