Sagamore Island Camping in Lake George, NY
Combine the pleasures of beautiful Lake George and the rugged excitement of camping, and you'll find a perfect mix in island camping. There are 44 islands on Lake George which are open to the public to set up camp - one of these is Sagamore Island.
Sagamore Island is an over-night, state-owned island. It is not the home of the grand Sagamore Resort (which actually rests on Green Island), but lies a few miles north in Bolton Landing.
The island is home to six separate campsites: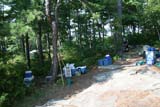 SITE #1 is the largest site on the island. It is sunny and flat, and can easily pair with Site #2 if you have multiple parties going on the trip. It is conveniently placed directly across from a picnic island, which can be reserved for day-use (great for having friends visit!). There is a platform for setting up a tent, and a dock shared with site #2. The site's west-side location makes it great for swimming and watching sunsets.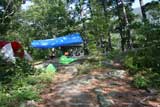 SITE #2 is also a large site. Between there and Site #1 lies a beautiful cove, wonderful for swimming. There are areas of both sun and shade to please all campers, and a tent platform. The dock, shared with Site #1, offers wind protection for all boats anchored there.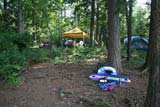 SITE #3 is a relaxingly shady spot, due to the abundance of foliage about (great in autumn and for photo enthusiasts!). The spot sits on top of flat rock. It is easy to get into the water from this site, and it shares a dock with Site #5. Both sites are close, but still private.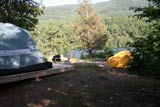 SITE #4 follows Site #2, but on the east side of the island. For early-risers, this is the spot to watch the sunrise. It is a very private site, situated apart from the other five, which makes it a great getaway for couples. Families with younger children will appreciate the natural slides formed by the rocks. There is a tent platform, and the deep draft dock can take a sailboat.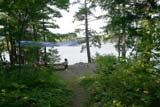 SITE #5 is a large flat area with a tent platform. It is shielded from too much sunlight and makes a cool shady place. It shares a dock with Site #3, and there is a small entry point for getting into the lake.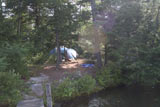 SITE #6 is settled just in the northwest corner of Sagamore Island. It is a very large site, overlooking one of the picnic islands, which can be rented for day use. The two islands are not far apart and it is an easy travel by boat to traverse from one to the other.
For information on how to rent campsites and islands, contact ReserveAmerica or the closest Ranger station.