2018 Best Of Lake George - Cast Your Vote!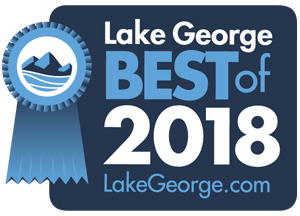 Have a favorite place to stay, restaurant, or attraction in Lake George? Cast your votes for the Best of Lake George, and make your voice heard!
Voting for the 2018 Best Of Lake George is now open!
Surveys close at midnight on March 27, and the businesses and attractions with the most votes will be declared the "Best of Lake George" - vote today for as few or as many categories as you want!
The Best of Lake George Survey is sponsored by LakeGeorge.com.
NOTE: Each survey allows you to vote once. When compiling the final vote, log files will be used to discard duplicative votes.
Skip to: Best Attractions | Best Food & Drink | Best Lodging
Best Attractions In Lake George
Best Food & Drink In Lake George
Best Lodging In Lake George
Previous Winners: 2017 | 2016 | 2015 | 2014 | 2013 | 2012 | 2011 | 2010 | 2009