Win a 4-night stay at the Lodges At Cresthaven Resort for FREE! Enter the giveaway and you might get to spend a few evenings at this luxury Lake George hotel on the house!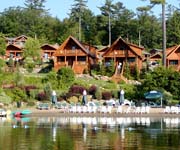 You could win a stay at the luxurious Lodges at Cresthaven Resort for FREE! What's to lose? Directly on the shores of radiant Lake George, the Lodges at Cresthaven Resort is a perfect vacation getaway for you and your friends and family.
Up to 3 friends can stay with you. An $800 value, all this could be yours for free if you win a giveaway. You can enter each day for a chance to win this spectacular prize.
Come and spend a night in the rustic cabins on the shimmering lake, and you'll never forget it.
Calming surroundings engender calm within
. Forget your fixations, and allow yourself to be comfortably surrounded by the
pampering yet rustic
feel of the
Lodges at Cresthaven Resort
, in the middle of one of the oldest mountain ranges on planet Earth.
Give in to free fun! Take up this opportunity; don't just pass it up. This is your chance to win a fantastic and rare giveaway for what you've always wanted!