Make Gore Mountain Your Destination for Summer Recreation
Sponsored by Gore Mountain
Summer in the Lake George Region is all about getting outdoors and making the most of the warm, sunny weather. While you might not have thought about exploring beyond the lake, you should consider a day trip to Gore Mountain in nearby North Creek.
Throughout the season, the mountain is a hotspot for outdoor recreational activities, from hiking to mountain biking, disc golf, and more. Here's a preview of what you can expect during your next summer adventure to Gore!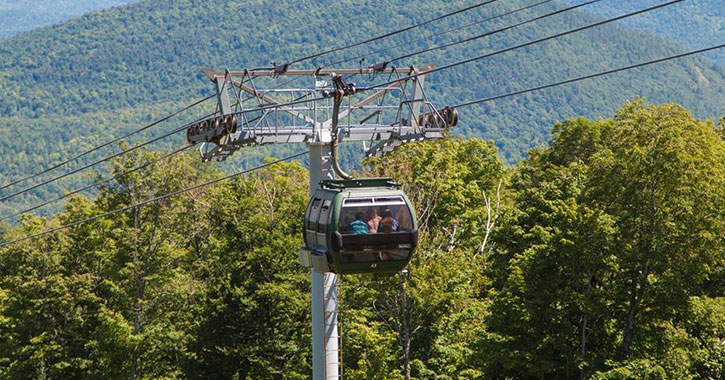 Gondola rides aren't just fun during autumn (leaf peeping!) or winter at Gore Mountain. These spectacular sky rides up the mountain are the perfect way to see breathtaking views of the High Peaks and surrounding Adirondack wilderness in summer.
While some visitors just ride the gondola and take photographs of the beautiful region from the top, others stick around for picnicking or hiking. Whichever you'd prefer, you're sure to have a memorable time seeing the scenery from the gondola.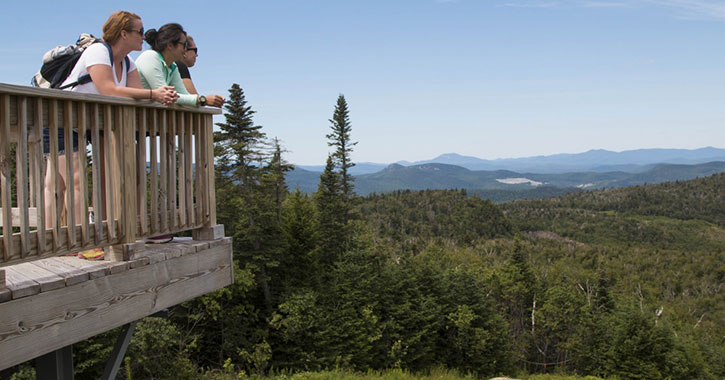 Remember the opportunity for hiking we mentioned above? When Gore's summer season kicks off, so do a wide range of interpretive hiking trails throughout the property. Access to the hiking trails is free for all ticketed guests and season pass holders.
If you'd like to go on a guided hiking tour, then join up with one of the hour-long group walks on the Alpine Sky Loop. This tour begins and ends at the top of the Northwoods Gondola, and your experienced interpreter will explain local vegetation, Gore's history, and more fun facts during your hike.
Additionally, visitors can take unguided hikes along the trails in the base area and at the summit of Bear Mountain. These trails feature interpretive signage to guide and teach you a little about the area. Each "eco-loop" takes roughly 30 minutes to complete.
For a little extra fun, explore the stone labyrinth near the top of Bear Mountain, located where the Alpine Sky Loop intersects with Fairview. Labyrinth walks are renowned for offering relaxation and peace of mind.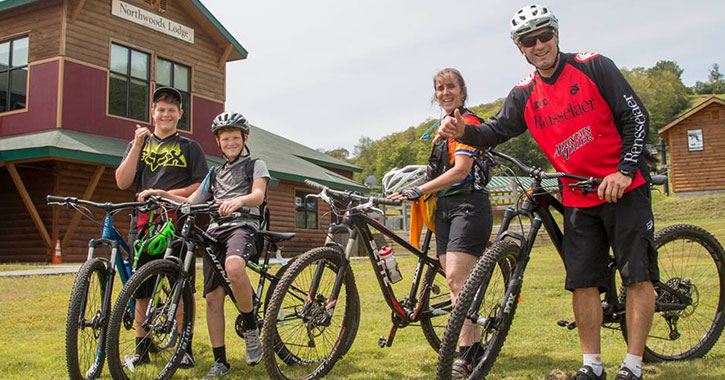 In addition to the hiking trails at the top of Bear Mountain, you will find challenging downhill mountain biking terrain as well. Once you ride the gondola up, bikers can begin the exhilarating 1,700 vertical descent on the single track and open ski trails.
Not ready to tackle these downhill trails yet? Warm up in the base area's Hardwood Forest Loop, or see if you can master the Skills Park, which includes a ramp jump, planks, teeter-totters, and more obstacles.
Gore also hosts skill development summer camps for those new to mountain bike riding.
Did you know Gore Mountain's base area is home to both ski-themed mini golf and disc golf courses? It's true, and best of all, these unique outdoor attractions are family-friendly.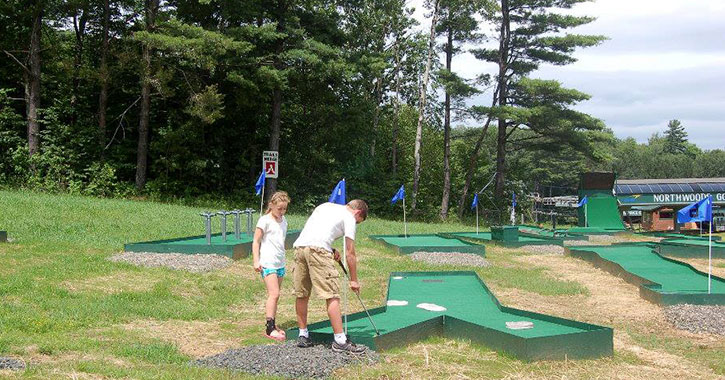 Love mini golf? Well you're in luck! Gore's 18-hole mini golf course is inspired by the ski resort's history and their winter activities, and it features a variety of easy and slightly challenging holes.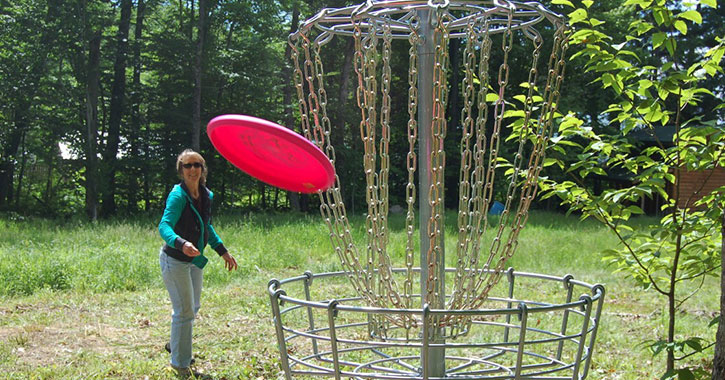 Try your hand at disc golf while visiting Gore Mountain this summer! The disc golf course has eight holes that range from 180 foot Par 3s to 450+ foot Par 5s. The course winds throughout the base area and showcases the mountain's natural terrain.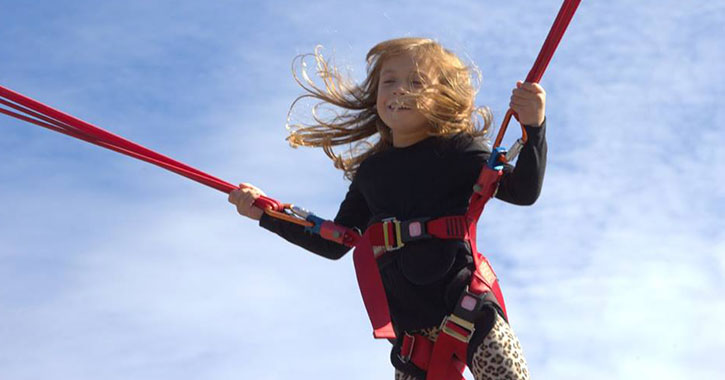 Bring the kids to Gore Mountain's base area this summer and discover all of the adventure attractions they have to offer. This activity center features a climbing wall with three routes to the summit, a bungee trampoline, an inflatable obstacle course, and more.
One-hour tickets are available to enjoy these attractions, while all-day tickets give you access to the base area's mini golf and disc golf courses too!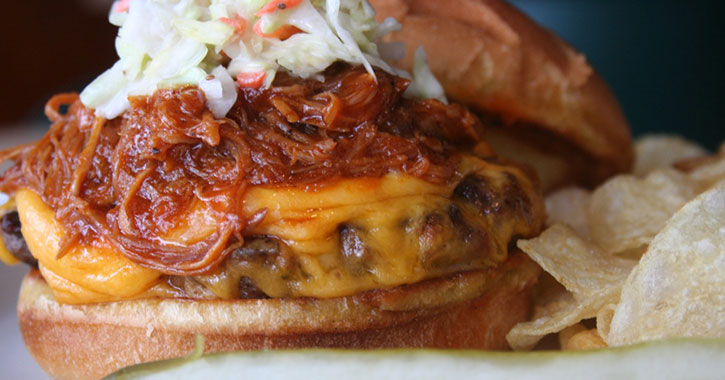 The perfect complement to your summer adventure at Gore Mountain is a meal at the Open Pit Grille in the base area. This dining establishment specializes in home-cooked favorites and southern BBQ specialties, such as burgers, hot dogs, and more.
On a sunny afternoon, stop in for lunch or a snack and relax on their expansive patio. The Open Pit Grille offers a great drink selection too ranging from soft drinks to bottled/draft beer and Barefoot Wine spritzers. Don't forget to ask about their daily specials!
Gore Mountain's 2018 summer season runs from July 19 - September 2, Thursday - Sunday, from 10:00am-5:00pm. Tickets for the gondola and other attractions are available for purchase at the mountain's base area and on their website.
Gore's 2018 Off-Season Pass costs just $129, and it includes use of all base area attractions, mountain biking, and scenic gondola rides during operating hours. The Off-Season Pass is available for ages 7+.
Learn more about Gore's summer and fall activities »