Enjoy New Year's Festivities in Lake George
New Year's Eve is a time to celebrate, and in Lake George, there are plenty of ways you can do that. Check out New Year's cruises, stop by for a bite to eat, or put on your dancing shoes and get ready to party through the night. No matter how you want to spend your New Year's Eve/Day, Lake George is the place to be.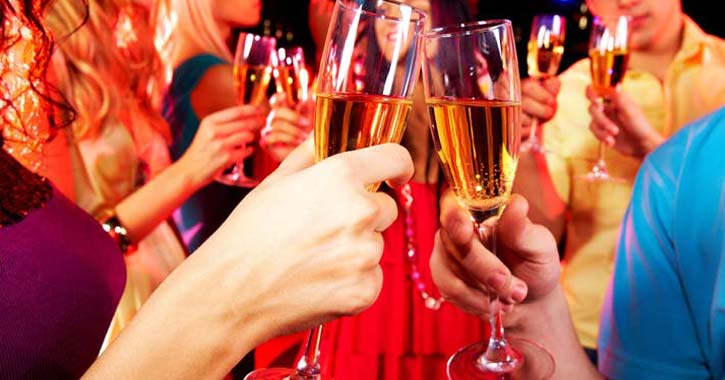 Welcome 2020 on the Lake
Spend New Year's Eve and New Year's Day in Lake George with a special cruise on the lake. Both the Lake George Steamboat Company and Lake George Shoreline Cruises offer cruises during this festive holiday, giving you a variety of options to choose from.
Start 2020 off right with a spectacular cruise on Lake George Shoreline Cruises. The company's annual Frostbite Cruise will take place on New Year's Day, and passengers can choose between a 12:00pm or a 2:30pm departure time. Each ticket includes a 1.5-hour cruise, heavy hors d'oeuvres, drink tickets, and live entertainment.
Take a 1 hour cruise on Lake George Steamboat Company's Mohican to kick off 2020 in style. Enjoy hot beverages and a snack bar as you tour the lake.
Please Note: If the ships are iced in, the parties typically take place on the dock. Make your reservations now before the cruises sell out.
Get Ready to Party in Lake George
Some of the region's biggest and best New Year's parties happen right in Lake George.
Attend King Neptune's Pub's annual NYE party. This year, Shake Shake Shake will be performing live starting at 9:00pm.
Join the Fort William Henry Resort for a reception, open bar, southwest-inspired dinner buffet, and live music from True Grit Outlaws.
Find more New Year's events from around the region »
Brave the New Year's Day Polar Plunge
One of Lake George Village's New Year's Day traditions is the Polar Plunge. Each year, hundreds of polar plungers visit Lake George and charge into the frigid lake, and many spectators gather around to cheer them on.
If you're willing to take the plunge, then be sure to register! However, if the event is not for you, you can still watch the Polar Plunge take place and then celebrate the New Year at the post-plunge party.
Eat Out & Celebrate
Celebrate the end of the year with family and friends by dining out together. There are a wide range of restaurants and bars that are open year round in Lake George, and while some usually host New Year's Eve parties, others feature a more relaxing atmosphere.
Make It an Overnight Celebration
Rather than stay at home, plan a getaway to Lake George this year and enjoy all of the area's local festivities. Plus, there are numerous lodging options in or right outside Lake George that are open all winter long (which includes New Year's Eve). From resort hotels to cozy cabins, find the lodging place that works best for you.
« Back to the Lake George New Year's Guide