Shelving Rock Falls Hike on Lake George
Shelving Rock Falls -- An Easy Hike For Families On Lake George
Go By Boat Or Car!
Trail starts out very rocky and then opens up to a five foot wide well trodden path, follows along the stream that leads to a beautiful waterfall, follow the path until you see the lake. We then took the path to the right and followed it to the rocks that jet out in Log Bay. We found 3 geocaches on the way - which added about 10 minutes per cache and added tons of excitement for our young treasure hunters.
Direction To the Shelving Rock Falls Trail
FROM LAND: Take exit 20 from I-87 the Adirondack Northway, Go east off the ramp to Rt. 9, go past the outlet malls and turn right on 149 f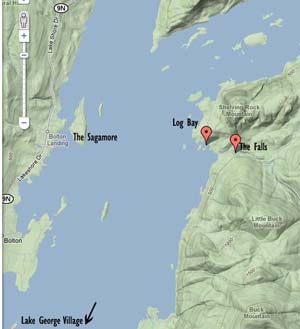 ollow 149 east past Rt 9L until you find Buttermilk Falls Road on your left (approx 5.7 miles), you will see the Black Rooster on your left at this intersection. The name of the road changes from Buttermilk Falls to Sly Pond Road to Shelving Rock Road. There are nine designated parking areas in the Shelving Rock Area, and parking is not allowed on the sides of Shelving Rock Road.
BY BOAT: On Lake George - go to Log Bay (any marina can give you directions). From these rocks on the northern end of the bay (find the picnic table) follow the path south. Go over the wooden bridge with this view (you are crossing the stream), continue on the path until you see your first "left" the trail either continues along the lake or goes up along the stream. You will be following the path that leads to the falls on the "right hand side of the falls". In about 15 minutes you will have found beautiful Shelving Rock Falls.
Follow Us On The Shelving Rock Falls Hike