Hikes Near Lake George
Enjoy Lake George hiking and trails on the surrounding Adirondack Mountains that overlook this pristine lake. From beginners' trails to challenging hikes, the Lake George area offers plenty of options!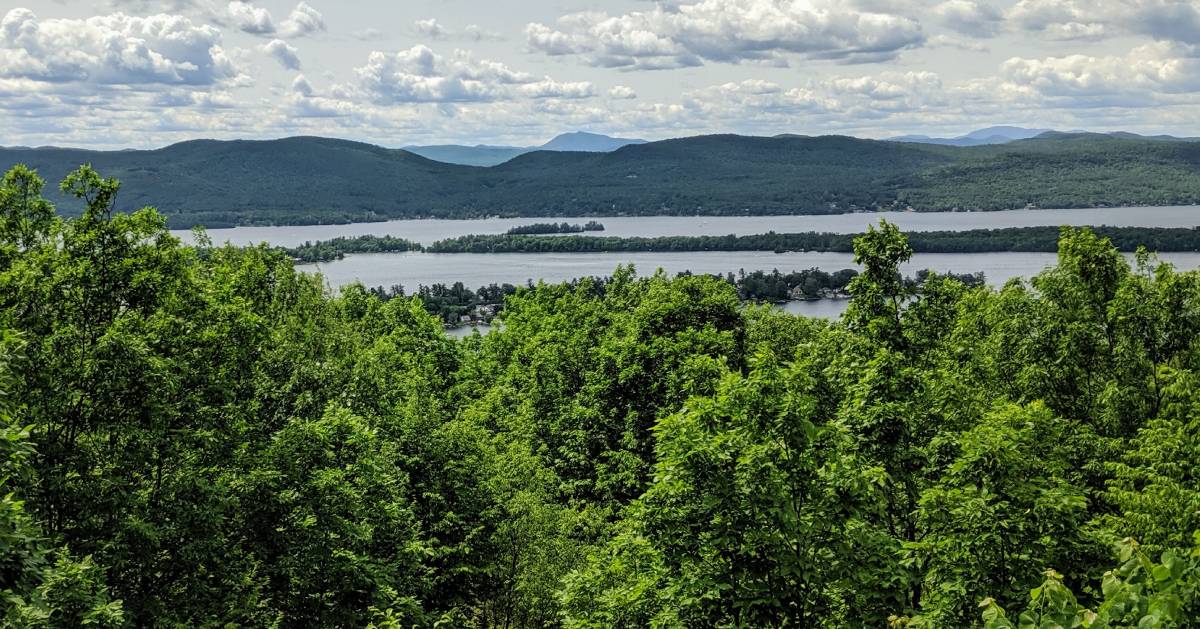 View of Lake George from Pilot Knob
Great Hikes for Great Mt. Views
(information provided by the Adirondack Tourism Council)
EAST SIDE OF LAKE GEORGE
Buck Mountain (4.6 miles RT from the north and 6.6 miles RT from the south, difficult). It's a steady climb to the top of the mountain from both directions; the southern approach has several overlooks along the way. The open summit has panoramic views of the southern Lake George basin
Black Mountain (5.6 miles, difficult). From this interesting loop you'll see Black Mountain, Round and Lapland ponds and uncrowded views from the summit's south side. When you arrive on the summit you will be greeted by outstanding views in all directions as well as a ranger's cabin, a tower with a large antenna on the top and a power generating windmill.
Sleeping Beauty Mountain Loop (7.8 miles, moderate). Switchbacks ease the ascent up to the summit where there are great views from the open ledges. On the return you will pass small Bumps Pond and take a detour to circle remote Fishbrook Pond, which is especially picturesque.
Shelving Rock Falls (1.7 miles, 3.4 round trip, easy) It ususally takes around an hour or so to reach the top. It makes a great hike for first timers, children, and seasoned veterans. The paths are wide and flat and there are great views of Lake George.
TONGUE MOUNTAIN RANGE - Note there are many rattlesnakes in this area.
Deer Leap (3.4 miles RT, easy). This is a popular and easily reached lookout over northern Lake George.
Five Mile Mountain (7 miles RT difficult). This is a rugged route passing through forested terrain with clearings and overlooks along the way. There is a steeper and slightly longer approach (7.4 miles RT) to this Clay Meadows trailhead.
French Point Mountain (8.8 miles RT, difficult). A cascading waterfall is located near the beginning of the trail just as you start the steep ascent up to the ridge. Almost continuous views are possible from the rugged ridgetop trail to the grand finale at French Point Mountain with its view south through the Narrows of beautiful Lake George.
Northwest Bay Trail (10.8 miles RT, moderate) Montcalm Point is the final destination of this beautiful and rugged lakeside trail. There are many scenic views, cascading streams, mossy cliffs and deeply shaded hemlock glens.
Hikes and Walks for Lake and Waterfall Views:
Lakeshore Trail (3.5 miles, easy) Old carriage trails start from various points along Shelving Rock Road and lead to the Shelving Rock Falls area and down to the lake. The Lakeshore Trail has beautiful lakeside views and several day-use picnic areas. Use caution near the wet and slippery waterfall area.
Warren County Bikeway (9.5 miles one way, easy) Extending from the shore of Lake George to the Glens Falls Feeder canal, this paved bikeway leads through forested foothills over gradual terrain. The bikeway is suitable for walking and strollers, and some sections of it are appropriate for use by people with disabilities. Call: 518-623-2877 or 518-623-5576.
Hikes and Walks with Historic Destinations
Opera Museum (admission fee to museum). Beautifully situated on a wooded promontory of Lake George, the Marcella Sembrich opera studio-museum offers a lovely walk around well-maintained grounds with spectacular views of the lake. 518-644-9839
Prospect Mountain (3 miles RT, difficult) This is a steep hike that is near the route of an old funicular railway, once the longest cable railway, to the site of the former summit hotel. The outstanding views from the summit are also accessible via the toll highway. Open Memorial Day to Columbus Day.
Colonial Wars of Lake George (3.3 miles RT,easy) This self-guided walking tour takes approximately two hours to complete and visits 20 points of interest and monuments in the Village of Lake George. A trail guide is available from the Lake George Chamber of Commerce. 55518-668-5755.
Glens Falls Feeder Canal Towpath (7 miles, easy) Take an interesting walk or bike along the towpath of this historic canal from the feeder dam to Fort Edward. You can also canoe the canal to the Glens Falls dam. Some sections of the route are accessible to people with disabilities. A map and guide is available from the Glens Falls Feeder Canal Alliance. 518-792-5363.
Lake George Historic Sites and Markers Visit over 30 French and Indian War-era sites and historical markers in the immediate village area including Fort William Henry (518-668-5471) with its commanding view overlooking beautiful Lake George. This is an interesting driving and walking tour which can be tailored to you own personal interests and time schedule. Free maps are available from the Lake George Chamber of Commerce. 518-668-5755
Whitehall Urban Cultural Park An interesting walking tour starts from the Visitor Center at Skenesborough Museum (518-499-0716). It parallels the original Champlain Canal and passes several old locks in Riverside Park, and then returns along Main Street. All the buildings along this route are on the National Register of Historic Places-most were built in the mid-to-late 1800's. Drive up to magnificent Skene Manor, built in 1874-75, for a birds-eye view of the village. 518-499-1155.
Other Hiking Destinations
Hadley Mountain A challenging but rewarding hike in Lake Luzerne. An old fire tower stands at the summit of the mountain.
Thomas Mountain Trail A moderately difficult three mile round-trip hike near Bolton Landing that leads to a cabin at the summit and great views of Lake George.
Gurney Lane Nature Trails There are two trails, one short at 1/3mi for the loop, and the other longer at 1.2 miles. The trails are located just west of exit 20 on the Northway.
Pilot Knob Gazebo Located in Fort Ann, this is a perfect attraction for light hikers and families. The trail leads to a wooden gazebo that overlooks Lake George. It is only 1 1/2 miles long, round trip. There is also and extended trail to waterfalls if you want to make your trip a little longer.
Moreau State Park Trails Moreau State Park has trails of numerous variations in length and difficulty for all sorts of hikers. There is a $7-per-vehicle fee to enter the park.
Visit The Lake George Hiking Guide