Shelving Rock Summit is a 1.7 mile hike (3.4 round trip) on the Eastern side of Lake George that usually takes around an hour or so to get up. Shelving Rock Falls is an easy hike along a waterfall to the shores of Lake George.
There are two distinct hikes, one is Shelving Rock Summit (Mountain) and the second is Shelving Rock Falls both are relatively easy hikes that are ideal for novice hikers.
Shelving Rock Summit Hike
The trailhead for this hike is past the Shelving Rock Falls trailhead. This is a very easy hike which is ideal for young families and large groups as you can walk five people abreast for the majority of the hike. There is some uphill involved in this hike, but the zig-zagging trail used to be an old carriage road, so it's not too steep. At a leisurely pace the hike takes about an hour to reach the summit and a half hour to descend to the parking lot.
When you start the hike, you will follow a carraige road path, about 5-6 minutes into the hike there is a sharp left turn. At one point, you will see a brief glimpse of the lake on your right. This is not the summit. The trail continues to the left. Once you reach the summit, you won't have much of a view, there is a small narrow path off the open grassy knoll. Take the path, it will lead you about 100 yards to a much better view of the lake and surrounding mountains.
The hike to the summit is approximately a mile-and-a-half, and generally moderate-to-steep. The wide Adirondack hiking trail (much of it an old carriage road) is an engineering marvel. Despite its isolation, the trail-builders managed to build rock retaining walls and water run-offs.
Directions: Take exit 20 from I-87 the Adirondack Northway, Go east off the ramp to Rt. 9, go past the outlet malls and turn right on 149 follow 149 east past Rt 9L until you find Buttermilk Falls Road on your left (approx 5.7 miles), you will see the Black Rooster on your left at this intersection. The name of the road changes from Buttermilk Falls to Sly Pond Road to Shelving Rock Road. Follow the road about 11 miles until you end up at the Hog Town Parking Lot (Lots of Signs). Take a left at this parking lot and drive 2.7 miles to the trailhead on your right. Note: There are nine designated parking areas in the Shelving Rock Area, and parking is not allowed on the sides of Shelving Rock Road.
CAUTION: Once you arrive at the peak, the trail markers end. Because of this, you can easily become disoriented, and even lost, when you walk around. We advise you to carry "markers" (strips of cloth, extra hats, etc.) to identify the trail's end, as well as other landmarks. When you return, simply follow them back to the trail, removing them as you go.
SUGGESTION: If you are an avid hiker, this hike won't tire you, so you may want to combine this hike with one to nearby Sleeping Beauty Mountain.
Shelving Rock Falls Hike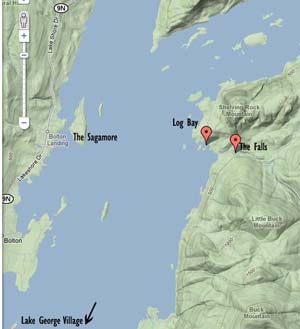 You can either boat into Log Bay and go up the trail or drive in from the east side and start from the parking area. This hike will take you down the mountain to the lake alongside beautiful waterfalls. The hike is a very easy hike down a wide unmarked dirt trail. There are multiple geocaches.
Along your hike, you can discover a beaver dam and frolic in a stony pool at the base of Shelving Rock Falls. At the bottom of your hike you will reach the lake, feel free to bring your bathing suit! Log Bay is a popular bay with boaters.
CAUTION: The path to the base is steep, and the rocks are slippery in spots, so prudence is advised.
GETTING THERE FROM LAKE GEORGE
Head south on Route 9, until you reach Route 149 on your left. Follow Route 149 past a golf course on your left, continue past Route 9L, and turn left on Butttermilk Falls Road. Follow it to its end, and bear left on Sly Pond Road.
Sly Pond Road will soon become a dirt road. At one point you will see a beaver pond, complete with lodge, on your left. When you will pass Hog Town Road on your right, Sly Pond Road will become Shelving Rock Road. There are nine designated parking areas in the Shelving Rock Area, and parking is not allowed on the sides of Shelving Rock Road.
TO THE FALLS: Continue down Shelving Rock Road for 2.8 miles. You will see an orange-painted steel gate that guards a culvert. The trail starts there. There is a parking area a short distance farther on the left.
TO THE MOUNTAIN / SUMMIT TRAIL: Follow the same road for from the first parking lot approximately 2.7 miles. The trail sign and parking lot are to your right.
CAUTION: This portion of Shelving Rock Road, at least in several spots, is narrow, steep, and curvy. There are a few places in which the roadside drops precipitously from the road. Individuals with vertigo or acrophobia may become anxious or frightened.