Lake George & NYS Freshwater Fishing Regulations
New York State and the Department of Environmental Conservation (DEC) have established statewide freshwater fishing regulations that all fishermen must abide by. While many fishing seasons and limits are the same throughout New York State, fishermen must also remember to check whether a body or water has special fishing regulations as well.
For Lake George, most of the statewide regulations apply. However, there are a few special regulations to be mindful of if you plan to go fishing on the lake. Check out the seasons and regulations for fish found in Lake George below!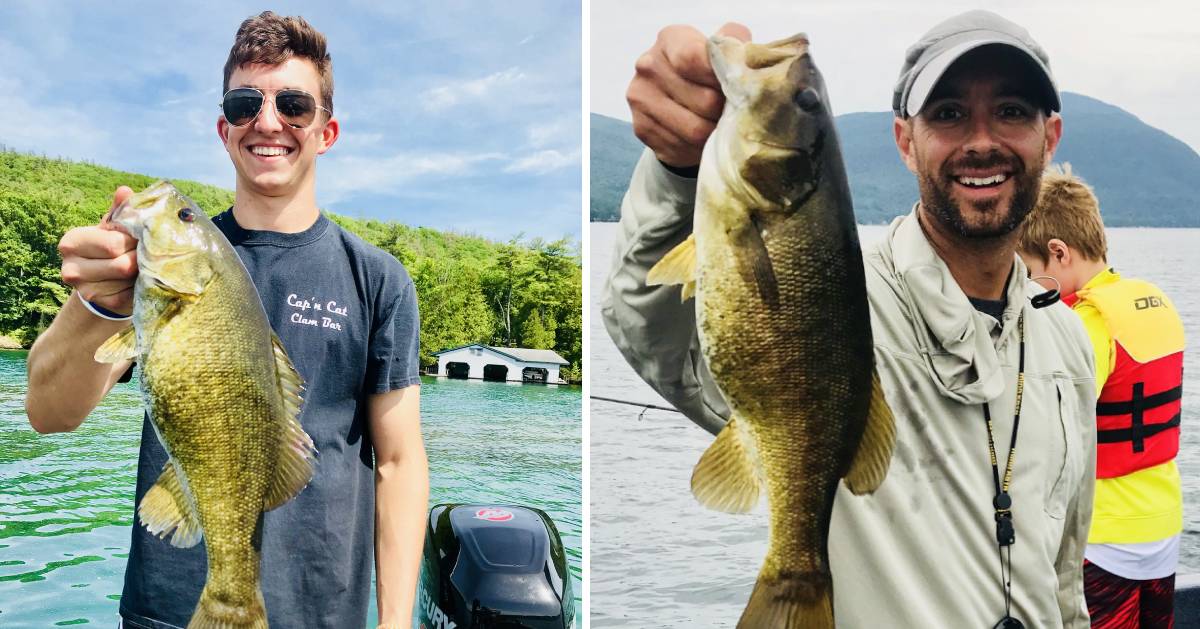 Photo credit: Joe Testa, Fresh Water Therapy
Notable Fishing Regulation Changes
Here's an overview of the new regulations that were implemented last year and are still in effect for the 2023 season:
Rainbow trout, brown trout, and splake seasons in lakes and ponds are now open year-round, with a 5 fish daily limit, any size, with a "no more than two longer than 12 inches" rule
Statewide Atlantic salmon regulations now allow for year-round open season
Ice fishing is permitted on all waters in the state unless specifically prohibited, with the exception of Essex, Franklin, Fulton, Hamilton, Herkimer, Lewis, St. Lawrence, Warren, and Washington Counties
5 fish daily walleye limit in Oneida Lake
New regulation to limit the growth of walleye population in Skaneateles Lake - no daily possession limit, 12-inch minimum size limit, open year round
Statewide sunfish daily harvest limit reduced from 50 to 25 fish
Statewide minimum size limit for crappie has been increased from 9 inches to 10
And, new specific dates have replaced floating dates for statewide season openers to include:
May 1 - Walleye, Northern Pike, Pickerel, and Tiger Muskellunge
June 1 - Muskellunge (note that in 2022 DEC will allow for the fishing of muskellunge to begin the last Saturday in May to accommodate previously planned fishing trips)
June 15 - Largemouth and Smallmouth Bass
See more details from the DEC on fishing regulation changes for 2022 >>
Saltwater Fishing Regulations for Summer Flounder (Fluke) Season
In addition to the above, the DEC announced in late April new recreational saltwater fishing regulations for the summer flounder (fluke) season that started May 1. The changes include an extension of the season by 12 fishing days to October 9, 2022, and decreasing the minimum size limit by a half inch. Anglers are now allowed four flounder at a minimum size of 18.5 inches.
View saltwater fishing regulations >>
New York's Statewide Fishing Regulations
Black Bass (Largemouth / Smallmouth)
June 15 - November 30
Minimum Length - 12"
Daily Limit - 5
Northern Pike
May 1 - March 15
Minimum Length - 18"
Daily Limit - 5
Pickerel
May 1 to March 15
Minimum Length - 15"

Daily Limit - 5
Yellow Perch
All Year
No Minimum Length
Daily Limit - 50
Black Crappie
All Year
Minimum Length - 10"
Daily Limit - 25
Pumpkinseed
All Year
No Minimum Length
Daily Limit - 25
Special Lake George Fishing Regulations:
Observe these special regulations that apply to Lake George and all tributaries upstream to the first barrier impassable by fish:
Trout
All Year
Any Size
Daily Limit - 5
Lake Trout
All Year
Minimum Length - 23"
Daily Limit - 2
Landlocked Salmon
All Year
Minimum Length - 18"
Daily Limit - 2
Smelt
May 16 - March 31
Any Size
Daily Limit - 25
A Note on Fishing in the Summer
During the hot days of summer anglers should keep in mind that trout and salmon experience serious physical stress when water temperatures get above 70 degrees F. Anglers can help protect the fish population by adhering to the following:
Avoid catch and release fishing for heat-stressed trout (they are likely to die from the stress regardless of how carefully they're handled).
Don't fish for trout or disturb them when they've gathered in unusually high numbers. It's likely they're recovering from heat stress in a pocked of cold water.
Fish early in the morning when stream temperatures are coolest.
Have an alternative fishing destination in mind in case the water temperature is too high where you go.
Consider fishing at a waterbody that is less prone to heat stress and/or fishing for a more heat-tolerant species, such as smallmouth bass.