Discover All the Ways to Camp at Lake George Escape This Season
Lake George Escape checks all the boxes for families looking to vacation at a resort-style campground in Lake George. They not only offer tent camping, RV camping, and cabin camping, but they also provide seasonal campsites, themed weeks with events and activities, and a slew of unique amenities. Uncover all the options below, and then book your campsite today!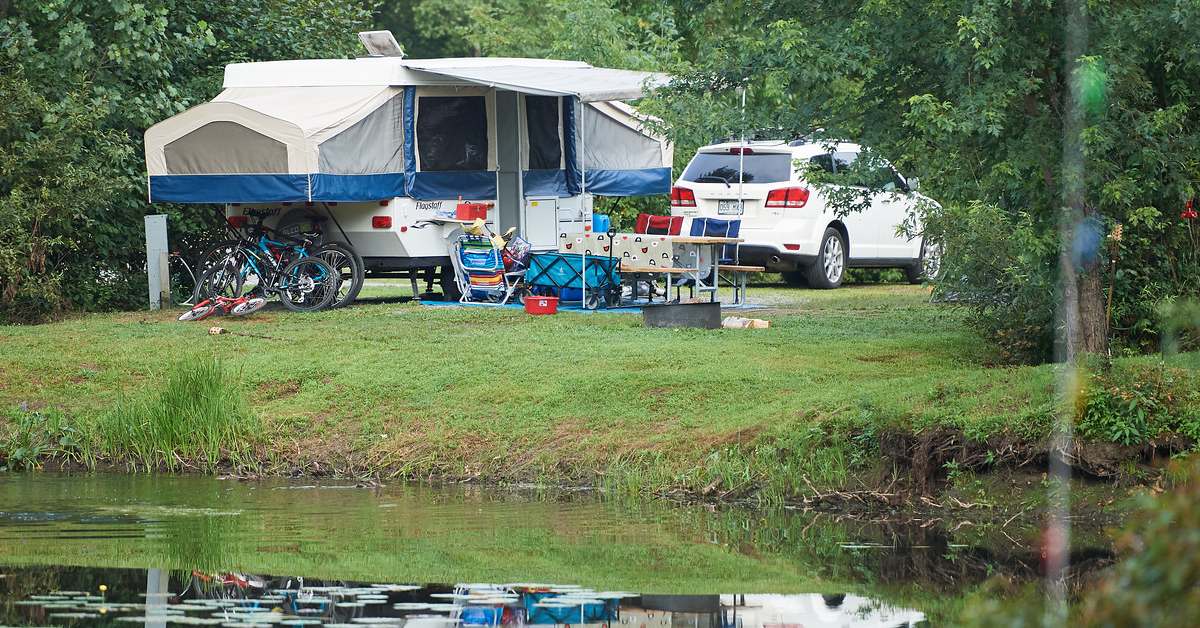 Tent or RV Camping Allows for Key Conveniences
Although Lake George Escape no longer offers designated tent camping sites, any of the over 550 RV sites can be used for tents, and they've found that the guests love having those extra perks when tent camping.
"They like their creature comforts," Patrick Welton of Lake George Escape told us. "Water at their sites for cooking and cleaning, and 120V electrical connections for air mattresses, cell phone charging, and outdoor lighting."
In fact, Lake George Escape went through a $5-million, multi-phase renovation project that included significant upgrades to the electrical system. RV campers will be thrilled to hear that they have 100% 50-amp sites available; as serious RV campers know, this is a major boost up from the 30-amp sites.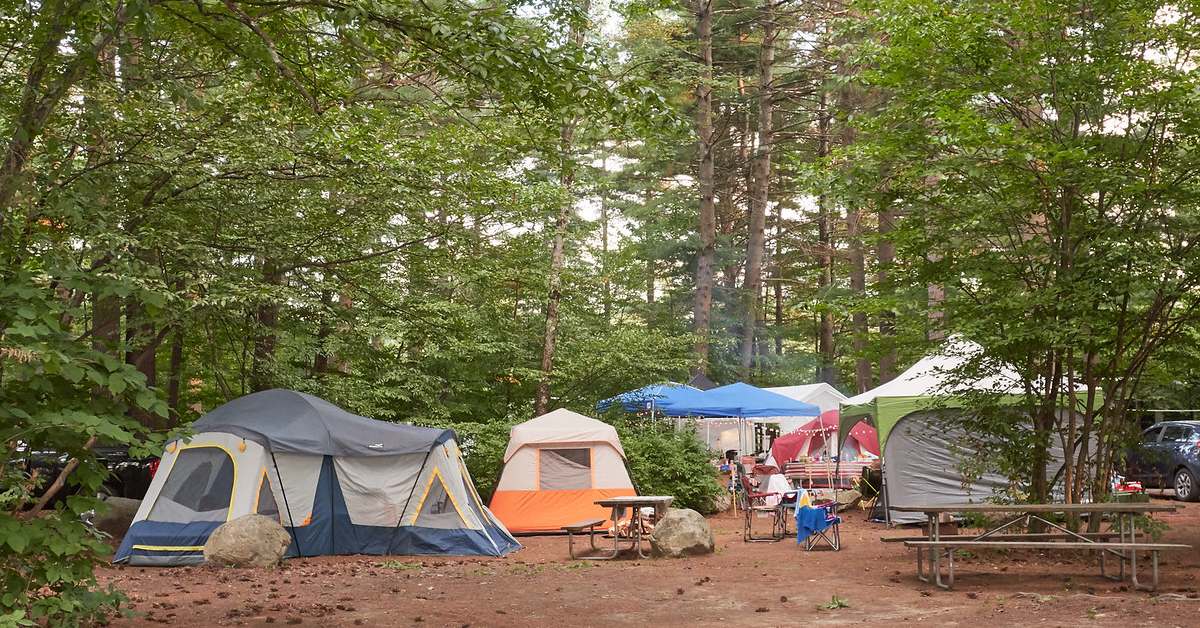 Whether you're looking to "rough it" with a tent, tow your teardrop camper in with your pickup truck, or you're planning to transport your 45-foot-trailer onto the campground, Lake George Escape has a campsite for you.
A maximum of six people is allowed per RV site, with no more than four adults and two minor children. The first two adults are included with the price of the campsite, then it's $20 extra per person, per night.
All RV sites accommodate a maximum of two tents per site, with a maximum of six people total on a site, with no more than four adults and two minor children. Again, the first two adults are included, and then it's $20 per person, per night.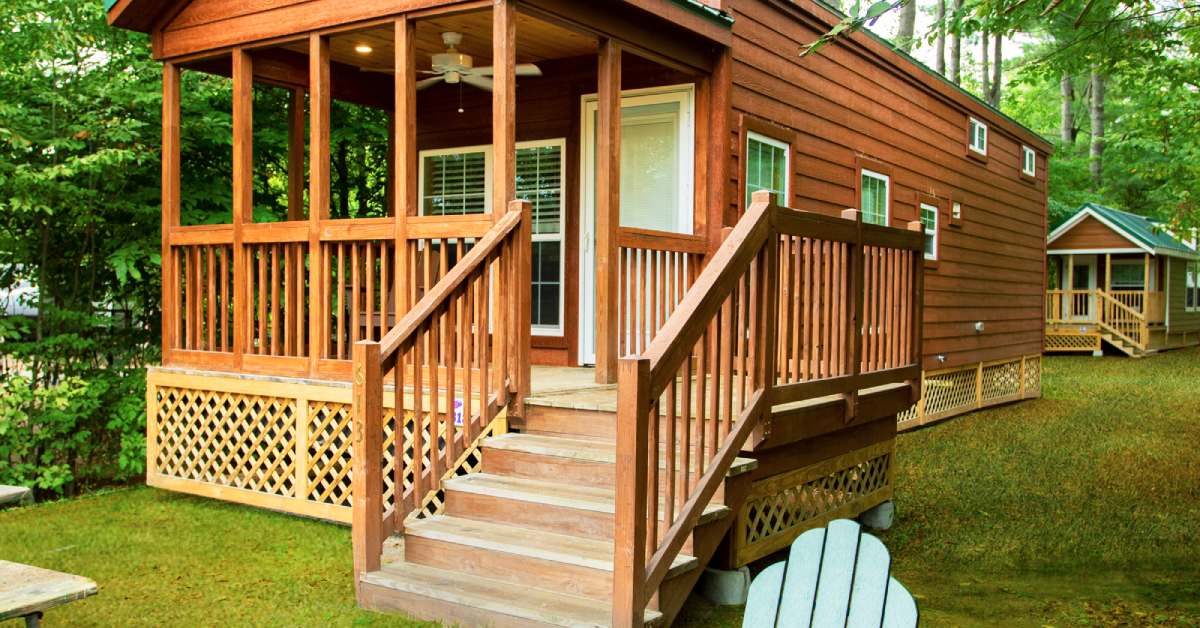 Cozy Cabins With Kitchens & Bathrooms Sleep 4 to 6
If you love the warmth of a campfire, the feeling of sleeping out in the woods, and the memories that are made with camping, but wish the experience didn't come with bugs and dirt, then cabin camping might be for you.
Lake George Escape has over 60 cabins available to rent on their campground. Cabins come in various sleeping configurations and will comfortably accommodate a family of four to eight. Lake George Escape also welcomes pets, and two are allowed per cabin at $50 per pet, per stay.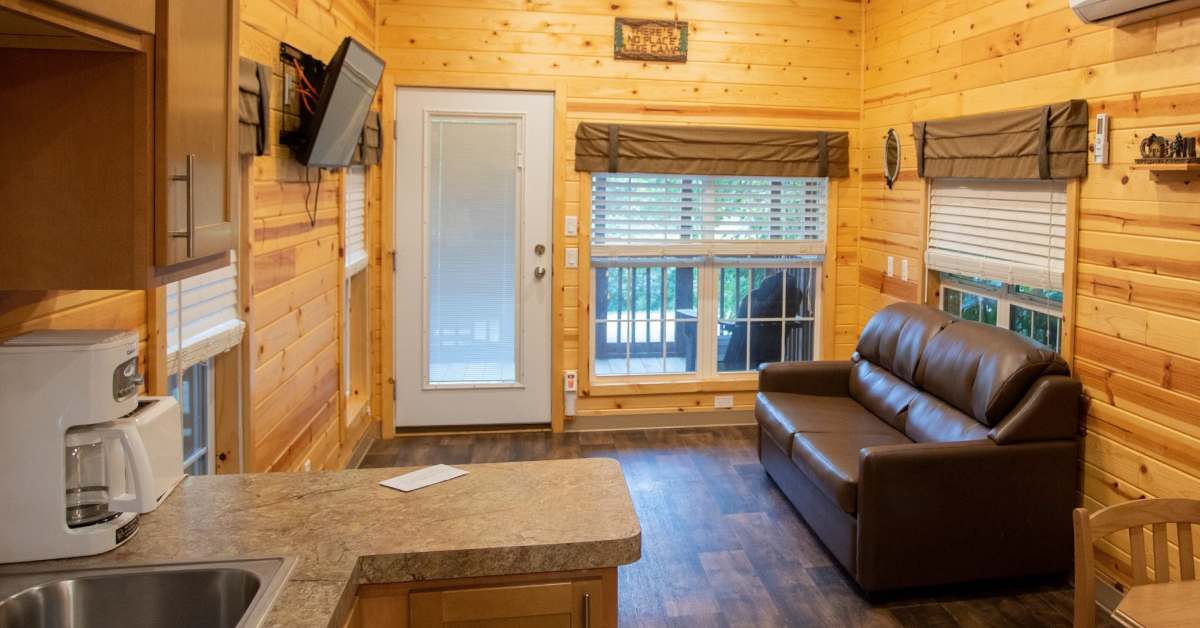 You can expect a full kitchen with a stove and oven, a bathroom with shower, and picnic tables and a fire ring outside for campfires under the stars. Make use of the basic set of pots, pans, bowls, serving utensils, silverware, and China glass that come with the cabins.
Cabins have one or two bedrooms with queen- or double-sized beds, as well as a pull-out sofa bed, and some have bunk beds.
Feel free to bring your air mattress, and let your kids make their own "tent adventure" in their loft/nook cabins while Mom and Dad enjoy the comfort of the luxury linen queen size bed.
Car Camping: A Creative & Comfortable Way to Camp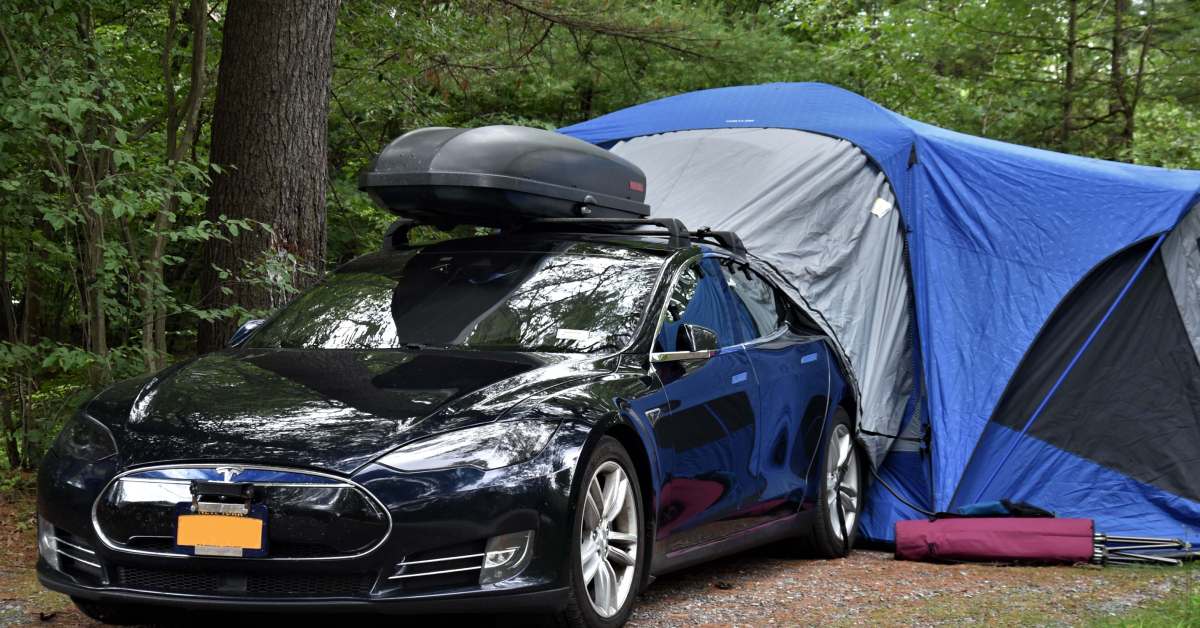 There is another option to ways to camp at Lake George Escape, and that's car camping. Car camping most closely relates to tent camping, except that you're sleeping in the car instead of a tent. Some parents find this is a great way to ease children into the idea of sleeping on the ground as you do with tent camping.
Cars with all-wheel drive are the best for car camping, like a Jeep Wrangler or Subaru Outback. But, depending on the number of people and the sizes of those in your group, you could certainly car camp with a different type of vehicle. In fact, Teslas have a dedicated Camp Mode feature that allows you to do things like use the air conditioning without draining the battery.
As with tent camping, car campers at Lake George Escape appreciate the ability to have lighting, electricity, and water for cooking at the campsite. Don't forget blankets and pillows, and you may want to invest in a sleeping pad.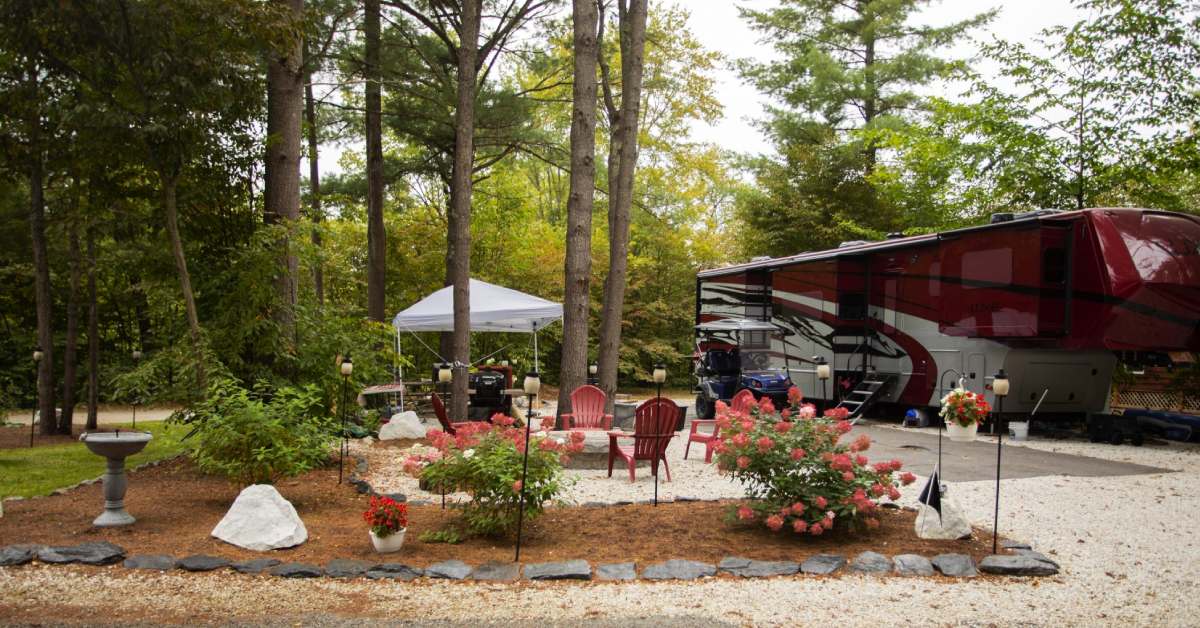 Always Be Close to What You Love in Lake George When You Opt for a Seasonal Site
With all the activities and amenities available at Lake George Escape - from pickleball to a playground to tubing and fishing on the Schroon River and so much more - RV/tent seasonal sites are in high demand. Save on gas when you create your Adirondack summer home at Lake George Escape!
If you do want to venture offsite, you'll always have that perfect home base for your Lake George vacation. They have so many things to do on site, plus they're just 10 minutes from Lake George Village, 15 minutes from Bolton Landing, and close to other area attractions and things to do like hiking at Hackensack Mountain or whitewater rafting with Wild Waters Outdoor Center.
See Why Some Say Lake George Escape Is the Disney World of the ADK
We've hinted at all that Lake George Escape offers at their 178-acre campground. On-site amenities and activities include wagon rides, an arcade, a playground, a dog park, frisbee golf, shuffleboard, pickleball, mini golf, tennis, ping pong, volleyball, basketball, cornhole, horseshoes, life-size game boards, a private beach for swimming, fishing on the Schroon River (a valid fishing license is required for ages 16 and up), in-season live entertainment with DJs, a bonfire and s'mores, and planned activities and projects for kids and adults like paint and sip classes and exercise events.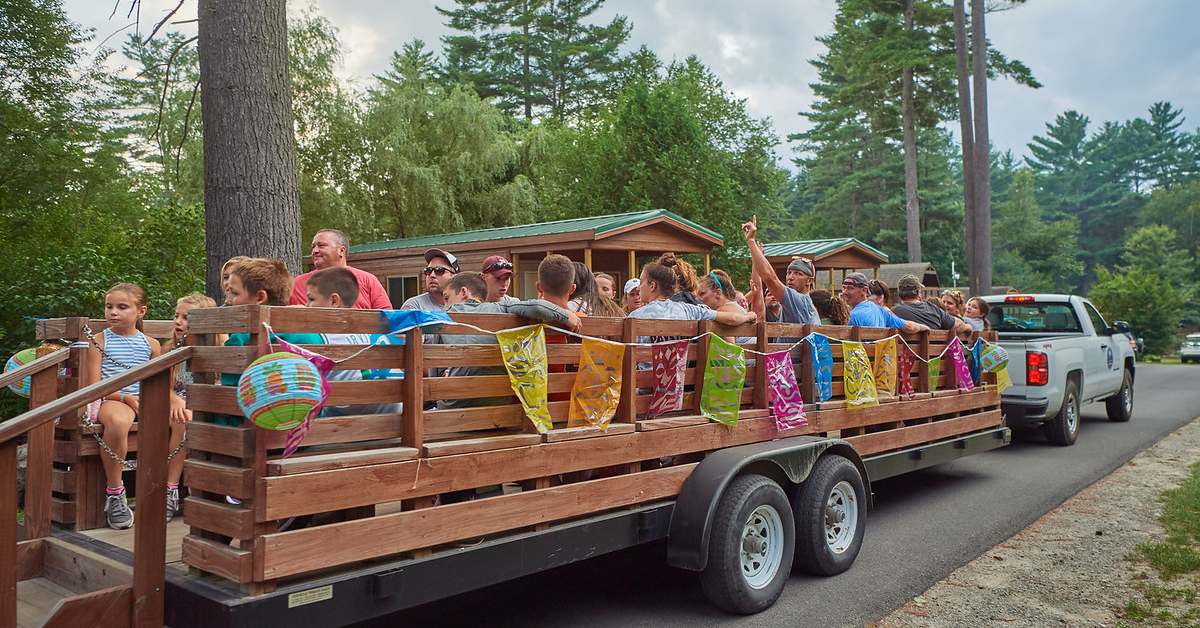 Available with an additional fee are: canoeing, tubing trips, kayaks (single and double available at an hourly rental), color-time crafts, fossil hunting and gem mining, and more.
Note, specific activities and the availability of amenities can be based on weather, seasonality, and the theme of the week. Some are not available during the spring or fall. You'll receive an up-to-date Activity Sheet when you check into your campsite.
In addition to the on-site activities, there are the famed theme weeks! Theme weeks allow the campground to center specific activities and events around a particular theme. While some themes are switched up each year, even the repeat themes have new and exciting activities every year. From Super Hero Week in June, to Halloween Week in August, to Balloons & Bubbles Weekend in September that corresponds with the Adirondack Balloon Festival, you and your kids will love all the fun and activities. Make sure to pack costumes, and check out more to bring on the camper checklist.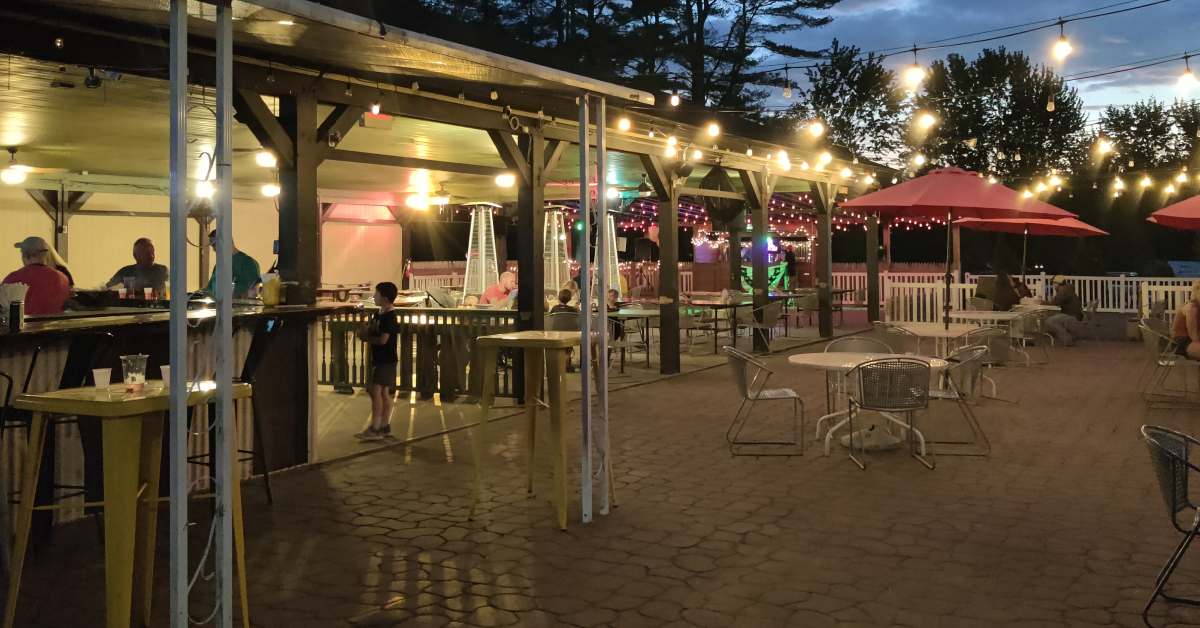 The campground also has the Riverside Provisions Restaurant and Bar on site, and they're a stop on the trolley that goes to Lake George Village and Bolton Landing (on Saturdays only before Memorial Day and after Labor Day).
One of the great things about Lake George Escape as a business is that they're always looking to improve or upgrade the campground, such as with the electrical upgrades. Right now, they have a FitGround in the works. This will be an area with outdoor equipment that will help keep campers healthy and fit. And, they're in the process of developing a Nerf Gun war simulator, so stayed tuned for announcements on that!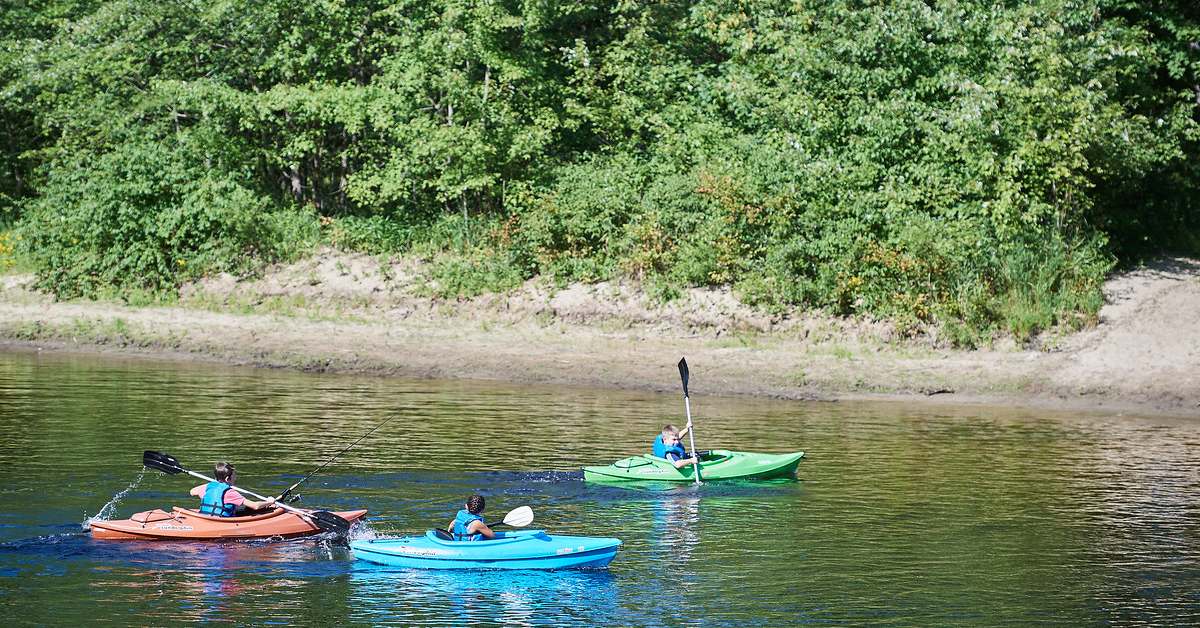 Choose Your Camping Style & Book Today
When asked how various families or groups tend to camp - if couples prefer the intimacy of tent camping while families may need the extra space an RV or cabin provides - Welton said he continues to be surprised with the breakout, which is all over the place. How you camp is really up to you.
"I will say our outdoor resort atmosphere allows you to share your experience with family and friends regardless of their income or camping pleasure," Welton said.
He added: "A hotel is a place to stay. An outdoor resort is a place to experience. Even if you spend every day experiencing the area, your vacation means more when you're enveloped by our themes and activities."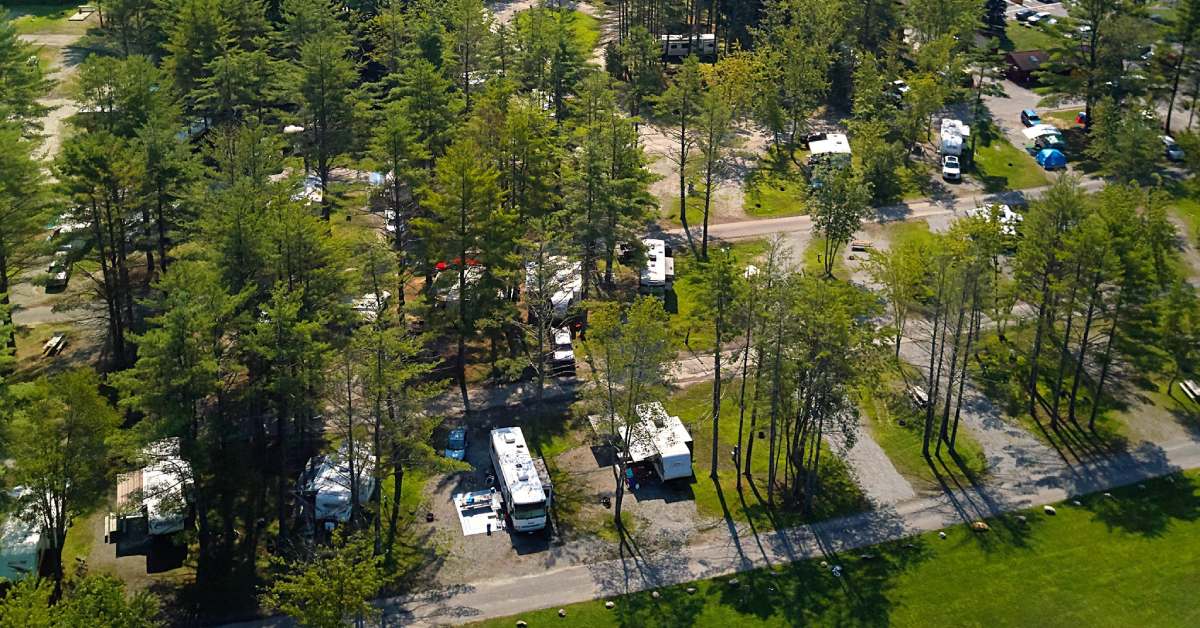 Convinced yet that Lake George Escape is for you and your family for your next camping getaway in Lake George? Book your campsite today.