Meet Rodney Porter: Area Boat Storage Expert & Boats by George's Longest Serving Employee
Boats by George is a premiere boat dealership and marina on Lake George, having grown from a two-bay garage in 1982 to four locations today. They sell boats in every price range, specializing in Malibu Boats, Cobalt Boats, and Chris Craft Boats, and they also provide boat storage, which is where Rodney Porter comes in.
We're turning the spotlight on Rodney, who has been with Boats by George since the beginning. Find out how Rodney has grown with the company, why boat storage is more complicated than it sounds, and what has made him stick by George for over 30 years.
With Boats by George Since the Beginning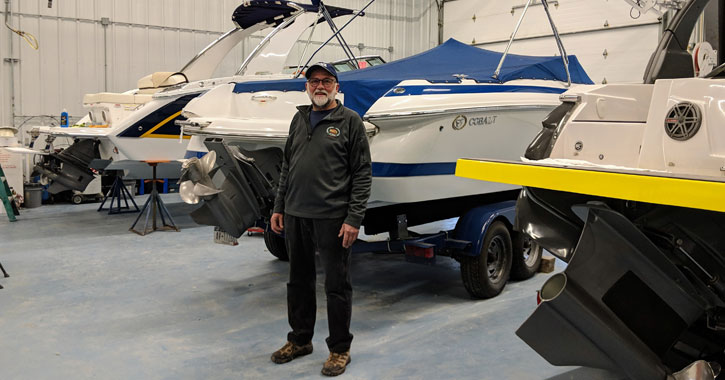 Rodney walked into Boats by George's small operation over three decades ago, asked if he could have a job, and never looked back. Since he had experience doing body work on cars, he started out detailing and buffing boats before moving on to installing stereos.
As the years passed, Boats by George grew and so did Rodney's responsibilities. The facility, which started out with only a small number of boats to be sold, expanded to three additional locations.
Boats sold turned into boats stored, and Boats by George went from storing about 50 boats around the beginning to over 500 today. Rodney now spearheads the entire boat storage operation and trains new employees.
Behind the Scenes With Boat Storage - Timing is Everything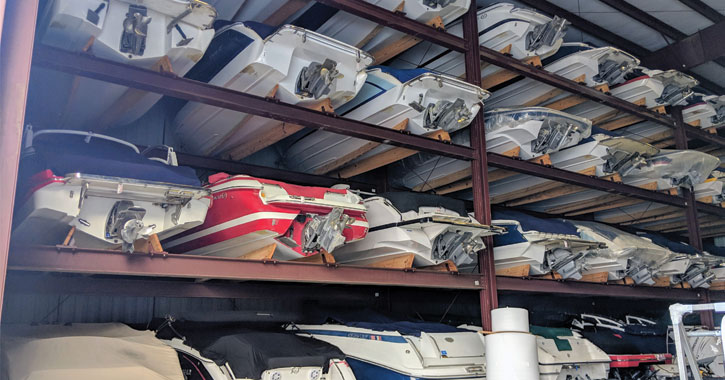 Storing boats - and getting them back out of storage - involves much more than wheeling the vessels in and out of a building and calling it a day. Boats need to be removed from the water and transported to Boats by George, where they'll be winterized to ensure the boat is in top condition when it's ready to get back out on the water. Some boats are moved indoors for stacked storage in rack buildings, which involves lifting boats up to different levels.
Boat storage is undoubtedly a complicated process, and it's one that needs to happen in a timely manner. All the boats in the rack buildings are brought back in during December through April, and are pre-done to make it possible to launch large numbers of customer boats back in the water by Memorial Day.
Boats must get out of storage by Memorial Day, and they must get back in storage by Thanksgiving, and there are only a couple of months each time to move hundreds of boats. With Boats by George constantly expanding and being able to take in more boats all the time, Rodney finds there is more to do each year.
More Boats, More Storage, More Teamwork Needed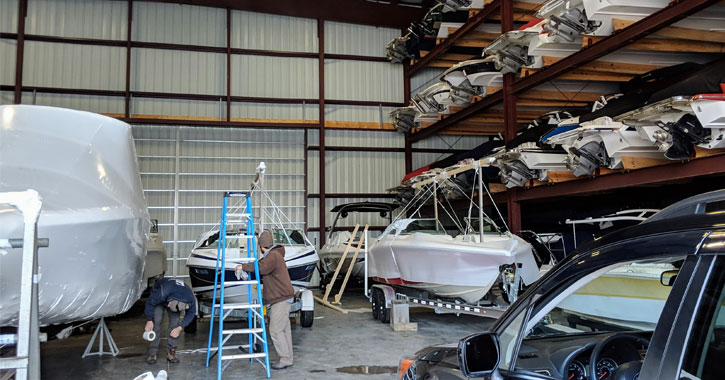 "Each boat is handled 10 times to get it put away," Rodney said. "I cannot streamline that process any more, but we're quick because we're provided with the right equipment."
He has 18 workers who help him with boat storage. For the winter of 2018/2019, Rodney worked on winterizing over 700 boats, 530 of which were stored both indoors and outdoors by Boats by George; some boats get shrink wrapped and brought to another site.
To recap, that's nearly 20 people working on storing over 500 boats (and winterizing even more), with each boat being handled 10 times, and Rodney is at the helm.
On the day we visited Boats by George Rodney showed us where a large steel building will be going up that will hold about 72 more boats, which are currently being stored outdoors. This new building will be in addition to three other existing buildings that also hold 72 boats each; boats are also stored at their other facilities - that's a lot of boats in storage!
"Logistics are huge with so many people handling the boats. Without teamwork this whole story doesn't work, it's not all about me," Rodney laughed.
All of the boat technicians take continuing education classes, attending week-long seminars each year, and this is in conjunction with Rodney's instruction and guidance. Rodney attributes a lot of Boats by George's success to the fact that they have well-trained employees.
Growing With Boats by George Over the Years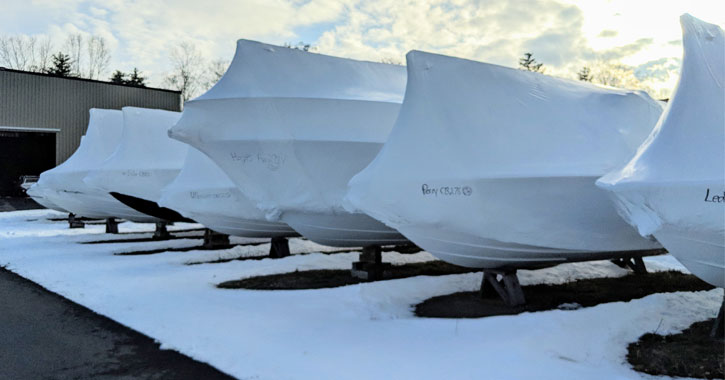 When asked why Rodney has stuck with Boats by George for so long Rodney gives a lot of credit to owner George Pensel. He always puts money right back into the business to ensure constant growth, and he provides well for all of his employees - he even sent Rodney to Bermuda for his 20th anniversary with the company.
"I tell new employees it's been a great experience for me to grow from the bottom," Rodney said. "It's a good career path if this is what you want to do. It's a good living and there is room to grow."
In his spare time, Rodney is a snowmobiler, a big game hunter, and he's President of the Chippewa Hunting Club. He enjoys woodworking, carpentry, and restoring furniture.
If you're in the market for a boat, check out Boats by George's inventory of new and pre-owned boats. You'll know you're in good hands with excellent service by Rodney and the entire Boats by George team.